THE QUEEN'S OWN CAMERON HIGHLANDERS OF CANADA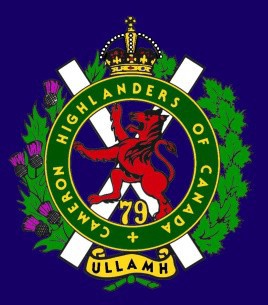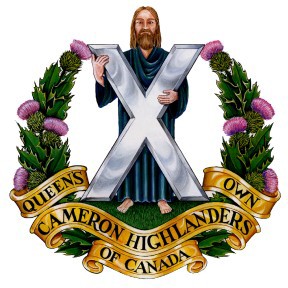 THE CAMERON ASSOCIATION IN CANADA
THE QUEEN'S OWN CAMERON HIGHLANDERS OF CANADA
MINTO ARMOURY, 969 ST. MATTHEWS AVE WPG, MB R3G 0J7
STILL WINNIPEG'S ONLY HIGHLAND REGIMENT !
2019/2020 ASSOCIATION OFFICERS
2019/20 ASSOCIATION EXECUTIVE BOARD
Past Pres
Taffy Gray
198 Seekings St Headingly, MB

R4J 1B1

[email protected]

204-889-5655
Special Projects and Recruiting

Director

Don Steenson
TBC
TBC
TBC
Sick, Visiting,

and Last Post Director

Len Johnson
1094 Bay Rd St. Andrews, MB

R1A 3L1

204-757-2023
Foundation Trustees
Blair Will (2019-2021)
Marc Gautron (2018-2020)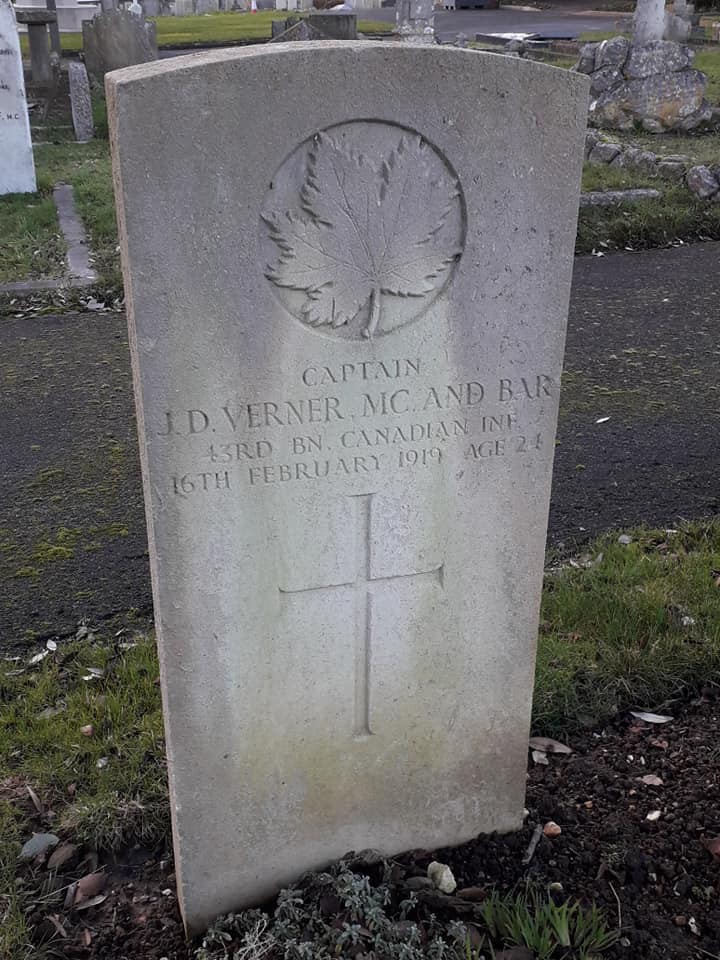 * LAST POST *
Capt. Jack D. Verner, M.C. & Bar;
Son of Thomas H. and Grace F. Verner of 174, Maryland St., Winnipeg.
43rd Bn CEF (Camerons of Canada)
Killed accidentally while on conducting duty from France, 16th February 1919 buried at Seaford Cemetery grave A 565, UK
http://central.bac-lac.gc.ca/.item/?op=pdf&app=CEF&id=B9933-S039
http://central.bac-lac.gc.ca/.item/?op=pdf&app=CEF&id=B9933-S038
http://freepages.rootsweb.com/~cdobie/history/university-manitoba-1919.htm
??? MOORE BC, Ernie Moore's Brother
More to follow from Stan Puchniak. Stan and I have been having "fun" trying to email each other.
THORSTEIN (STEINI) PALSSON
https://passages.winnipegfreepress.com/passage-details/id-269798/Palsson_Thorstein
It is with heavy hearts that we announce the passing of Steini Palsson in his 100th year, on January 6, 2020, at the Lundar Personal Care Home, with family at his side.
He was the beloved husband of the late Runa Palsson (nee Barnes, December 28, 2009).
Loving father to his children, Joe (Peggy), Betty (Ken) and Patsy (Doug). Proud Afi to his grandchildren, Mike (Lynda), Coreena (Keith), Deb (Dan), Collin (Danielle), Rob (Laura), Brent (Jennifer), Chad (Jennifer) and 14 great-grandchildren. He will be fondly remembered by many nieces and nephews.
Steini was born August 20, 1920 at Stone Lake, Manitoba. He joined the army in 1942 where he served overseas in France with The Queen's Own Cameron Highlanders. He was wounded twice in action which finally sent him home in 1945. Although he received medals for his service, he suffered from the horrors of that war for most of his life.
Returning home in 1945 he married his sweetheart Runa and settled at farming his beloved Purebred Herefords and raising his family. He was a longtime member of the Lundar Bull Sale Committee and enjoyed this annual event right up until his final year.
He had a huge love for hockey. While in the army, Steini played with NHL legend Terry Reardon. He continued to play throughout his life and eventually moved on to coaching the Lundar Oldtimers.
Steini had a special love for country music and his home was always filled with it.
The family would like to give their heartfelt thanks to the staff of the E.M. Crowe Memorial Hospital in Eriksdale, Lundar Personal Care Home and home care for their kind and compassionate care. A special thank you to all of Steini's friends and neighbours who were always there for him.
A Celebration of Life was held at 2:00 p.m. on Monday, January 13, 2020 at the Lundar Legion with Cindy Thorkelson officiating. Interment was held in the Lundar Municipal Cemetery followed by a luncheon at the Legion.
In lieu of flowers, the family requests that donations be made to the Lundar Personal Care Home Guild, c/o Judy Gleich, PO Box 60, Lundar, MB R0C 1Y0, or the Royal Canadian Legion # 185 Lundar Branch, PO Box 47, Lundar, MB R0C 1Y0 or to the Lundar Sportsplex c/o Grettir Co-op Inc., PO Box 334, Lundar, MB R0C 1Y0.
Full obit published in the Winnipeg Free Press on Jan 09, 2020
Editor's note: In response to a request from Steini's family a representative of the Camerons, Association President Steve MacMillan, was present for the celebration of life.
WIDOW'S / WIDOWER'S SUPPLEMENT: There is income supplement for widows / widowers. They will mail out a form for the survivor to complete. You will need proof of marriage and the soldier's regimental number etc. and the spouse's income tax forms. If the financial situation is going badly the survivor should contact Veterans Affairs.
https://www.veterans.gc.ca/eng/family-caregiver/death-and-bereavement/survivors-pension
https://www.veterans.gc.ca/eng/family-caregiver/death-and-bereavement/income-replacement-benefit-survivors
Links current to 01 Nov 2019
FUNERAL AND BURIAL ASSISTANCE: The Veterans Affairs Canada Funeral and Burial Program ensures that eligible Veterans receive dignified funeral and burial services. The Last Post Fund (LPF), a non-profit organization, delivers the program on behalf of Veterans Affairs Canada. To be eligible for the program, Veterans must meet both military and financial criteria.
http://www.lastpostfund.ca/EN/Home.php
Link current to 01 Nov 2019
* SICK & VISITING *
Mavis Coutts (Gord's widow) – Not doing OK. Mavis took a tumble on her way out of the Golf & BBQ. If you're interested in visiting her please get in touch with her daughter Brenda first. Hugh can put you in touch if you don't have her contact info.
Taffy Gray (Cold War PPCLI & Camerons) – Taff and Betty are doing OK these days. Taff has been downsizing his amazing library, so anyone interested in Scottish history please contact Hugh.
PTSD Help Line: The toll-free number 1-855-373-8387 will be manned by veterans who will be available on a 24-hour basis. The callers will not be required to identify themselves. See also the Cameron "Links" section of the web page for other useful links: http://thequeensowncameronhighlandersofcanada.net/links.html
Link current to 01 Nov 2019.
* PRESIDENT'S MESSAGE *
Hello. We have been very busy since Hugh's last edition. The monument is coming along nicely. The granite is on its way, the script for the panels and the statue base is pretty much finalized and the bronze statue is also in the works. The pictures from the artist of the sculpture are simply amazing ! Incidentally, the sculptor's name is Guido Mariani, and he's got quite a good reputation. Some say that he is quite literally one of the best in the world.
The fund raising is going well but we are always looking for donations. Every bit helps us get there. All of the money raised for this project will be spent on it to make it as spectacular as we can. We are looking at late Sept or early Oct 2020 to do the dedication, so be sure to keep up on things – you won't want to be anywhere else but here !
My best regards
Steve MacMillan
* VICE-PRESIDENT'S MESSAGE *
Our VP is still very busy boy but sends his regards. Keep up the good work Fred !
* RECONNECT WITH FORMER CAMERONS *
I would like to mention that we now have a second Life Member, Mr. John Clark.
This is an important thing to do for the health of the Association. There are still lots of former Camerons out there that we don't know about for various reasons. Just because you or they weren't Second World War or Korea veterans doesn't make anyone less important to the Cameron Association. Please help us locate them and bring them back into the fold.
Thanks very much to those fine souls who have donated some of their hard earned dollars to keep hard copies of this newsletter going out to the guys and the widows of our guys without computers. A few were Second War men but some are younger former Camerons who live in areas with poor internet service or dial up, or are just plain happy to be off of the grid.
On 12/13/2019 1:24 AM, Xavier Allen wrote:
Good Morning Friends:
I hope by now, my dues arrived, and thank you so much for remembering me. Please tell Mr. Frederick Carsted I said hello.
If there are any members of The Regimental Family traveling in The Detroit-Toledo areas and are in distress, please share my contact information with them.
Xavier
Editor's Note: Contact Hugh O'Donnell per the Association Officers' details and he'll put you in touch with Xavier.
SWW veteran Clayton Hunter's daughter Valerie emailed Hugh to say that Clayton is still very much alive and says hi. More below.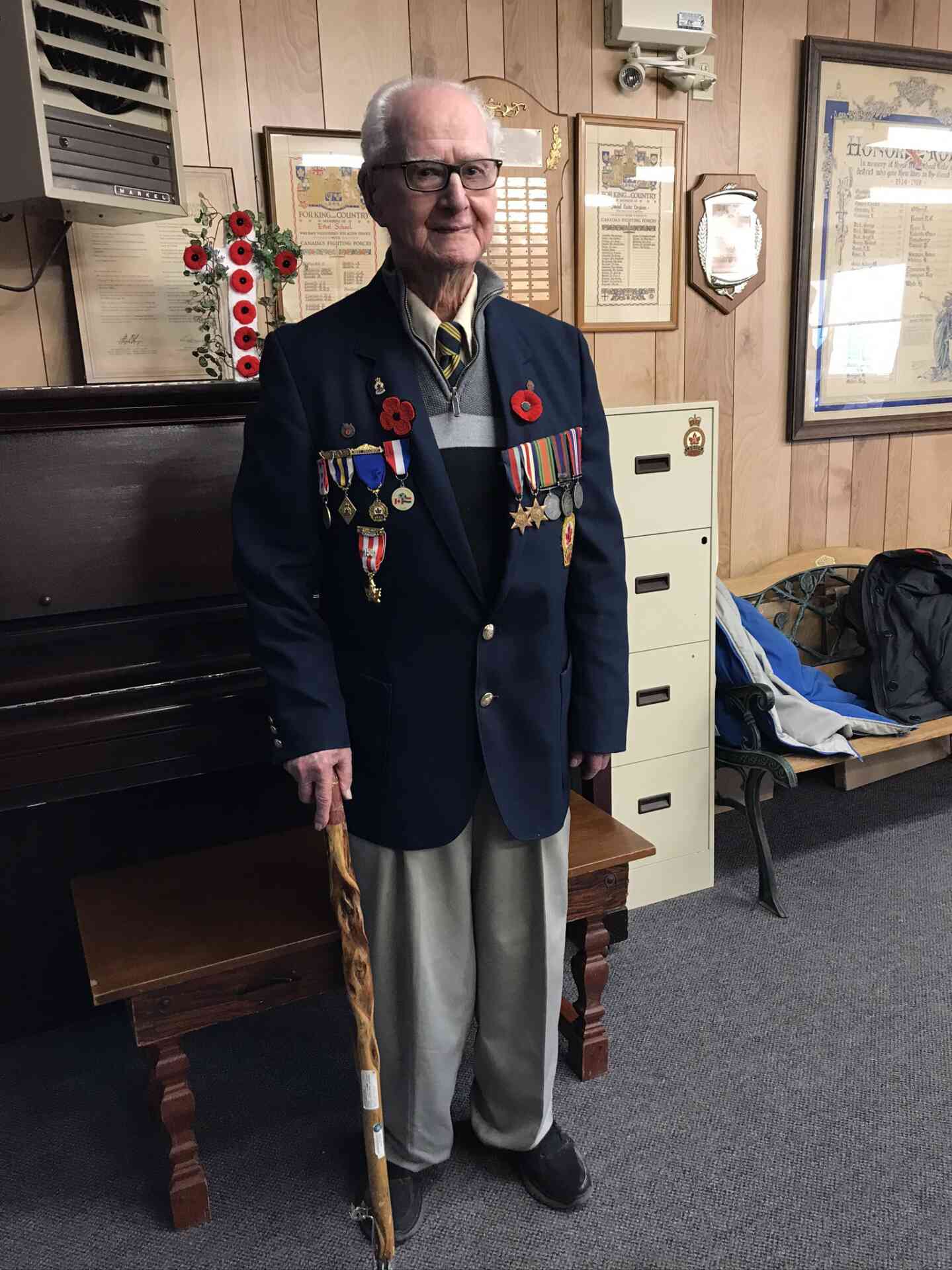 * WHERE ARE THEY NOW ? *
DUNCAN M. ANDERSON (Cold War) – Duncan and former Sgt-Maj RON WILLIAMS continue to try to keep the ANAF functioning in MB. They'd appreciate any visits or support they can get but understand our operational tempo only too well. They can be found at Unit #303 Rockwood by Grant Park when they're not planning some event.
GORD FONSTAD – (Cold War Camerons) – Doing well. Gord has been keeping himself busy with two major projects. The first was to put together the full and detailed story of the window in Edmonton's Highland Park United Church. The second project was to mark on Google Maps the places where the Camerons fought in the Second War. These labours of love have consumed hours of his time and you'll see the results in an Oatmeal Rag soon !
CLAYTON HUNTER (SWW) – Clayton Hunter of Shoal Lake, Mb. He just received our fall newsletter and wanted us to know how he is doing. Clayton is now living in the Morley House
Personal Care Home in Shoal Lake. He has been there for a little over a year now. He is still sharp and will be 100 in May of 2020.
Editor's Note: Hugh and maybe a few others are planning a trip to visit Clayton sometime soon.
ANDREW MCKECHNIE (COLD WAR) – Doing well and having fun down south.
ROY MACGILLIVRAY (Edmonton Fusiliers & RCA 1944-45, RCR SAS PL 1948, Ko-
rean War RCR, Cameron RSS 1970's) – Roy is doing ok. Hugh got by to see him in January 2020, and Roy is still as sharp as can be and still has a great sense of humour. One of these days we'll all get over to see his pictures of the old jump school at Rivers, MB.
EMAN TURNER (COLD WAR) – Eman and his family are out in Maple Ridge BC. Eman's company is called Truestim BC, as previously mentioned, and if you're suffering from various muscle aches and pains he may have just the item for you.
Check out the links below:
https://www.facebook.com/truestimbc/
Editor's Note: I can recommend this product in good faith at this time. My wife has been using the Tens machine to help with various aches and pains and it does bring some relief. It's not free of course, but maybe he'd cut a bit of a deal for a fellow Cameron ?
KEN SMITH (SWW) – Ken is doing well enough. He's happy in his digs, has a solid coffee crew to hang out with, and is seeing a lot of his family these days. Not only that, but he's got a birthday party coming up this Fall. Not a bad idea considering he'll be turning 100 !
All the best for now from us Ken – and maybe by then we'll be allowed out to visit too !
* 2019-20 DUES ($20) NOW PAYABLE *
As of any old time you can connect with Association Treasurer David Gibson (per the cover page of the Oatmeal Rag) who will take your payment.
If you are not sure of your status please contact Dave and he'll either be happy to take your
$20.00 payment or be most unhappy that he doesn't get to take any money from you – yet – this year.
You can also use interact e-Transfer to pay your dues to our Treasurer, Dave Gibson. It works rather like Pay Pal for those of you familiar with that service. Here's link to one of the the web page options:
http://interac.ca/en/interac-e-transfer-consumer.html
* CAMERON ASSOCIATION REPORT *
*** Reminder you too can become a LIFE MEMBER of The Association ***
Short version, any member in good standing of at least 65 years of age will be allowed to buy a Life Membership in the Cameron Association in Canada for $250 Cdn as of our last AGM. This money is restricted to being spent on an "as earned" basis, which is to say The Association cannot have a grand party one year and be broke the next. We can only add the $20 per year of the $250 to each succeeding year's budget.
THE CAMERON FALLEN COMRADES MEMORIAL DEDICATION CEREMONY 13 Sept 2020
Progress continues. The bills are coming in of course. We are waiting on a few things just now, such as the City of Winnipeg to carry on with more of the Vimy Ridge Park redevelopment plan Phase 3, funding request approvals, and other such activities but we're going to get this done. On Sept 13th, 2020 no less, and that's with or without the City approving Phase 3. Plan to be there if you can.
There are different options to support this endeavour. Please read the descriptions carefully because they are significant for tax and other purposes !
Donations may be made in two different ways:
E-Transfer: This can be done by E-transferring us your donation of $25 Cdn or more (because while lesser amounts are welcome, to get a tax receipt it MUST be $25 CDN or more). Be sure to include your name and mailing address !
By cheque to the Cameron Foundation: This can be done by sending your donation of $25 Cdn or more (because while lesser amounts are welcome, to get a tax receipt it MUST be $25 CDN or more) to:
The Cameron Foundation 180 Kingsway Ave
Wpg, MB R3M 0H2
ONLY donations of more than $25 by cheque or E-Transfer will be issued a tax receipt.
Cameron Association Highland Dance Trophy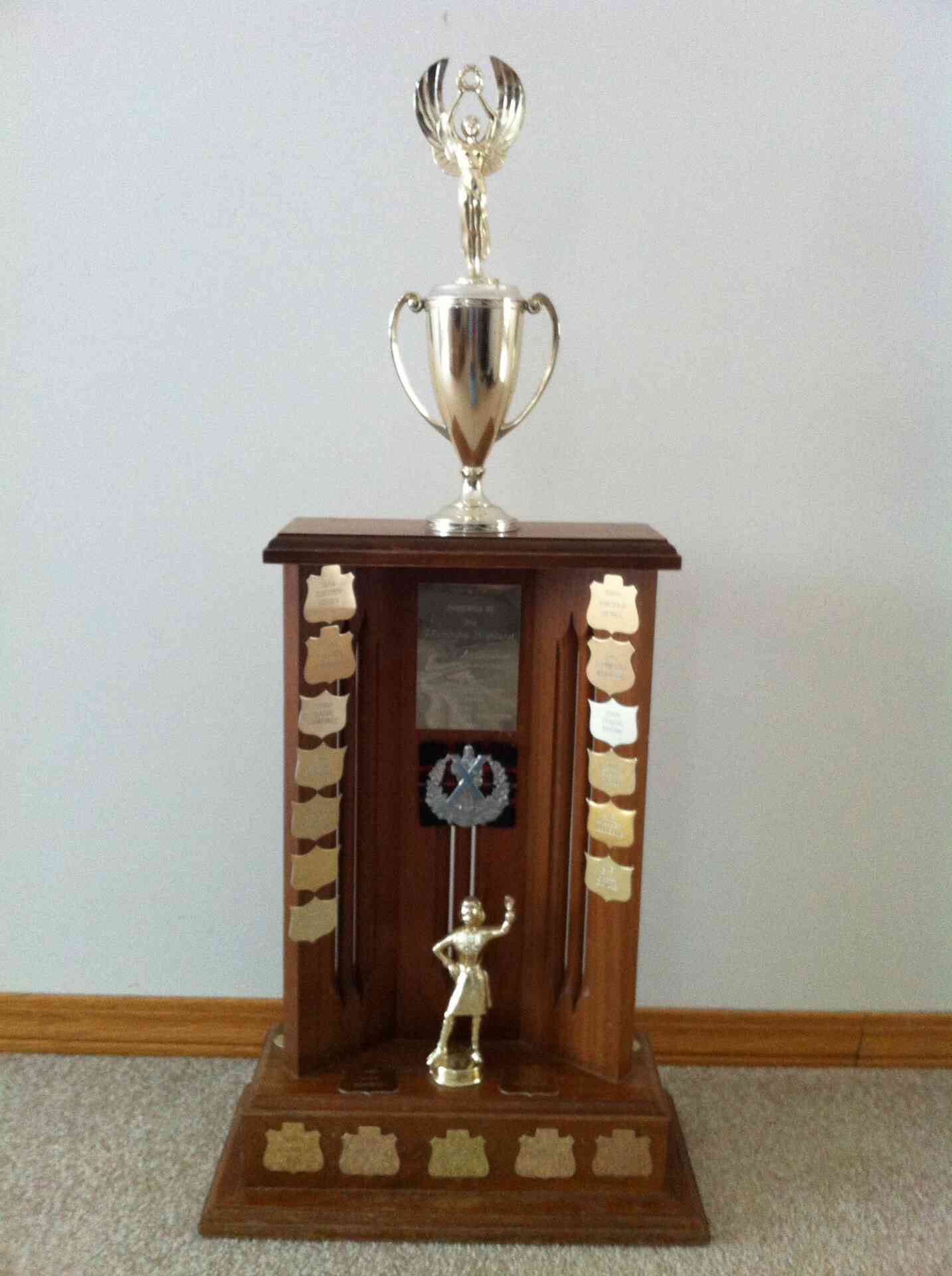 LETTER FROM NORM CHRISTIE ABOUT FINDING MISSING 16TH BN CEF CEMETERY CA 40
https://www.youtube.com/watch?v=-XjYqyxUdDQ
Well known Canadian military historian Norm Christie has identified a site containing a number of our fallen comrades, and the video in the link can explain the concept better than I can.
* REGIMENTAL WEB SITES *
The Unit web site is still up running. The unit web site continues to be a point of contact between ourselves, the families of those who served in the Camerons, and those who become interested in the Camerons for one reason or another. We continue to have a few requests through the unit web site for information from families about former Camerons. If anybody can help out with them please feel free to do so. You can find the web site at:
http://thequeensowncameronhighlandersofcanada.net/
Link current to 10 March 2020
Speaking of the Unit web site, the photos from the old Cameron Picasaweb site can be found
again by going to the Photo Gallery link on the Regiment part of our web site.
Links current to 10 March 2020
"The Cameron Highlanders of Canada Memorial Site, Recording the History of the Regiment, 1914-1919" web site is one that every Cameron should have looked at over the coming years.
Thank you so very much for an unparalleled job of helping out the Cameron regimental family Mr. McLean.
http://www.cameronhighlanderscanada.com/
Link current to 10 March 2020
The Highlanders' Museum, Fort George, Ardersier, Inverness-Shire
"Visit us at the 5 star Highlanders' Museum (Queen's Own Highlanders Collection) and immerse yourself in our rich and diverse history, following in the footsteps of the Highland soldier from just after the Battle of Culloden until the present day. Our Nationally Significant Collection, the largest collection of military artifacts outside of Edinburgh, showcases the history of the Highland Regiments and includes an array of artifacts and archive material from the Seaforth Highlanders, The Queen's Own Cameron Highlanders, the Queen's Own Highlanders, The Highlanders and most recently, 4th Battalion The Royal Regiment of Scotland (4 SCOTS).
https://www.thehighlandersmuseum.com/
Link current to 10 March 2020
* UNIT EVENTS *
REGIMENT: The regiment as a whole is busy. With this training year coming to a close the focus is now on the Full Time Summer Employment for those in want or need.
Speaking of which, thanks to the influx of recruits to the Battalion in numbers not seen in ages, the next big challenge for the unit is to generate enough qualified leaders to train and retain yet more recruits. Kudos to Sgt Munoz-Perez and those handling the recruiting efforts. They aren't sitting back with their feet up either – they have lots of events planned. Also, BIG thanks to those at the top who mustered up the courage, willpower, and bureaucratic infighting skills necessary finally made the overdue changes to make real recruiting possible !
This wave of recruiting absolutely needs to be accompanied by keeping as many as possible of our leaders at all levels engaged in becoming more senior leaders at the same time. No small challenge ! Those able to accept it are being course loaded as best as possible on their next level of training. This summer may bring additional challenges for obvious reasons.
Another continuing challenge the unit faces are the asbestos and lead remediation efforts at Minto. It's not the biggest of challenges but some of you reading this will remember hauling out the wood and stuff from the old ranges downstairs, and will be wondering why this wasn't done back then ?
The other major, although secondary to training, effort for the unit involves the planning for the dedication ceremony for the Cameron Monument to our fallen comrades.
The parts of the Regiment, for our newcomers are:
The Senate (Former CO's and occasionally special consultants),
The CO's Advisory Board (former CO's and individuals chosen for particular skill sets and knowledge to advise the serving CO),
The Cameron Association (the Old Guys and Gals),
The Battalion (today's fighting troops), and the
The Cameron Cadets (the most junior part of the Regiment).
BATTALION:
The Camerons have been very, very busy ! See the Around The Unit Lines section at the end of this issue for some pictures of what they've been doing. More recent notes from the CO include the news that some of the troops may be working with 2 VP in the near future, augmenting them for various tasks.
Anyhow, seven of the guys are on the Rifle Section Commander's Course (Sgt qualifying course at this time, soon to change back to the Infantry Section Commander's Course). Had they not gone on this course they would have probably had to start their Sgt qualifying courses all over again. Sound familiar to anyone ? Also, related to this topic, there were several Cameron officer candidates who have graduated off of the recent Minto-run Basic Military Qualification Course, as well as Pte Snidal grabbing the Top Candidate title, while Ocdt Graham snagged the honours for Top Shot.
"A" COMPANY UPDATE: On Sunday, May 5, seven members of the Queen's Own Cameron Highlander's Jr. Ranks completed the 21.1 km Winnipeg Police Half Marathon with ruck sacks on. The event was part of a larger strategy of COMREL events nested within high profile, public events in Winnipeg that allow for the unit to raise its public profile and engage in 'soft- sell' recruiting, while also promoting a culture of fitness and resilience amongst unit members.
The members: MCpl. Conrad (IC), Cpl. Trenchard BJ (2IC), Cpl. Trenchard JT, Cpl. Lopez, Cpl. Natividad, Hldr. Manness, and Pte. Monster, had different ranges of experience. Some had been members of the Cameron's marching team previously and completed similar events while for others this was their first experience outside of basic military qualification. "It is a great event. You get to go out into the public eye and show what Cameron's are all about and support the community in a meaningful way. It is a win, win." Says Cpl. Brian Trenchard who has participated in previous march team events.
Cpl. Lopez completed his first march on the ruck team and said, "It was actually a really great experience.. I was carrying the Cameron flag most the way which was an honour. I would like to do it again."
The WPS Half Marathon is in its 15th year and over the weekend it brought its total amount raised to just over 2 million dollars. Money raised from this event goes towards brain cancer research.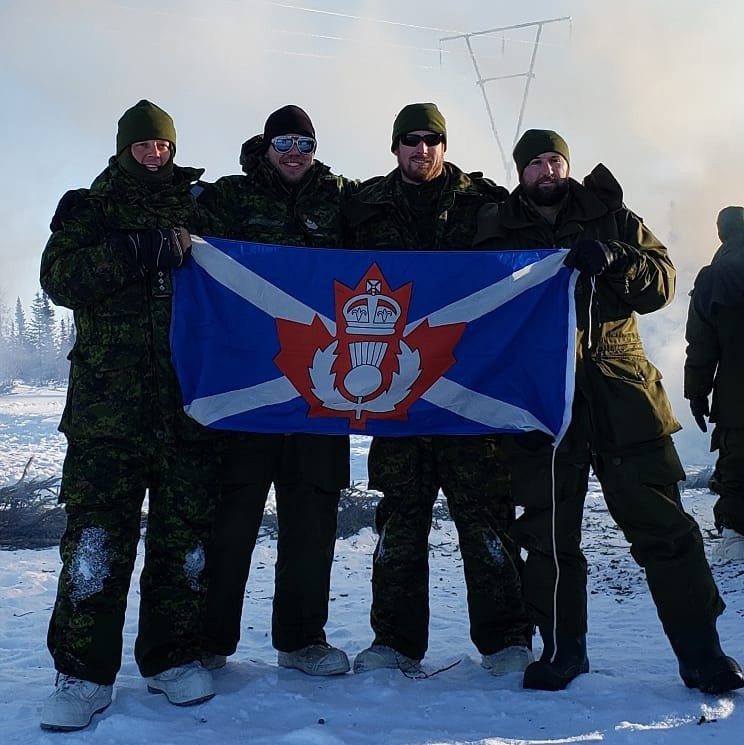 Ex Arctic Bison 2020. Pitifully low participation from the regiment on an awesome exercise, riding 300kms on sleds from Gillam to Churchill over the past few days. The 4 Camerons were Maciej Witkowski (Coy 2ic), Mike Sinnock (2Pl Comd), Johny Trenchard (2 Section 2ic, 2Pl) and Chris Toews (2Pl WO).
Pipes & Drums Update: The band regrets that Cpl Paul Turner has left us for the 48th Highlanders so that he can continue to pursue his post-secondary studies in Toronto, but we're pleased to welcome MCpl Alexander Brown, who is in the process of transferring into the Camerons.
The band has supported a number of recent CAF events including the most recent graduation parade for 38 BSL and the 38 CBG Change of Command. We are currently preparing for a trip to Vimy to support the commemoration of the 75th anniversary of D-Day as part of Op DISTINCTION.
P/M Dan Locke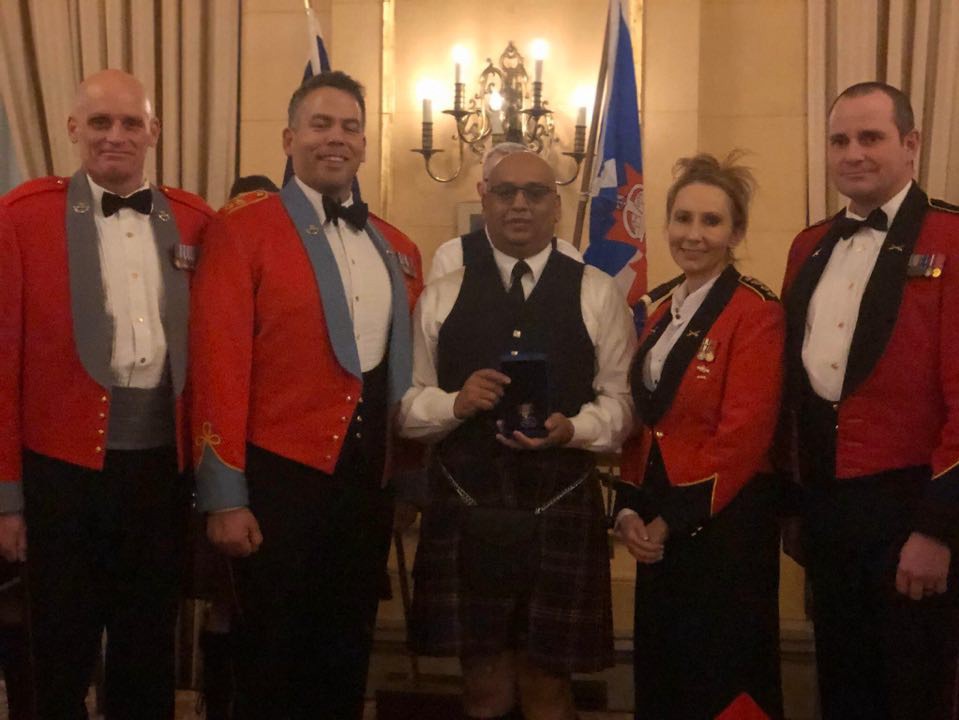 Recent events: Presentation to Mr. David Ramesar, our long time bass drum player of the Sovereign's Medal for Volunteers. Congrats Dave, well earned !
https://www.gg.ca/en/honours/canadian-honours/sovereigns-medal-volunteers
Cameron Kit Shop:
In a bit of a state of flux right now while the Rifles and Camerons sort out their new lines and who's who in the zoo. More to follow once I have some wisdom to offer, but there are some very willing people trying to find the time and energy to help those in need.
* REGIMENTAL ADVISORY BOARD NOTES *
The Advisory Board continues to provide sound advice to the CO on all matters Cameron in "interesting times". The Board also continues to try to support all ranks and the Cameron cadets in their various endeavours.
Speaking of which, former Foundation Treasurer Julian Benson has completed the transfer of Foundation records to their new custodian, Peter Smith. Julian has given "exceptional service"
for quite a few years to our organization in HCol. Bob Vandewater's eyes, no small praise
that ! The Board is to provide a suitable reward to Julian as a "thank you very much indeed" for his services.
The Advisory Board has continued to provide excellent support to the Cameron Monument Project in every possible fashion, from moral support, to financial advice and guidance, to co- ordination with the City of Winnipeg. They will be visiting the city councillors again soon too to pursue more avenues of funding.
* REGIMENTAL FOUNDATION 2018-19 NOTES *
The Regimental Foundation has been very helpful with the Cameron Monument and continues to help the Association with the funding process. There have been some large bills at this point and a few more big ones will be coming soon.
It must be noted here that Mr. Julian Benson has finished handing off the last of the Foundation records to his successor, Mr. Peter Smith. Julian has given exceptional service to our Foundation, so thank you sir for all of your help. It has meant a great deal to the Cameron regimental family and we wish you all the best with your future endeavours.
Thank you to all of those who have contributed to the Foundation. Every dollar helps !
ONLY donations of more than $25 by cheque or E-Transfer will be issued a tax receipt.
* CAMERON CADETS *
The Cameron cadets are doing OK. The corps strength is now 5 Officers, 2 CI, and 2 Volun- teer staff, and about 76 cadets . WO Will placed third in the biathlon competition at Falcon Trails. On the 27th Feb the corps did an offsite activity at U-Putz entertainment centre which was attended by 50 cadets.
Upcoming Events
21st March the corps will raise funds at a Tag Day.
28th March 407 will compete in a sports tabloid at Minto Armouries.
4th April the cadets will participate in the Army Cadet League of Manitoba Vimy memorial parade at Vimy Ridge Park.
17-19 April the Nav Trek FTX will be held in the Belair Provincial Forest.
28th May Annual Cadet Review LCol Atwell has agreed to be our Reviewing Officer.
12-14 June the Adventure FTX will be held near Pilot Mound.
Summer Stand Down will start on 25th June.
For further information regarding our cadets please visit their official web page and you will see how to sign up for REMIND. This will be a communications tool the Corps uses to notify
all concerned of activities, notices, quick information etc…. sign up at: http://www.407army.ca/
* REGIMENTAL REINFORCEMENTS *
Nil this time out that the Editor is aware of.
* OTHER REGIMENTAL NOTES *
Rounds Completed:
Cameron Heavy Games 01 June 2019
A lot of fun was had by those present, although this year's venue was a step down from last year's games.
Cameron Reunion 06th and 07th Sept 2019
The usual good times were had by all who came out for the events. On a sad note Mavis Coutts took an awful knock on her way out. She's now in a care home and we're in touch with her daughter Brenda.
New Year's Levee
01 Jan 2020 – of course! Anyhow job extremely well done to Bill Worden for the Levee having been a success again this year. That, despite not having a bartender, the guest of honour arriving very early, and other discreet glitches, Bill made do and carried on with panache and a meat pie main course. The Pipes and Drums also kept the side looking good.
The 60th Annual Cameron WO's & Sgt's Robbie Burns Supper – 25 January 2020
The Cameron WO's & Sgt's Club ran an excellent event and it went over very well with all who were able to make it. Present among those attending were the 38 CBG Comd, RSM, and several CO's and RSMs from the other units of 38 CBG. It was fantastic for some of us to get to link up with long time friends from operations and courses !
Cameron Kirk Parade
Our annual trip 1st Presbyterian was well attended by the Cadets and Advisory Board.
Incoming Rounds:
Stay tuned to the Cameron web page, Facebook page, and check your email every now and then too. Here are a few that we know are on the way and their projected dates:
THE CAMERON FALLEN COMRADES MEMORIAL DEDICATION CEREMONY
13 Sept 2020 – fine detail to follow on our web site, through email, and other means as necessary.
I can't say this enough – try to be there for our roughly 1,500 war dead. They died for our better world – surely we can find a few minutes to remember them now ?
If you can't be in Winnipeg or at Vimy Ridge Park come the day try for a minute's silence at some point in your day wherever you may be.
* LINKS *
Before You Go – Information for Reservists to assist their Release from the Canadian Armed Forces This site is set up for guys like us. The P Res guys who are trying to figure out just what in the heck is supposed to happen. It is available to guys who are already releasing, are long out, etc. http://www.forces.gc.ca/en/caf-community-support-services-for-members-reservists/before- you-go.page
Link current to 19 March 2020
Registered Disability Savings plan (RDSP)
If you have left the military with a disability that qualifies you may wish to look into this plan: https://www.canada.ca/en/revenue-agency/services/tax/individuals/topics/registered-disability-savings-plan-rd- sp.html
Link current to 19 March 2020
Canadian Veteran's Advocacy: one veteran, one standard web site
Editor's Note: Some folks I respect tell me this is a good group. The link below is from one of their pages.
http://canadianveteransadvocacy.com/VACDND_Services-Benefits/?p=1153
Link current to 19 March 2020
Veteran's service cards were reintroduced
The CAF is reintroducing cards, known as the NDI 75, as a veteran's service card intended to acknowledge the service of members and to encourage an enduring affiliation with the CAF.
Info about the program:
Https://www.canada.ca/en/department-national-defence/services/benefits-military/transition/service-card.html
Application form link:
https://www.canada.ca/content/dam/dnd-mdn/documents/military-benefits/20190919-vsc-application-form-dnd- 9036-e.pdf
Link current to 19 March 2020
JPSU – Aide Memoire-Applying for Degenerative Disability http://canadianveteransadvocacy.com/VACDND_Services-Benefits/?p=375 Link current to 19 March 2020
And a nod to Stone Angel Brewing Co. and their "Highlander" product !
Editor's note: WO (ret'd) Steve Smith says it even tastes good.
https://stoneangelbrewing.com/beers/highlander/
Link current to 19 March 2020
And another nod – and a big one at that – to Red River College
Editor's Note: Thanks to Mr. Murray Burt and Jim Popplow of the Royal Military Institute of MB for this one.
"As part of the announcement, RRC signed a memorandum of understanding with the federal government's National Advanced Placement & Prior Learning (N-APPL) program, which sup- ports the recognition of military experience in post-secondary settings. Thanks to the agree- ment, veterans and reservists now have the opportunity to turn their training and experience into academic credits."
"RRC will pilot the project by fast-tracking veterans and reservists into the second year of its Business Administration program, with plans to expand to other program areas in the future."
https://www.rrc.ca/news/2019/04/05/rrc-becomes-provinces-first-post-secondary-to-offer-credit-for-armed-
Link current to 19 March 2020
Indigenous Veterans Initiative
http://www.lastpostfund.ca/EN/IUGP.php
"At the start of 2019, the Last Post Fund introduced the Indigenous Veterans Initiative. An initiative of the Last Post Fund National Office that is consistent with the Canadian government's efforts towards advancing reconciliation and renewing the relationship with Indigenous peoples based on the recognition of rights, respect, cooperation and partnership. This initiative has two components:
Indigenous Unmarked Graves To provide grave markers to Indigenous Veterans deceased for over 5 years and lying in unmarked graves.
Indigenous Traditional Name Marking To add traditional names of Indigenous Veterans to existing military grave markers.
Both of these initiatives require research and community support from members of Indigenous communities throughout Canada. Please note that a culturally relevant symbol is available upon request.
If you think that a family member or a member of your community may qualify for this program, or if you would like to contribute to the community research effort, please contact Maria Trujillo, Indigenous Program Coordinator at
1-800-465-7113 extension 222, email: [email protected].
Editor's Note: There are former Camerons buried on various Reserves and elsewhere in this country. Hopefully the word will get out to any families this program may help !
* LIGHT READING *
10 Security 'Chestnuts' We Should Roast Over the Open Fire https://www.darkreading.com/edge/theedge/10-security-chestnuts-we-should-roast-over-the-open- fire-/b/d-id/1336531?page_number=1
"These outdated security rules we all know (and maybe live by) no longer apply."…
"Another year, a whole 'lotta data stolen. What's it going to take turn the numbers around? We might start by retiring some of the outdated thinking among security professionals. We asked several veterans to tell us which security chestnuts they would roast in 2020." ….
Link current to 03 March 2020
* HISTORICAL NOTES *
There are still families of First and Second War Camerons asking for more information about their kin. If anyone can help out please send the Oatmeal Rag editor what you have or ask to be put in touch directly and he'll do so.
The Laying Up Of The Colours of 2nd Battalion 51st Highland Volunteers.
http://www.hrfca.co.uk/public-news/laying-up-of-colours
The event took place at the Regimental Chapel of The Seaforth Highlanders at Fort George on 8 June, with HRFCA* Chief Executive Brigadier Mark Dodson and Head of Engagement Michelle McKearnon representing the Association.
The Colours were last paraded in 2011 by 7 SCOTS at Holyrood Park in Edinburgh, when they were presented with new colours by HM Queen.
The 'Old' Colours had been kept at the Highlanders Museum at Fort George since but, under Army Regulation, needed to be officially laid up. It was agreed that the most appropriate place for these to be laid up was at the Regimental Chapel.
* Highland Reserve Forces & Cadets Association
Verification of Former Service DS Solution: You can check the FAQ at this site for more information but here are the basics:
"28. I used to be a CAF member. How do I get my file? Service records of retired or released
CAF members are kept at DND for only a few years before they are sent to Library and Archives Canada.
So if you recently retired or have recently been released from the CAF, and suspect your re- cords might not yet be held at Library and Archives Canada, you may contact the DND Direct- orate of Military Careers Administration to obtain your records by dialing
1-866-240-6726. However, most military records may be obtained through Library and Archives Canada, including at the following Library and Archives sub-site:
Link current to 22 May 2019
https://www.canada.ca/en/department-national-defence/services/contact-us/frequently-asked-questions.html
https://thediscoverblog.com/2011/12/20/how-to-order-military-records-from-the-personnel-records-unit/
Links current to 01 Nov 2019
You may call Library and Archives by dialing 1-866-578-7777 for assistance. Library and Archives Canada is the federal government department that preserves and makes accessible the documentary heritage of Canada. It also serves as the continuing memory of the Government of Canada and its institutions. As such, Library and Archives Canada holds extensive collections of military records."
"IT WOULDN'T BE AN OATMEAL RAG WITHOUT A WEE JOKE"- RUSS MILLER (SWW VET, FORMER RSM, AND OATMEAL RAG EDITOR)
The man who invented Autocorrect has died. May he roast in piss.
Sponsorship
We are always seeking sponsors or advertisers to help defray the cost of this publication. If anyone is interested or has any suggestions as to whom to contact please let us know and we'll be happy to do the follow up.
Sponsors to date are: Mr. Max Katz, our very first sponsor, of the Oatmeal Rag and the Jewish War Vets; Mr. Greg Flom, a former Cameron; Maj. Bill Gray, Cameron Advisory Board; Sgt Tim Seeley, Drum Sgt Extraordinaire; MCpl (Ret'd) Mark Silver, our "Eastern Branch" contact; Sgt (Ret'd) Roy Taylor, the Cameron WO's & Sgt's #1 choice for reading "Rab" Burn's poetry; Maj. Ken Smith, who also has so kindly donated prizes for the Reunion Golf; Col. Bob Darling, Past President of the Cameron Advisory Board; Mr. W L (Lloyd) Jones, SWW Cameron; P/M Donald Morrison Cold War; Ken Smith and Lloyd Jones yet again God bless them; Sgt. Bill Douglas, Dieppe Raid.
Gentlemen, we thank you !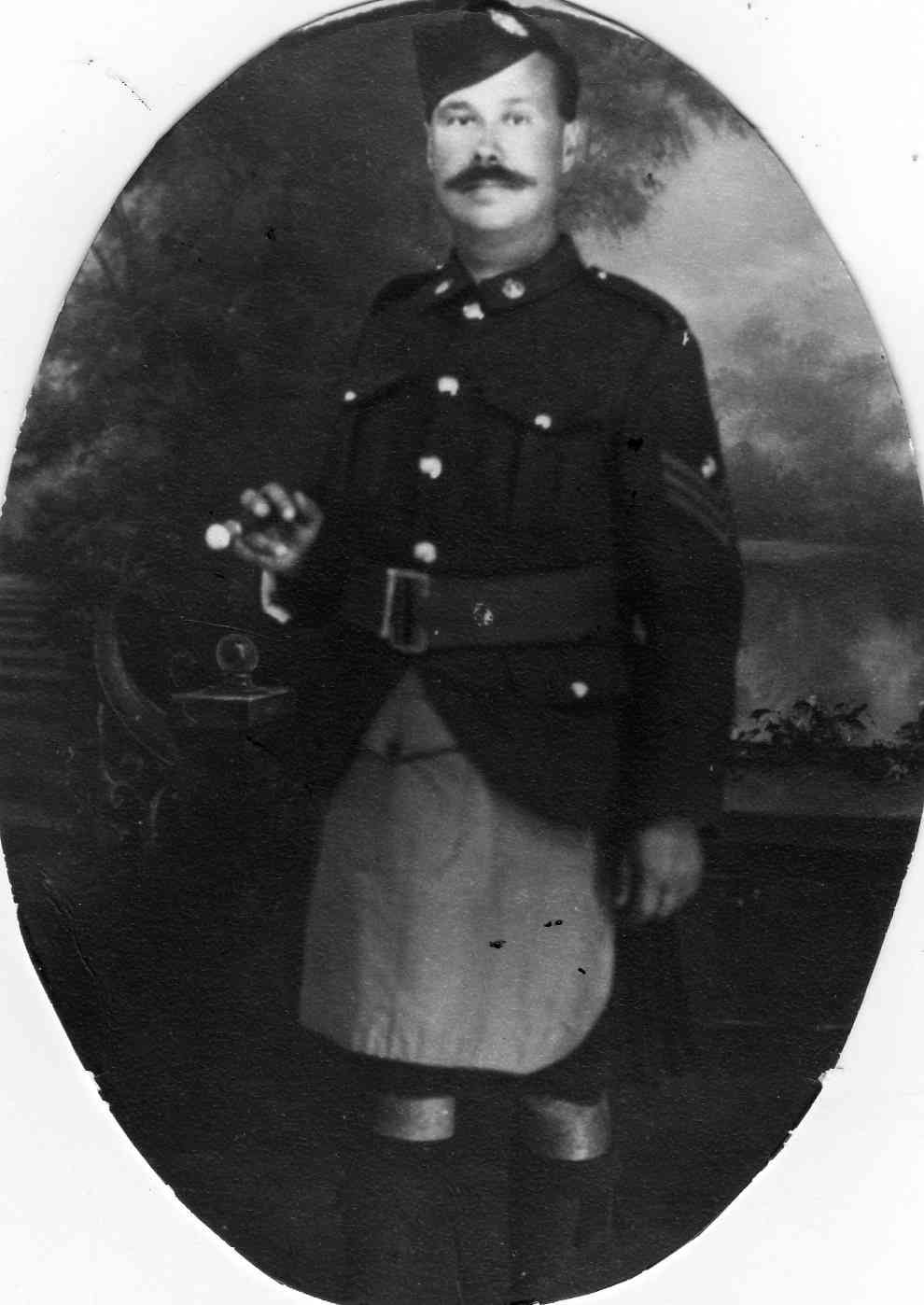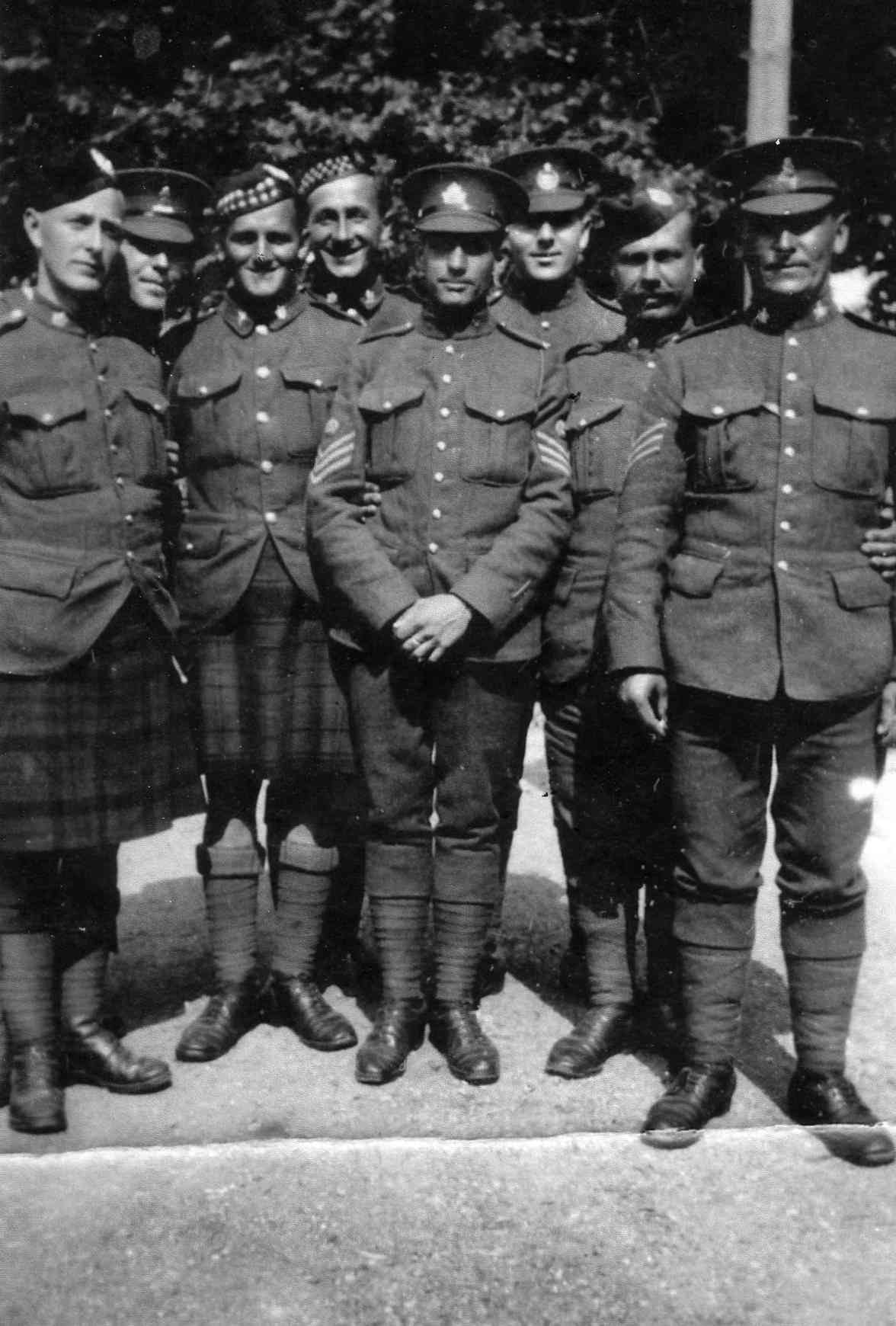 Around the Unit Lines
Reuben Arthur Nix 179th Cameron Highlanders of Canada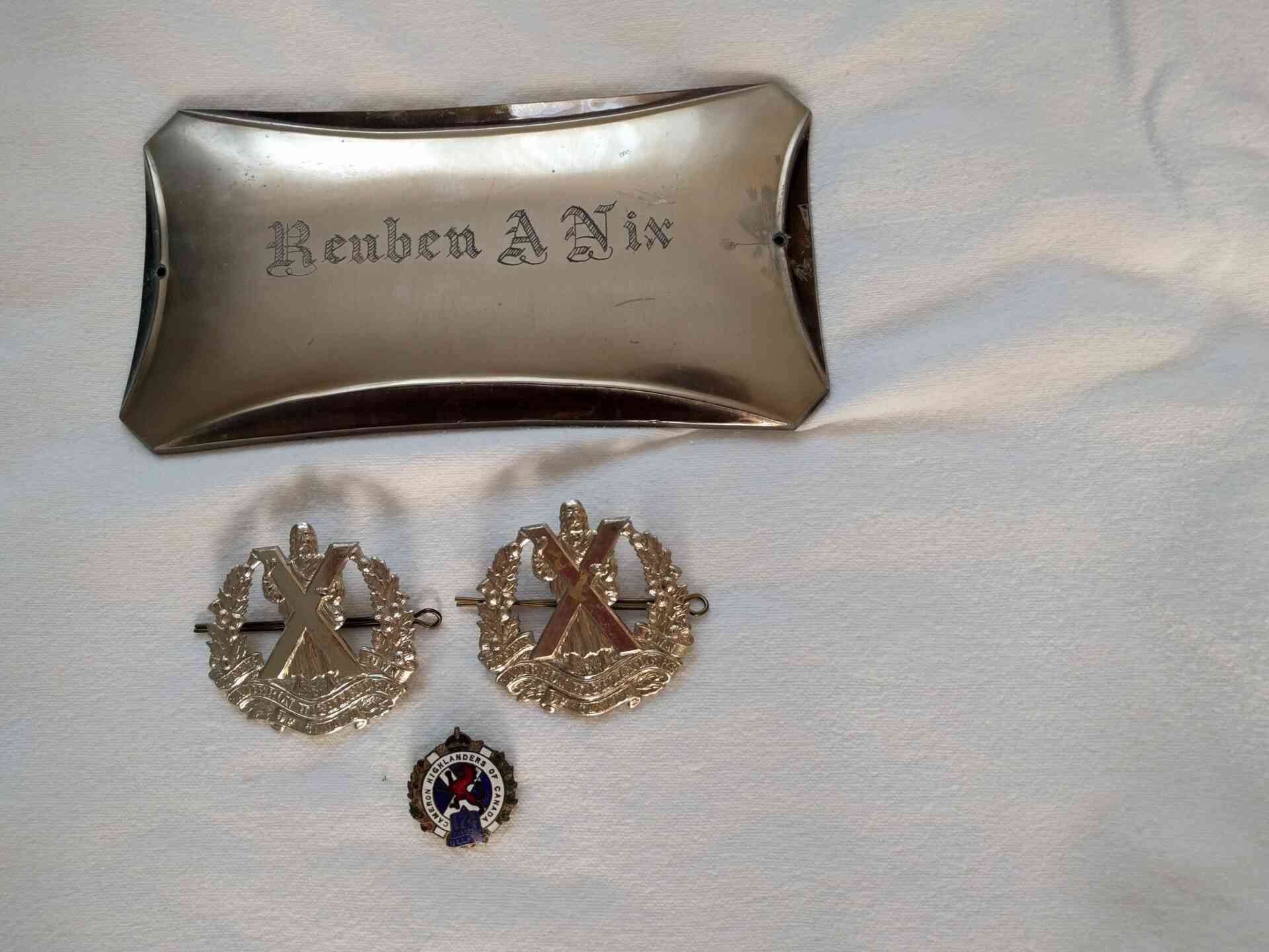 Sgt Snidal graduates from CIMIC Operator Nov 2019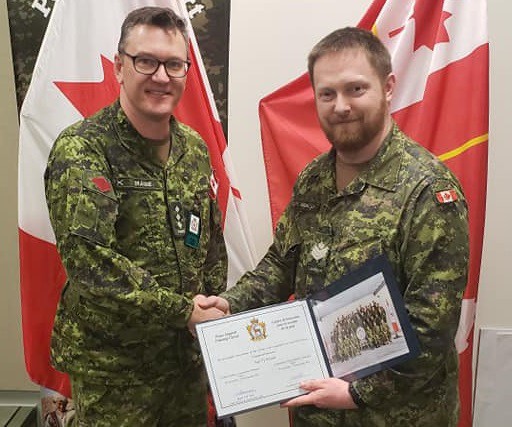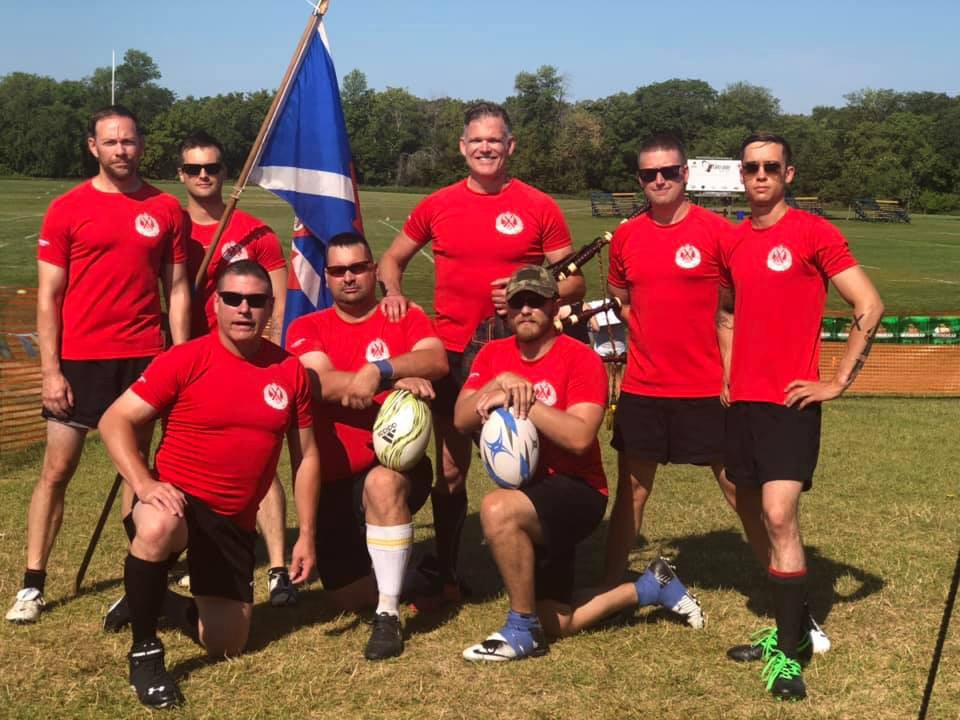 Camerons at SNAFU Aug 03 2019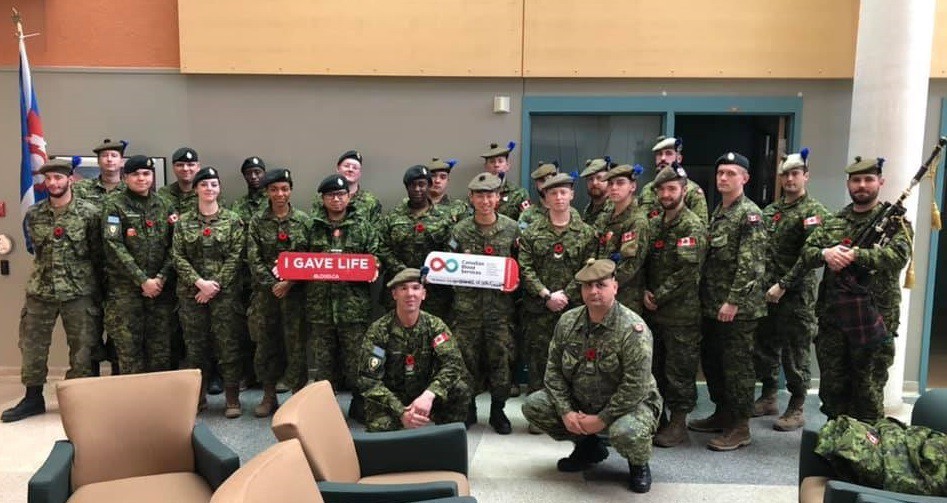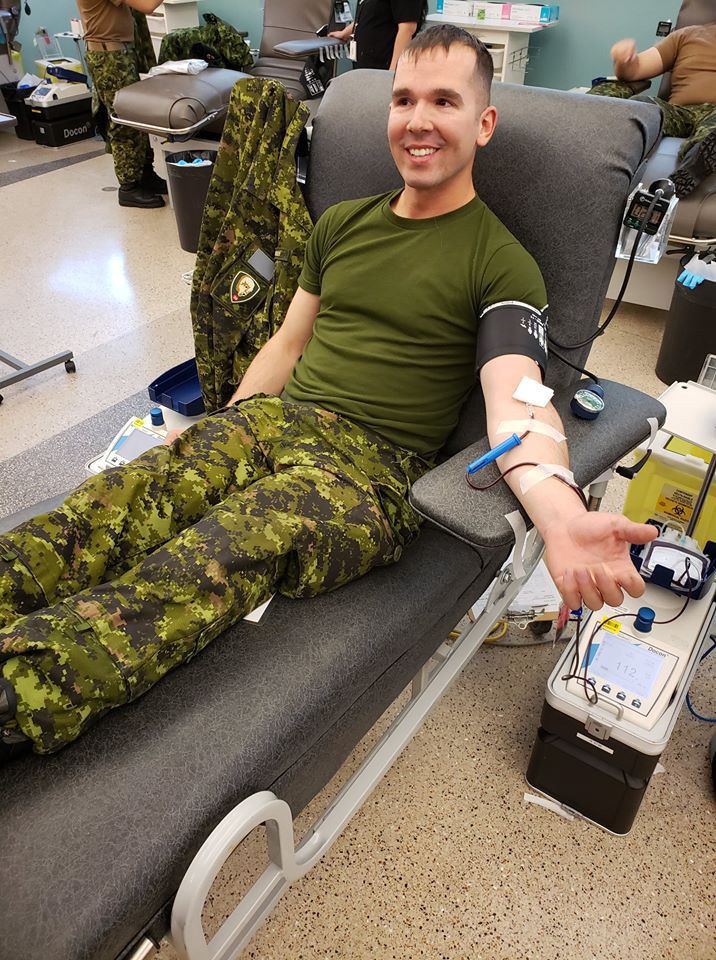 Cameron blood drive 09 Nov 2019
Cams of C at blood drive Nov 09 2019.
The Queen's Own Cameron Highlanders of Canada were able to gather 24 troops for a Blood Drive
at the Canadian Blood Services building in Winnipeg, Manitoba.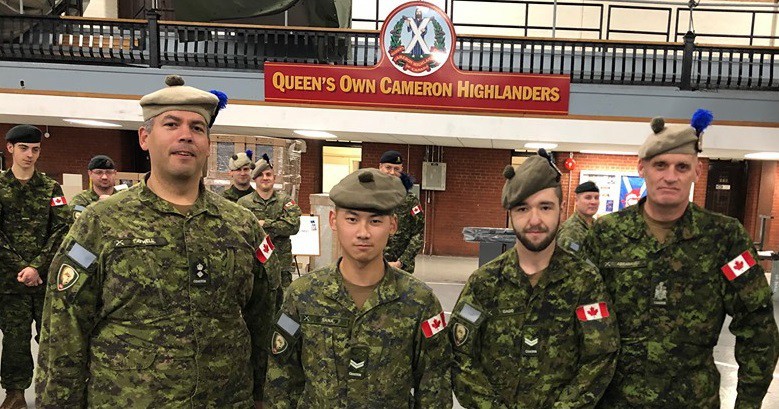 CO, RSM, and new corporals Sana and Gago Nov 26 2019
Maj. Lentz & the lads overseas Jan 2020. Sometimes Robbie Burn's is what you make of it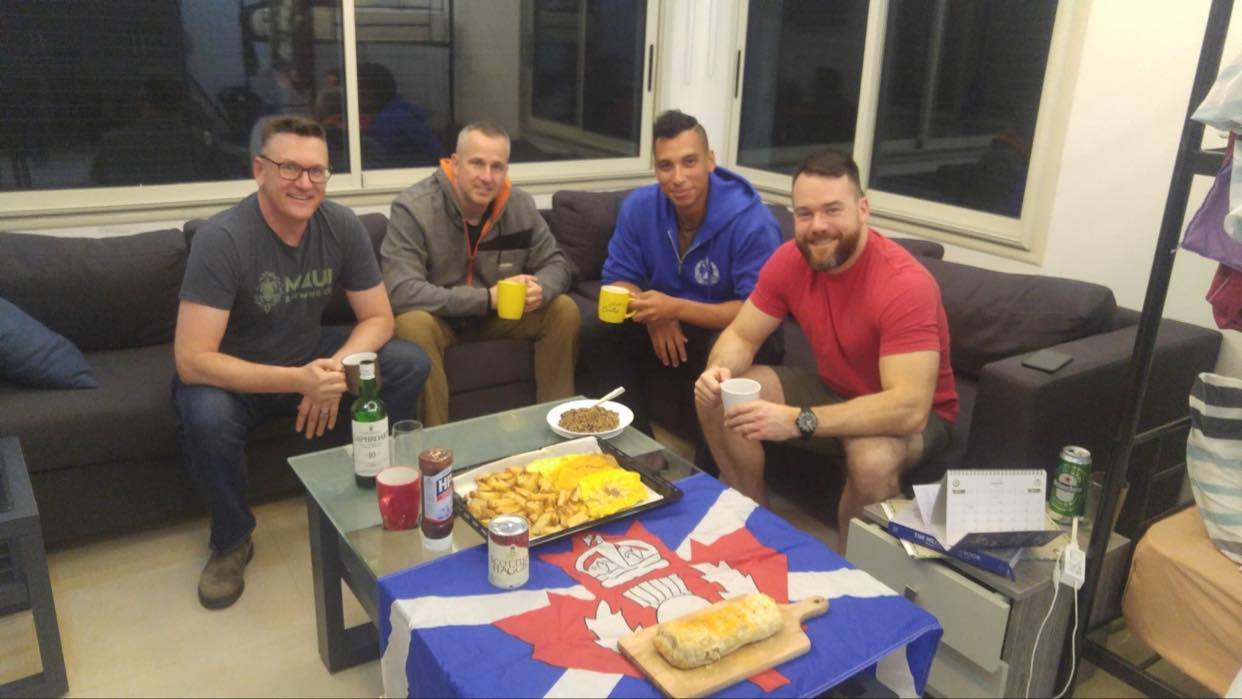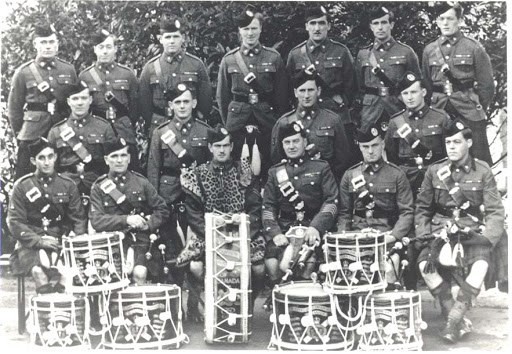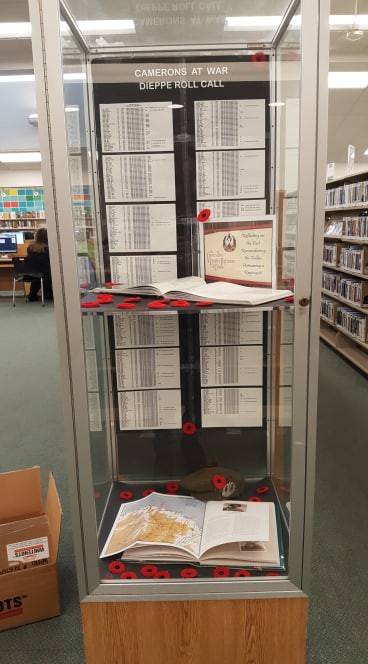 1st Battalion, Queen's Own Cameron Highlanders of Canada Pipe Band, while stationed at Amersfoort, Holland, August 1945
Sir William Stephenson Library Remembrance Day display November 2020. Thanks to Mr. Neil Odell for his work on this display.

As always our special thanks to
The Commissionaires for their continued support !