The Newsletter of The Queen's Own Cameron Highlanders of Canada
Warrant Officers and Sergeants Club
Edited by CWO HJ O'Donnell #3 Nov 2008
Cameron Club Executive

2007-08

CWO Brian Boyd

Wpg Inf Tac Gp RSM

Sgt James Clark

PMC

Sgt William Worden

VPMC

Sgt Matt Lumsden

Treasurer

Vacant

Secretary

Sgt Dave Gibson

Housing

Cameron Club Report:

Date: Wed, 14 Jan 2009
Subject: Burns Supper, and Cameron Club Business.

Hello all,

Just a quick update for everyone:
1. Ticket sales: 120-130, they seem to be going well, do your best to sell as many as possible or get your spares back to Dave Gibson ASAP.
2. Positions: At this time, we have filled the jobs as
follows:
PMC: James Clark
RSM: It will be RQMS Lloyd Harris doing the RSM's comments. CWO Boyd was offered tickets and has declined.
Address to the Haggis: Roy Taylor.

Toast to the Immortal Memory: Dr. Tony Grogan.
Highland dancer: NOT FILLED- no response from the MB highland dance assoc. as of yet. Will, can you squeeze some people and come up with a dancer.
Ushers: NOT FILLED – Will, can you get a couple of troops to volunteer this next Tuesday. The club will fix them up with dinner tickets as payment.
DJ: James' Mom !!
Pipes and Drums: Sorted out, per Brad Clyde.
Escort to the Haggis: TBC.
Toast to the Queen/Regiment/Fallen Comrades: Sgt Matt Lumsden, MWO Lloyd Harris, Maj (Ret'd) Bill Worden.
Thank you for your time and attention. Please remember that we need some extra hands to help set up the tables and clan shields during the afternoon.
Remaining Business:
1. Church parade coming.. get ready to march.
2. William and Lydia are expecting a boy !! Congrats.
3. Limo night: expect it some time in Feb or early March.
From the Editor's Desk:

This is issue #3. I heard back from some of you and thank you for your support and suggestions.

The focus on this issue is mainly on articles from the last ROTO 03-08 and some Cameron History stuff as always. I have also added a bit of "where they are now" stuff titled "The Low Road" as not all of us are on (or want to be on) Facebook or other internet social sites. The title comes from a well known song if you're not sure.

As always any points, ideas, suggestions, etc come at the peril of the person making the suggestion being roped into the production of the next issue. I do remain open to suggestion.

I intend to send this out via email and print to former mbrs of the Regiment. My main target audience is the former mbrs of the Cameron WO's & Sgt's Club. My secondary audience is the other former mbrs of the Regiment, but this is subject to the approval of the still serving mbrs of the Club. So far I have not received any thoughts or concerns on this point.

Cheers for now,

CWO Hugh O'Donnell

Former RSM Camerons of Canada

Editor

Upcoming Events:

Known:

Cameron Association:

Robbie Burns 24 Jan 2009

Tickets are available from the Cameron WO's & Sgt's, "cheap" this year at $70 per.

Expected dates:

Limo night: expect it some time in Feb or early March
Sgt Steve Smith and Erika are expecting another baby boy. Details on Facebook.
Next ROTO out the door to CFB Shilo and points West – soon.

Useful Links

Reserve Force Pension Buyback Program

http://www.forces.gc.ca/hr/rfpb-rpfr/engraph/home_e.asp

Milnews

http://www.wednesday-night.com/mil.asp

Army News web site

The Maple Leaf newspaper (online)

www.forces.gc.ca/site/home_e.asp

Combat Camera (for images)

Land Forces Western Area

38 Brigade
"A" Coy Report
Sorry, but nothing much on "A" Coy doings this time out. There isn't much from Sgt Will Worden at the moment he's too busy being a daddy, and Sgt Matt Lumsden and Sgt James Clark are very busy too.
I can comment that the "A" Coy Camerons managed to provide the PL 2 i/c and about half of the Infantry Platoon from the Wpg Infantry Tactical Group for EX PRAIRIE WARRIOR II on the Halloween weekend. The Ex featured the first serious combined arms trg at the Unit level in a long time. The EX basically consisted of the FGH Recce Tp doing a Route Recce, contacting IEDs and so on, then the combined Cameron/Rifle PL doing their reaction to IED strike drills. The FGH Engineers had a blast doing the IED sims and breaching walls which were followed up by infantry assaults. Sgt James Clark in particular distinguished himself during the House Clearing portion of the EX by his enthusiastic use of the Bayonet. Giv'em a bit o' the Old Cold Steel James !
Other Wpg News
Memorial Service – Hindu Society of Manitoba 11 Jan 09
From: Bineau Capt [email protected] CBG [email protected]
Subject: Memorial Service – Hindu Society of Manitoba 11 Jan 09
Alcon,
1. The Brigade Comd and Brigade RSM are attending a memorial service this Sunday – 11 Jan 09 – dedicated to soldiers who have lost their lives serving Canada in Afghanistan.
2. This memorial service is open to the public. Please pass the information to your soldiers this evening.
3. Service details are as follows:
Date: Sunday January 11, 2009
Time: 1030 – 1230 hours (Prayers and Speakers)
Address: Hindu Society Of Manitoba (main Temple), 999 St. Annes Rd.
Amber Bineau
Captain | Capitaine
Public Affairs Officer | Officier des affaires publiques
38 Canadian Brigade Group Headquarters | Quartier général du 38e Groupe-brigade du Canada
National Defence | Défense nationale
Winnipeg, Canada R3J 3Y5
Government of Canada | Gouvernement du Canada
Pipes & Drums Pages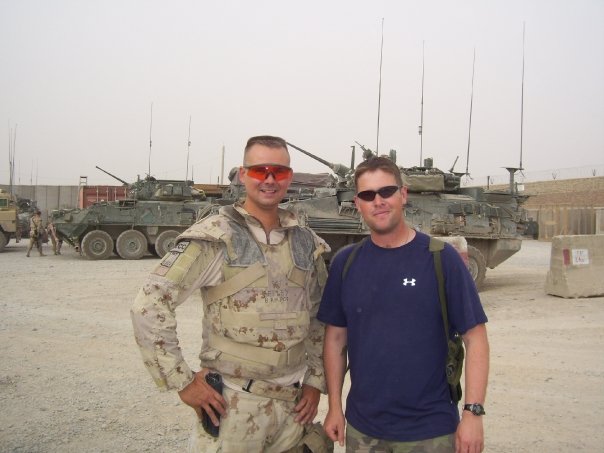 THE AFGHAN MISSION
Taking 'baby steps' in the PR race to win the confidence of Kandahar
GLORIA GALLOWAY
September 2, 2008
KANDAHAR, AFGHANISTAN — The kid on the bike just would not stop.
A foot patrol of Canadian troops arrived at a dusty crossroad in one of the many small villages that make up Kandahar city. The soldiers in the lead raised their hands, palms outward, to warn approaching Afghans to stay put.
Most complied. The wizened old men in their turbans, the wide-eyed children, the teenage boys who were helping to reconstruct a nearby home – they all held their distance.
But the kid on the bike in a billowing green shalwar kameez just didn't get it. The closer he got to the convoy, the louder the soldiers shouted. Finally, in exasperation, one of the Canadians lifted his gun from his shoulder.
An explosion of a single shot pierced the quiet morning and a puff of camel coloured dirt plumed in the narrowing ground between the military men and the bicycle.
The message was received. The boy stopped his bike. Everybody stood silent for a moment. And then, as if there had been no gun fire at all, they returned to what they had been doing.
The faces of the villagers registered no anger that the troops had resorted to force. None appeared afraid. In what seemed like seconds, the smiles returned to the children's faces.
And the boy sheepishly submitted to a body search.
Gunfire and pat-downs are routine for the citizens of Kandahar.
"We always explain why things like this happen," said Sergeant John Dawson of Winnipeg, one of two members of the Civil Military Co-operation team who were travelling with the patrol to do public relations work on behalf of the local Afghan government.
But the Kandaharis know that almost anyone in their city can pose a threat. Men with wheelbarrows, old men on scooters, young boys in flowing robes – all have been used by the Taliban as suicide bombers. And they know the Canadian soldiers are targets.
"We explain that the insurgents are cowards," Sgt. Dawson said. They use innocents to carry out their attacks. The people of Kandahar "understand they have to keep away from us."
Which makes the PR work of soldiers like Sgt. Dawson and team leader, Captain Tylere Couture of Campbell River, B.C., all that much more difficult.
But, several times a week, Canadian patrols move cautiously along the dirt roads of this city, side-stepping the open sewers, keeping a careful eye on dark doorways and high earthen walls that provide opportunity for an ambush.
Most times they are accompanied by members of the Afghan National Police who are learning that public security forces are meant to uphold the law rather than provide money-making opportunities for uniformed criminals.
But on this patrol early one Sunday morning, the ANP did not show up.
There are many things that could have accounted for their absence, explained one of the Canadian police mentors who is helping train them. The force could have been stretched too thin, or they might not have had gas for their vehicle.
But, even without their Afghan colleagues, the military foot patrols go on because it is important to reinforce the notion that the government and its allies, the Canadians, are not afraid to walk the streets of this city. And it's important to spread the word that the local elected officials, as imperfect as they may be, are better friends of the Kandaharis than the Taliban.
"There is no one thing that we do here that is going to magically change the situation overnight," Sgt. Dawson said. Everything is "baby steps." Still, he said, he has observed a big difference in the Afghan attitude toward the Canadian patrols over the past three months.
Which apparently makes the risk worthwhile. Twice in three hours the soldiers are stopped by the sounds of nearby gunfire. Once they are halted by an explosion.
Then they move on.
At the village of Gachkhanay, a Kandahar suburb, Sgt. Dawson approaches an old man keeping watch over his tiny, mud-walled store. The man invites Sgt. Dawson to sit down and have a cup of tea.
The soldier asks the man whether he knows that the local district manager is named Abdul Khadr. The answer is no.
He is a good man, Sgt. Dawson said. He is the person to talk to if culverts or roads or bridges need building. "You are an elder," he said. "It's important that you tell the younger people that that they should support the local government."
The sergeant asked the man for his thoughts on security and the Afghan police. "Now they are better than before," conceded the shop owner.
"They are a little bit better, but they have a lot of work to do," Sgt. Dawson said.
A little farther down the dirt road, the patrol came across another compound of shops in the village of Karfta-i-Malimeen.
One of the owners was a middle-aged man whose store was swarming with children, five of them his own.
The man praised Sgt. Dawson for the work the Canadians have done to build the local infrastructure.
"There used to be nothing," the man said through an interpreter. "Now we have bridges and culverts, thanks to you."
"It's only because we are helping the local government," Sgt. Dawson said. "They are the ones delivering the services to you."
But when the discussion turned to security – as it almost always does in Kandahar – it was apparent the man had not completely processed the message being delivered.
Sgt. Dawson asked the man's opinion of the Afghan National Army.
The interpreter listened intently and then turned to the Canadian sergeant whose patrol had arrived outside his shop with machine guns on this Sunday morning in an attempt to bring peace and stability – whose soldiers occasional fire rounds into the dirt and frisk ordinary Afghans as they go about their daily business in Kandahar.
"He said he wants the ANA to be just like you guys."
Letter from Kandahar by Capt Fraser Clark
Share
Today at 4:11am
Letter from Kandahar
Published: August 19, 2008
Author: Fraser Clark
If you think a military piper's task during wartime is mainly piping, think again. Captain Fraser Clark of the Canadian Forces' Kandahar Provincial Reconstruction Team (KPRT), Task Force 1-08, gives us a glimpse of what it's like to be a piper in harm's way for the sake of freedom.
Letter from Kandahar
August 6, 2008
Dear Friends,
I write to you from Camp Nathan Smith, Kandahar City, trusting all is well and hoping you've recovered from the Maxville/Montreal weekend. Had I been there, I would have enjoyed listening to the largest pipe band competition on that side of the Atlantic, enjoying the fruits of Arthur Guinness's spirited contribution to Celtic culture, trading "pipe-dreams" late into the night.
I heard that the games were hit with torrential rainstorms postponing the Grade 1 contest. It always seemed to me that the most dramatic summer storms in Ontario occur around the Glengarry Games weekend. But if my memory serves correctly, the storms usually hit Maxville every second or third year and so 2008 was the year for this to happen. I think you guys were probably taking shelter at the same time we in Kandahar were in the midst of our first serious summer sand storm (the MacCrimmons must have been greatly agitated by what they heard emanating from the fields of Glengarry . . . it certainly wasn't any of us over here – we didn't have our pipes out of the box that day!).
For those of you who don't know me, my name is Captain Fraser Clark. I'm the public affairs officer for the Kandahar Provincial Reconstruction Team (KPRT), Task Force 1-08. Warrant Officer Colin Clansey asked me to put pen to paper and write about what a piper does in Afghanistan. Let's call this the South-West Asian Pipers' Report.
First, I must write about our good friend Colin.
Warrant Officer Clansey was tasked to leave his charmed lifestyle as artiste in residence for 2 Combat Mechanized Brigade Group Pipes & Drums for a nine-month stint at the dusty airfields in southern Afghanistan.
Colin is the Visits Warrant Officer for the National Command Element working in the Headquarters Section of the Task Force. His job sees him administering and coordinating dozens of official visits and hundreds of technical visits to the Canadian Task Force. It's staggering to see how many visitors we receive. Colin is the point man for these visits, and his position also sees him doing escort duties, dealing with VIPs from the Defence Minister's Office, the Privy Council Office, Prime Minister's Office, and other senior military and civilian officials as they tour the Canadian Task Force Area of Responsibility. To put this in perspective, there have been more than 200 Technical Assistant Visits since Colin got on the ground. That's more than 500 visitors. The administrative nightmares for Colin are endless and none of us envy his appointment.
If that weren't enough, Colin is also subjected to regular rocket attacks that the Taliban take great delight in launching at his home base at Kandahar Airfield (KAF). Clearly, they are no fans of the Highland warpipe. Colin's latest composition is entitled "Taliban Rocket Man," a fiery jig that aims to light one back at the enemy. Colin also assures me he will return fire in the best way he knows how: marching to "Scotland the Brave" on the off-beat, up and down the length and breadth of the tarmac!
Colin is not the only piper at KAF, and between them they share the duties of Ramp Ceremony Piper for American, Australian and Canadian soldiers. Other pipers include Captain Jeff Allen, Master-Corporal Patrick Bergevin, Warrant Officer Alex Cruickshank, Captain Stephen Davies, Captain Alex Duncan, Sergeant Dan Holley, Sergeant Marvin MacNeill, Corporal Steven Marti, Master Warrant Officer Colin Norris, Captain Piers Pappin, Corporal Jesse Tait, Private Tyler Ternent, and Major Ludger Hacault. Their jobs find them deployed in some of the most remote areas of the Kandahar Province.
Let's shift our focus away from KAF to my unit, the Kandahar Provincial Reconstruction Team (KPRT).
First of all, I'm not the only piper with the KPRT. In fact, I'm in great company.
Pipe-Major John Dawson, Queen's Own Cameron Highlanders of Canada, from Winnipeg, Manitoba, is here with me working as a Tactical CIMIC Operator (CIMIC: Civil Military Co-Operation). Sergeant Dawson took a leave of absence from Canada Post in April 2007 to commence pre-deployment training and serve with the Task Force. The 33-year-old stalwart has been playing with the Camerons since 1992 and plans on returning to the regiment in fine style once his tour is completed.
Picture of P/M John Dawson on the ISAF web Page at:
http://www.nato.int/isaf/media/photo/2008/080918c/pages/080918ae.html
John isn't the only 79th Cameron Highlander to emerge from the bowels of the Minto Street Armoury serving here in Afghanistan.
Sergeant Tim Seeley – John's Drum Sergeant – is also working as a Tactical CIMIC Operator. We don't see a lot of Tim as his team is based at a Forward Operating Base in Panjwayi District, about 40 kilometres from our location. Tim assures me the locals are keeping a relatively steady-beat as a result of his efforts there.
What has struck me about this task force is the number of Canadian Highlanders serving in the ranks. The Celtic blood runs thickly in the army as quite a number of soldiers from the western-based Highland regiments are manning this task force. They include soldiers from the Seaforth Highlanders, the Canadian Scottish Regiment, the Calgary Highlanders (about 90 members from this unit alone), the Camerons from Winnipeg and the Lake Superior Scottish Regiment.
Task Force 1-08 drew the majority of its manpower from the Canadian West where the vast majority of soldiers are from the 1st and 2nd Battalions Princess Patricia's Canadian Light Infantry (PPCLI), Lord Strathcona's Horse (Royal Canadians), and the Royal Canadian Horse Artillery. The Task Force has quite a number of attachments from across Canada (people like me) in order to meet the manning levels – just over 2,500 soldiers.
Within any given Task Force, there are four distinct sub-units (or Mission Elements) and they are broken down as follows: National Support Element (Logistics); National Command Element (Task Force Headquarters); Battle Group; and, the Kandahar Provincial Reconstruction Team (KPRT).
So, what am I doing here in Afghanistan? It's a question I often ponder.
As the Public Affairs Officer of the KPRT, it's my job to facilitate and communicate the narrative of this unit to a host of audiences: Canadians, local Afghans and the international community. No two days are alike and my responsibilities vary greatly but first, a word about the unit.
The KPRT is a combined unit of approximately 300 soldiers, sailors, airmen and women whose primary function is to help Afghans re-build their society. The KPRT achieves this through various projects such as bridge repair, road and school construction as well as water-well development. The largest part of our team is made up of military personnel while there are civilian partners working with us from the Canadian International Development Agency, the Department of Foreign Affairs and International Trade, and a small civilian police contingent. As well, there's an international component to the team: several soldiers from the United States Army serve with us as well as representatives from the American State Department and the United States Agency of International Development. We all work towards one vision, which isn't always easy, but it comes together as we help bridge the gap to long-term sustainability in Kandahar Province.
Part of my job is to invite embedded media to cover the operations of the unit. Whenever you see a television news story or read about the KPRT in the mainstream media, I will have acted as the conduit between the military and the journalists reporting the story.
Often, the media do not come into the city and so it's my job to cover our operations. So I'm rather like an armed journalist, carrying s 9mm Browning and C-7 automatic rifle along on the various patrols executed by the team.
A typical week will see me accompany at least two patrols outside the wire. In some respects, I am their "embedded journalist." If something newsworthy takes place on the patrol, I will draft a feature article, rather like the letter you're reading here.
Some of my tales are featured on the Canadian Expeditionary Force website, while others have appeared in various military newspapers such as the Borden Citizen and the Maple Leaf. The Barrie Examiner has given me a bi-weekly column "A Barrie Soldier's Letter Home" and on one occasion, one of my stories appeared in The Globe and Mail.
Because our camp is located in downtown Kandahar City, much of our work takes place right outside our front gate. For example, our CIMIC Operators have been doing dismounted presence patrols in the city (this is the first time Canadian troops have patrolled the city, extending the security reach of the International Security Assistance Force [ISAF]). In this, John Dawson has been actively involved, planning patrols in the various neighbourhoods that surround our camp. Often, our soldiers assess the temperament of the locals while identifying potential reconstruction projects. In this way, John and his battle-buddies enable ISAF to operate freely with the consent of the people.
"If we're assisting Afghans rebuild their society, then our CIMIC teams have to go out and meet with the district leaders and the village elders" John said to me earlier in the tour. "They are the ones who influence the people to throw their support behind us and get going on various improvement projects."
John and I have patrolled the streets of Kandahar together and he has often remarked how he plans to play his pipes for the locals prior to the end of his tour (I think he's crazy but it's a great idea. If he doesn't draw enemy fire, I told John I'd take his pipes so he could take my photo playing in downtown Kandahar. Take one for the team, Pipie!)
In any event, this portion of the South-West Asian Pipers Report leads us into our work environment. Simply put, we're in a dangerous place.
On our first patrol in the city last March, the insurgents laid an IED (Improvised Explosive Device) shortly after they observed us moving through one of their areas. The Taliban expected us to return by the same route detonating the device at the side of the road (Who do they take us for, those daft bastards). We continued our mission, meeting with local villagers and assessing the security threat in the area of our camp.
Luckily, the locals were ISAF-friendly and alerted the ANP (Afghan National Police) to this booby-trap. A day later, the ANP turned-over the un-exploded ordinance to the KPRT; it was at that time we laughed (a little nervously) about the nature of service in Afghanistan.
When John deployed to Zhari District for a three-week stint in the spring, his vehicle convoy was hit by an IED; he walked away without a scratch.
A few days later, Dawson, working with his buddy Tim Seeley, was involved in a TIC (Troops in Contact) when the Taliban ambushed an Afghan police sub-station. The Canadians, patrolling in the area, swung into action. Crew-commanding their RG-31 Nyala armoured vehicles, the pipe major, the drum sergeant and their patrol sped to the scene in time to deliver a sound thrashing and send the Taliban retreating all the way back to Pakistan. Forward the Cameron men!
At some level, I suppose this is just another day in the life of a Canadian piper and drummer in Afghanistan, such as it is.
When I speak to my family and friends, I'm always asked numerous questions about our equipment; what do I carry with me when I accompany our troops on patrol and what is the weather like?
When I accompany our patrols outside Camp Nathan Smith, I carry about 70 pounds of kit (John and Tim are similarly accoutered). This includes my weapons, ammunition, helmet, tactical vest, fragmentation vest, ballistic eye-ware, and first aid kit along with a 3 litre Gatorade-filled camel back. Some of our guys carry much more than this given their heavy platoon weapons (our Force Protection Company is made-up of troops from 1 PPCLI and those lads carry some big guns!).
Given our geographical location in south-central Asia, the temperature, as you can well imagine, has risen to unbearably high levels. Temperatures are soaring well above 50 degrees Celsius (but there's zero percent humidity causing your reeds to dry-out quickly; that's a real pain in the arse). In fact, two weeks ago, the temperature rose to as high as 64 – not very pleasant, and makes me wonder if I could ever survive a run through of The Big Spree!
When I return from patrol, I know I've experienced the most physically gruelling conditions I will ever work in. When I remove my body armour, my uniform is drenched in my own sweat; the liquid even soaks right through your waist belt. It's not unusual for soldiers to suffer from heat exhaustion and on days like this, it's easy to drink in excess of eight litres of water.
Some of the grizzlier aspects of my job involve my participation in the Quick Reaction Force (QRF). Whenever a suicide-bomber lights himself up in the city, our QRF is called to the scene. On these occasions, security cordons are established around the blast site – usually consisting of the charred remains of a vehicle – first aid is administered to any survivors and the investigation process is launched. So far, most of the suicide bombers on this deployment have detonated themselves only a short distance from our camp. We hear the explosions as they rumble through our buildings shaking doors and windows, sending chills up and down your spine.
There's no romance here.
On one occasion, I witnessed a suicide explosion from the air. I was a passenger on a Royal Navy Sea King helicopter riding along with a unit from the Royal Marines. We were flying above the city at about 300-feet. We saw the mud-hutted neighbourhoods through the side door as the villagers worked away in their compounds some waving to us as we flew by. Suddenly, a billowing cloud of smoke exploded from the dusty streets below; we couldn't hear the boom given the whop-whop-whop of the helicopter blades but we sensed something was terribly wrong.
It turned out that the suicide bomber targeted an American convoy. Those Americans were new to this theatre of operation and just rotated into our camp earlier that week. Luckily, none of them were injured but the bomber killed eight city dwellers and injured an additional 24.
Sadly, this same unit suffered its worst single-day loss on our rotation when a roadside bomb killed four soldiers, including their commanding officer, Lieutenant-Colonel Jim Walton, just two short months after their deployment in-theatre.
Given the nature of the insurgency, the Taliban don't just resort to suicide bombers to achieve their objectives. This harsh reality has hit close to home for us as two medics from our team, Corporal Michael Starker and Private Colin Wilmot, were killed during our tour. Their deaths came as a great shock to all of us, particularly his colleagues at our tiny unit medical facility.
Although the Task Force at the Kandahar Airfield (KAF) holds ramp ceremonies for those deceased soldiers returning to Canada for interment, we hold a small vigil here at our camp. This is when John and I are called upon to carry out our secondary duties as musicians.
Instead of following the usual format for a memorial by performing "Amazing Grace" (a tune adopted by the Canadian Expeditionary Force in recent years), I have since departed from tradition and play "It's a Long Way to Tipperary," one of three PPCLI regimental marches embraced by the regiment during the First World War. Most of the soldiers killed on this tour have come from this unit. And, it has been a fitting choice as the soldiers from B Company 1 PPCLI (attached to the KPRT) easily recognize their tune creating a unique bond tying them to their fallen comrades.
Several Patricia soldiers approached me after I performed this tune back in March remarking that if they ever "kick-off" in Afghanistan, they would like to hear this tune played at their memorial.
In a previous life when I was a sergeant with the Air Force band in Ottawa, I performed memorial ceremonies like the ones we hold here in Afghanistan, at dozens of European battlefields. The veterans of Agira, Monte Casino, Ortona, the Moro River, Nijmegan, the Scheldt and the liberation of Apeldoorn were on hand, paying their respects to the comrades they'd left behind so many years ago. I felt somewhat removed from the veterans' experiences although I could see the impact of my musical eulogy. Now that I'm in theatre and playing the ceremonies, the music embodies a powerful realism for all of us who recall the ultimate sacrifice of a brother-in-arms. Few musicians experience this little-known aspect of the art; nor would I want them to.
Remembrance Day will never be the same for any of us who have served here.
Well, I should end my letter here. We've still got two months in theatre so there's a bit to go yet. John and I will continue to play our pipes during evening hours down by the 25-metre rifle range (it's in an isolated area on camp), while Tim continues his work in Panjwayi. All of us are looking forward to returning to Canada, re-uniting with our families and picking-up our pipes and drums to march with you folks at the Highland games in 2009.
Thanks for all of your support throughout our tour. Many of us continue to receive e-mail from our brothers and sisters in the piping community. They're always great to read and raise our morale as we think about you guys back home. Please know that we're putting our best foot forward on behalf of all pipers and drummers throughout Canada and the United States. Whether we're patrolling the dusty streets of Kandahar City, initiating water-development projects or helping build the capacity of the Government of Afghanistan, the tunes of glory are always buzzing through our heads and we never walk alone as long as we have you, our friends from the pipes and drums, marching in spirit with us.
Yours aye,
Fraser Clark
Captain
Kandahar Provincial Reconstruction Team
In addition to his formidable military record, Captain Fraser Clark's competitive solo piping history is also impressive. Among his many awards are the Piobaireachd Society (Canada) Gold Medal. He has also led several bands to success.
Warrant Officer Colin Clansey is one of the world's top solo pipers, and among his numerous prizes is the A-Grade Strathspey & Reel at the Argyllshire Gathering and the B-Grade March at the Northern Meeting. He is Pipe-Major in absentia of the Grade 2 Glengarry Pipe Band.
The Low Road
We have recently heard from some of our former Camerons. Here are their respective SITREPs:
Former Sgt. Shaun Delamere
Hughie
Hope all is well with you and your clan. I've been in Cold Lake on IR since July as Michelle and Kids stayed in North Bay. They will come up here in June once Michelle has finished her nursing degree. I was hoping for a posting to Wpg but no such luck. I guess it could have been Gander. Work is keeping me quite busy especially right now as I am the Heating Supr. I was fortunate enough to miss a number of freeze ups while I was home on leave haha. Anyway should go for supper…boy do I love living in the shacks…not.
Cheers
Shaun
Former WO Dave McCracken
08/16/2008
A lot has happened in the 10 years since I left the Regiment again. While most people are aware of the news coming out of Afghanistan, few people really see the impact it has on the forces. This newsletter sure shows the hit on a militia unit. I see it in other ways. A lot of my business is CF related. I am currently in Abbotsford doing some work for one of my clients. My work site is right at the airport and last weekend was the airshow, which is billed as one of the largest in the world. It certainly was impressive, with far more tactical flying demonstrations by various fast air types than I have seen in the past. Several of the aerial displays were focused on combat arms use of fast air such as ground support and air-ground communications. The two things that impressed me in the displays was the priority the air force is putting on trying to be useful and the manner in which the flying was focused on interacting with the ground forces. I spent most of the evening with troops of all sorts – flight crew, ground crew, FACs, combat arms display team and GD. The proportion that had already been over was high. Every event I go to it gets higher.
David
Sgt Doug Setter
08/15/2008
Please pass on my congratulations to Will Worden and his new baby. Also, tell Matt to keep his head down.
Doug
Former MWO Sean Clark
15 Aug 2008
I was on the Free Press Website and saw a video that had some of our guys on it saying hello back to Canada. There was some good video with Sgt Bois, FGH being interviewed about convoy escort.
Things are ok. Recently came back from Europe where I travelled back to Bellevue Spur, Menin Gate, Dieppe, Vimy and I also travelled to my ancestral homeland of Anacharry, Scotland where the Clan Cameron estate is – which was very cool.
The second time was definitely easier getting around and you know the roads haven't changed in 100 years. Lots of improvements to the sites like Tyne Cot, Essex Farm, and Vimy Ridge. I actually met a teacher from RMC who was taking students on battlefield tours around Europe. He saw me in Tyne Cot and asked Maggie "who the army guy with the long hair was?" He was a Col and he knew Maj. Takeuchi very well. If you want to meet up with Canadians – go to Vimy Ridge.
My son Jonas had done a history project on Famous Canadians so of course he mentioned Clark, Hall, and Shankland. So we went to Bellevue Spur and I read him the Regimental Diaries and we found Sgt Major Hall's name on the wall at Menin Gate, so it really brought the history home.
On an aside – the battlefield at Culloden outside of Inverness was probably the coolest of the tour.
I'll see you next Friday – I'll be the guy with the shoulder length hair!
Sean
Former 2nd Lt Andre Blais
08/22/2008
I've taken on a second job as a horse taxi. I should have joined a cavalry unit!
Capt Kevin Fink (Formerly CSM "A" Coy)
18, July, 2008
I still wear the Cameron regalia, but am a Staff Officer at LFWA in Edmonton and moved here coming on two years ago. I took the job initially as the CIMIC trg O and am now the Ops O. I have been involved with CIMIC for about seven years now and I really enjoy it. I have some regrets about not being a CWO before commissioning but not too many…lol
Sgt Wayne Olafson (Former Chief Clerk)
18, July, 2008
I came to the Seaforths from 17 Wing in 2005. I really miss Winnipeg as it is my hometown. Although it was many years ago that I served with the Camerons, sometimes it seems just like yesterday. I have many fond/happy memories from the Camerons. They were always very good to me.
I really do miss the Camerons as I also served on the Executive for the Cameron Association for many years and attended many Burns Suppers and Regimental Christmas Dinners. Additionally during my past couple of years in Winnipeg as a Cameron Association Rep I served on the Regimental Advisory Board with Col Churchward.
There are three other fellow Camerons in the Vancouver area:
a. Sgt Doug Setter with 39 CBG HQ now a R Westie;
b. MCpl Richard Stewart; and
c. Cpl Joshua Muir currently serving in Afghanistan.
Cameron Association Page
Major McManus (Yes, this was R Wpg Rif LCol Tim McManus' father)
From: Cameron Mortar PL WW 2 Len DeCosse and MWO Sigs Post-WW 2.
October 18, 2008 7:32 PM
I knew Lt McManus, Capt McManus and eventually Major McManus. Major Lane (Limy Lane) CO Support Company was wounded in the fighting at St Andre Sur Orne. That was our initial attack, Lt McManus was now Capt McManus and took over as CO Support Company. In the initial attack we lost all our carriers taking Mortar Hill (fifty Yards from where LCol Ross was badly wounded) and were now dug in in the St Andre Orchard with all our equipment. Capt McManus, now company commander of Support Coy had us set up mortar positions in the village.
Fast Forward to the many battles beyond Falaise – the sweep north, advance to contact, to La Panne and beyond I never saw Major McManus again until one day we met after a very trying series of engagements. Major McManus was in very bad shape at Bn HQ and about to be posted to LOB (Left out of battle). I was concerned as I had a hell of a lot of time for Major McManus. He had just lost a fair number of soldiers from his rifle company and he himself had been bounced about. As of now that's all I can remember, but by then old familiar faces were getting dam scarce, so when one encountered one of our "Normandie landers", it was really an occasion.
As for reinforcements, from St Andre forward for the next ten months to Oldenburg Germany May 3 When we got the order to consolidate we were never up to strength and many times 10 to 20 bodies were holding positions or moving forward covering a 30 man area of attack. It has never ceased to amaze me that the war Gods in Ottawa always insured that we had a unlimited supply of blanco but never allowed for the fact that when they put 6 Divisions in the field of battle they must supply another division of reinforcements.
Editor's Closing Notes:
This is the third of what I hope will be many more. It can only survive if you are interested. Let me know what is going on with your piece of the Regiment – all entries will be accepted and vetted. I will use what I can.
Cheers to all,
Hugh O'Donnell
CWO
Editor