The Newsletter of The Queen's Own Cameron Highlanders of Canada
Warrant Officers and Sergeants Club
Edited by CWO HJ O'Donnell #5 July 2009
Cameron Club Executive

2007-08

CWO Brian Boyd

Wpg Inf Tac Gp RSM

Sgt James Clark

PMC

Sgt William Worden

VPMC

Sgt Matt Lumsden

Treasurer

Vacant

Secretary

Sgt Dave Gibson

Housing

PMC's Cameron Club Report:

It's summer – have fun and quit whining about the mosquitoes and heat.
Limo Night is delayed but not quite dead yet.
Sushi night is TBC.
Stand up of the Cameron WO's & Sgt's Deployment Support Cell will occur on or about 15 July 09. Contact CWO O'Donnell for details and plans.
The aim is to ensure that the Tac Gp DSC gets our support and our Lads are not forgotten, especially at Christmas. The plan also calls for canned haggis for all deployed Camerons for the Hogmanay. The amber bead component of the liquid part of the Scotch Broth will take some work and ideas are welcome.
From the Editor's Desk:

This is issue #5. I have again heard back from several of you and thank you for your support and suggestions.

The focus on this issue is some Cameron History stuff . "The Low Road" and High Road have been well received and will continue as long as I continue to get news from our far flung Cameron Clan members.

The sharp eyed will notice that the "Boots on the Ground" series by Sgt Tim Seeley is being presented in a reverse sequence with this instalment being # ?. This is because I didn't open all my emails in the correct order and nothing whatsoever to do with Tim having had too many Tim Horton's servings, or anything else for that matter. My apologies for this. I have now received the # 1 – # 4 issues though so I'll get them out to everyone as time and space permit.

My main target audience remains the serving and former mbrs of the Cameron WO's & Sgt's Club. My secondary audience is the other former mbrs of the Regiment, and I have received quite a few thoughts but no concerns on this point.

Cheers for now,

CWO Hugh O'Donnell

Former RSM Camerons of Canada

Editor

Upcoming Events:

Known:

Cameron Association:

Annual General Meeting: Bill Worden to info us re DGT, Locn, etc. Or maybe not as it may be quite dead already.

Expected dates:

Limo night: Expect it some time.
Next ROTO out the door to CFB Shilo and points West – soon, say Sept or so.

Useful Links

Reserve Force Pension Buyback Program

http://www.forces.gc.ca/hr/rfpb-rpfr/engraph/home_e.asp

Library & Archives Canada

http://www.collectionscanada.gc.ca/military-peace/index-e.html

Army News web site

The Maple Leaf newspaper (online)

www.forces.gc.ca/site/home_e.asp

Combat Camera (for images)

SALES OF THE VICTORIA CROSS

http://www.victoriacross.org.uk/aaauctio.htm

Royal Regt of Scotland
"A" Coy Report
Sgt James Clark has been appointed Platoon 2 i/c of #4 Platoon of the Wpg Infantry Tactical Group. He's currently regaining his sense of humour after the Big EX.
Sgt William Worden is heavily engaged on the Home Front. 9'er Domestic overrules 9'er Tac, and with 2 young ones he's been tasked for Home Front duties. He has been assigned to RQ now, and hopes to have at least gotten it cleaned up, and he's actually hoping to get Sgt Dave Gibson's help in figuring out what we are missing… AHHHHH… in time for the100th. Or so…..
Sgt Matt Lumsden is keeping the streets safe with the Wpg Police Svc. When not so engaged he does Platoon 2 i/c work. He even found time to take his kids to the red River EX this year !
Pipes & Drums Pages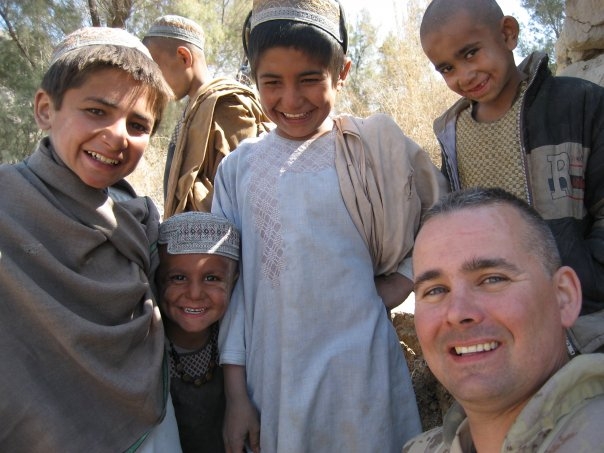 From: Sgt. Tim Seeley
Subject: Tim in Kandahar – Update 2
Received: Monday, February 25, 2008, 1:52 AM
Hello all, a quick update from over here.  Been out of camp a lot, and therefore no email or internet access, and we're going out again soon so time for a quick note only. Thanks for the replies I've received, if I don't get back to you right away its because of limited time/access.
Things are starting to warm up, nights chilly enough to need a light jacket only now, days all in the 30s.  Getting a great tan on my hands and face when they are exposed, that's about it, we wear all our personal protective kit most of the time when out in the field, ha ha.
Anywho, for those of you who don't get it, I've included the "dispatch" that I send to our local paper, the Dauphin Herald, for the Editor Shawn Bailey.  He has instituted a semi-regular column on my adventures over here.
Take it easy
– Tim
"Boots on the Ground"
Dispatch One
Kandahar, Afghanistan
Sgt Tim Seeley, KPRT
Canadian Forces Task Force Afghanistan
Well its been over two weeks that I've been on the ground in Afghanistan. The first few days are spent "clearing in" at Kandahar Air Field and then at our base at Camp Nathan Smith which is located inside Kandahar City. CNS is a much smaller camp then KAF, totally enclosed and secured with our own defenses and the help of the Afghan National Police. Out of this base all KPRT activities are controlled and coordinated. We have KPRT detachments operating throughout the city and Kandahar province based out of this camp.
My job is working with a KPRT detachment in an outlying area of Kandahar province. We spend various amounts of time living and operating in our area, which is a rural agricultural area well outside Kandahar City, and then come back to CNS to replenish supplies, finalize paperwork, and to shower and use the internet! One of the successes of the Canadian KPRT is the good work done by the small dets living and operating throughout the region.
Over the past two weeks I have visited some of the major projects being conducted by local Afghans through the assistance of the KPRT. These are being conducted in areas which were under the control of the insurgents up until recent clearing operations conducted by the Afghan and Canadian contingents. The locals are relieved to have increased security and help with development and are starting to return to areas they had abandoned. The construction projects are providing employment and hope to areas devoid of signs of life under the insurgents. The Afghans, with the help of the KPRT, are returning these areas to somewhat of a normal routine, however security issues remain as the insurgents try to disrupt the hard-fought gains.
I have also visited camps in our area which have been set up by the Kuchi people from south-western Afghanistan. These people have been displaced from their traditional homelands for various reasons including drought and insurgent activity, and live in hastily-constructed settlements in many areas. The Kuchis receive assistance from organizations such as the UN where possible, however in many areas the insurgents and Taliban interfere with these efforts and the result is poor living conditions, disease and starvation. The KPRT, in conjunction with our other government partners and local Afghan government agencies, is attempting to improve the security situation for the Kuchis so that aid can be provided and long-term solutions can be developed.
Time is limited so I must close off this first dispatch, however in my short time here I can say that I have been amazed by the level of hospitality shown by the local Afghans in my area, by the courage and determination they show in fighting the insurgents and reclaiming their villages and farms, and the beauty of the area with its lush river valleys, severe mountains and sweeping deserts. Also, I have seen the harsh quality of life faced by many through exposure to the elements, starvation and disease. The fact that the Taliban and insurgents are content to keep the people living like this and fight our efforts to help them is mind-boggling. Suddenly the petty issues and idiosyncrasies that seem so important back home in Canada pale in comparison to the issues of many in Kandahar Province. The Canadian KPRT is working extremely hard to help the Afghans solve these issues, but the solution is long-term and no "quick fix" is possible.
Talk to you in a few weeks, and I hope the weather warms soon at home. I have a great tan!
The Low Road
We have recently heard from some of our former Camerons. Here are their respective SITREPs:
CWO Kent Griffiths, former MCpl Camerons of Canada
As of last week, I am out of the Army and into the purple. I am now working for MGen Tabbernor as the CRes Cdts CWO.
Ron & Heather Demchuk
Demchuks move to Trenton this APS. Details TBC, but they go soon.
Shaun Delamere April 25 at 2:38pm
Not much new here…winter finally over, I think. Time for summer maintenance to begin. Work never ends it seems. Going to Comox in a couple weeks for safety course-good go if I can stay awake. Going to Fairchild AFB(Washington State) in June for an ANG project. And of course, there is upcoming trg for OP Podium.
Michelle and kids arrive tomorrow for a week for HHT. We won't be getting a house (not in this market) but they will find out what they are getting themselves into anyway. Sure will be great to see them.
Should be passing through sometime in July so will give you ring if get the chance.
Shaun Delamere at 8:59pm June 14 09
Hey Guys, just back from Wainwright where I ran in to Dave Colton, Capt. FGH, and had a nice chat.
He's going on the same ROTO as me, TF 03-09. All is well and off to North Bay next week to move everyone up to cold lake.
Brian Lowe (Camerons during the Drew's Militia Days)
I left Winnipeg and joined the Mounties. Got married to my girlfriend Val….
Ended up doing federal policing in the Toronto area in 1988. Hated federal policing. Joined Halton Regional Police in 1990. Halton Region comprises 4 municipalities – Burlington, Oakville, Milton and Halton Hills…..mixed urban and rural geography……population now around half a million. Funny, I'd never heard of it till I lived in it……were snuggled in between Hamilton and Peel Region (hahahah Pop. 1 million – between Mississauga and Brampton)
Split up with Val………remarried and last year split up again. I have decided a single mans life is best for me…..Sherri (wife 2) and I get on very well, and co parent very well. We have 3 kids. Bryce, Gillian and Claire….so that end of it was great!
In policing I worked mainly in patrol, which is still my first love….but have had many years working in tactical, where I now work as a team boss on our full time SWAT unit. Did the sniper, assaulter stuff, also just gave up being a bomb tech/explosive breacher…..and now getting back into doing some extra work as a rappel assaulter along with running my gun team. Oh ya….got promoted to Sgt after many tries at the damn thing.
Army wise: When I joined Halton Police I got commissioned in Arty, but it didn't work out, too hard with shift work and impossible to get away for courses. 5 yrs ago I got into the cadet program as a CIC officer, just finishing that up, as last year I started to teach at the local community college, teaching in law enforcement, which is eventually where I hope to land when I retire….but that's 10 yrs away……
Got my CD last month! Started in reserves in 1980. Qualified for my 12 yr gong in 2009. That has to be a record of some sort…..
Oh and I made contact with Glen Fedoruk a few weeks back…….I'm sure you know he is out Calgary way and still in.
I have followed the QOCH page via the internet for years.
Sent: Monday, April 20, 2009 7:36 AM
Subject: RE: Sgian Dhu #4 – more to fol…
For some reason, my home computer would not open it but once I forwarded the Sgian Dhu to my work e-mail, it came up L/C.
Its really great to see that the unit has kept so many of the same faces and that so many guys are still in touch.
I See Steve Smith all of the time in Ottawa (and in fact, I am trying to convince him that he should be one of my Pl WO's, if not my CSM next year in A Coy).
I hear from the "Chairman" in Kingston on a fairly regular basis and I had wanted to go to his graduation but I am on the road with my day job and sadly I have to miss it (Buenos Aires was really hard to pass up).
I also talk to Dave Desjean often (he was actually down last year to help me move into the house and we have plans for a BBQ this summer).
Duncan Hamilton has also applied to join the Ch of O and I am hoping to get him in over the summer (but you know how the application process can be)…… all in all, there is quite a Cameron mafia here in Ottawa.
Please keep me on your distr list and send my best to all !
Ullamh !
Mike
Mike G. Fejes
Major
LFDTS ATA FMT Co-ord
613-945-0448 (w)
613-286-4658 (bb)
613-944-0804 (fax)
613-822-4282 (h)
[email protected] (h)
Erika Miller Smith, WO Steve Smith & their new son, Drew Egan Smith
After much speculation and going to and fro from the hospital, Erika had the baby at 2352 hrs on the 16th June 2009.  He weighed 8 pounds and 3 ounces, is 21 inches long and his name is Drew Egan Smith.  Erika was in labour for 22 hours, and he ended up being a C – section.  Both Mom and baby are doing well. Gruesome details and great pictures on Erika's Facebook page.
The High Road
Sgt William Gilkison (published on April 04, 2009)
March 23, 2009 from Maj (Ret'd) Gord Coutts
WILLIAM GILKISON August 27, 1931 – March 23, 2009 We are sad to announce the passing of our father and grandfather, William (Willie) Gilkison. Willie was born in Airdrie, Scotland and immigrated to Canada in 1957, eventually settling in Winnipeg. His wife Audrey and his sister Margaret predeceased him. Willie leaves to mourn his daughter Anne (Robert) and his loving grandchildren, Robyn, Robert, and Matthew Nyhof. A celebration of his life will be held on Tuesday, April 7, 2:00 p.m. at Covenant Christian Reformed Church, 653 Knowles Ave. In lieu of flowers, should you desire, donations can be made to the charity of your choice
http://www.passagesmb.com/obituary_details.cfm?ObitID=148429
Sgt Gilkison played with the Cameron Pipes & Drums from 10 Oct 1963 – 17 Nov 2002. He also served with the British Army.
Cameron Association Page
Special request from the Editor: We have had a question for the Regimental Museum that the Museum Staff haven't had any luck with. Can any of you help out with this request for information ? I've added a few of the dead ends we've looked at, but if anyone has a fresh idea please let me know.
—–Original Message—–
Date: Sun, 21 Dec 2008 12:56:21 -0500
Subject: RE: information about an historical event
Hi,
I'm doing some research for a Canada/France television documentary about
an event which occurred in 1915. This involves the transport of some 106
sled dogs from Nome, Alaska, to Quebec City, where they were joined by
another 300 dogs and sent to France, to help supply the French army in
the Vosges mountains against the Germans.
The dogs were brought from Alaska by a French lieutentant, Rene Haas,
along with a famous Alaskan dug musher, Scotty Allan. They were
transported in two special cars of the CPR trans Canada train. They were
let out for exercise at Calgary, Winnipeg, North Bay and Montreal on
their way to Quebec City. Because there were threats of sabotage by
German agents, a military guard was supplied to watch over the dogs.
In Winnipeg, this guard was supplied by the 79th Cameron Highlanders.
The dogs and their handlers arrived in Winnipeg on October 19th at 11Am,
were kept at the Winnipeg Stockyards, and then re boarded the train for
the onward journey on October 20th at 7PM.
We are trying to find out anything we can about this story so we can
build a film script. There was a newspaper account in the Winnipeg Free
Press on Wednesday October 20th, but most of it was about the famous dog
sled man Scotty Allan.
We are trying to find any photos we can of the dogs either on the train
or at one of the stops, along with their handlers or their guards. We
are also particularly interested in any record of thwarted sabotage
attempts. In Scotty Allan's autobiography published in 1931, he mentions
there were "three attempts to poison the dogs along the way", but he
gives no specifics.
Would your regiment have any record of this? Anything at all would be of
interest to us.
Thanks very much for your help.
Regards,
Tom Puchniak
Ideacom International
1000 Amherst St., Suite 300
Montreal, Qc
H2L 3K5
tel: 514-937-0745
One of the other guard detachments for the dogs.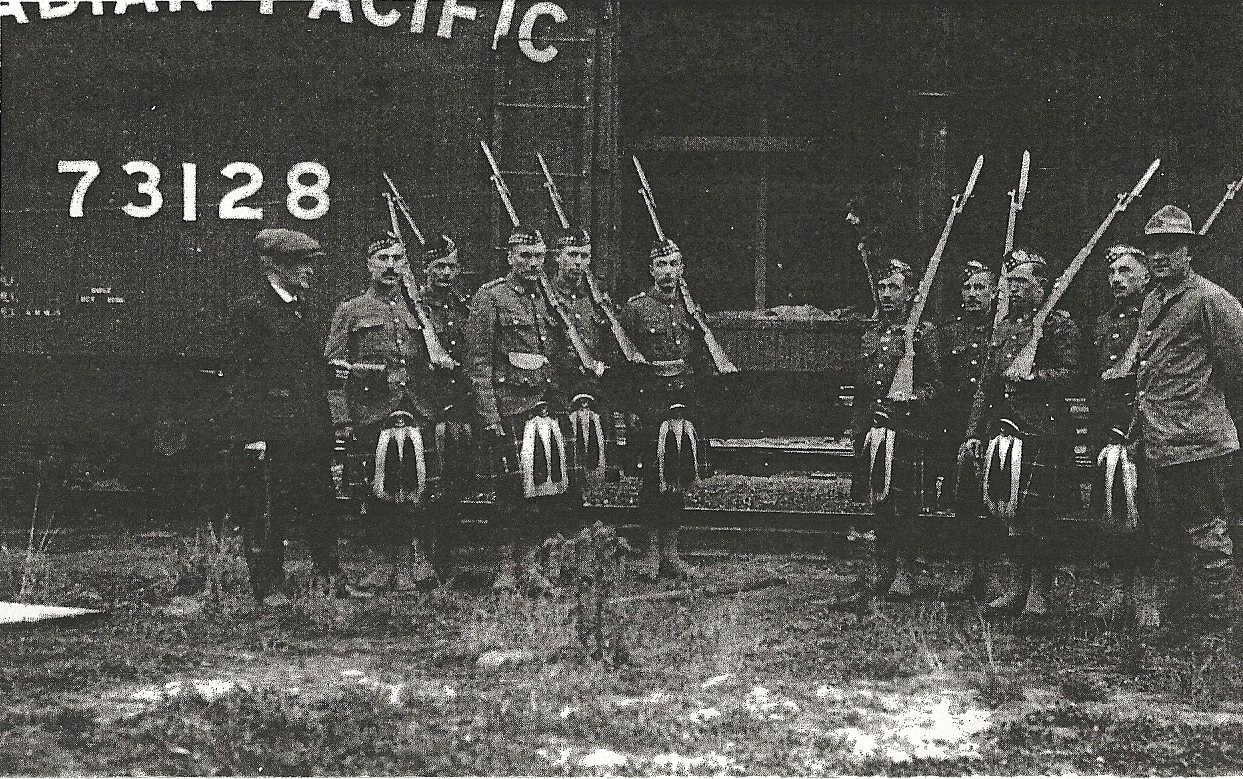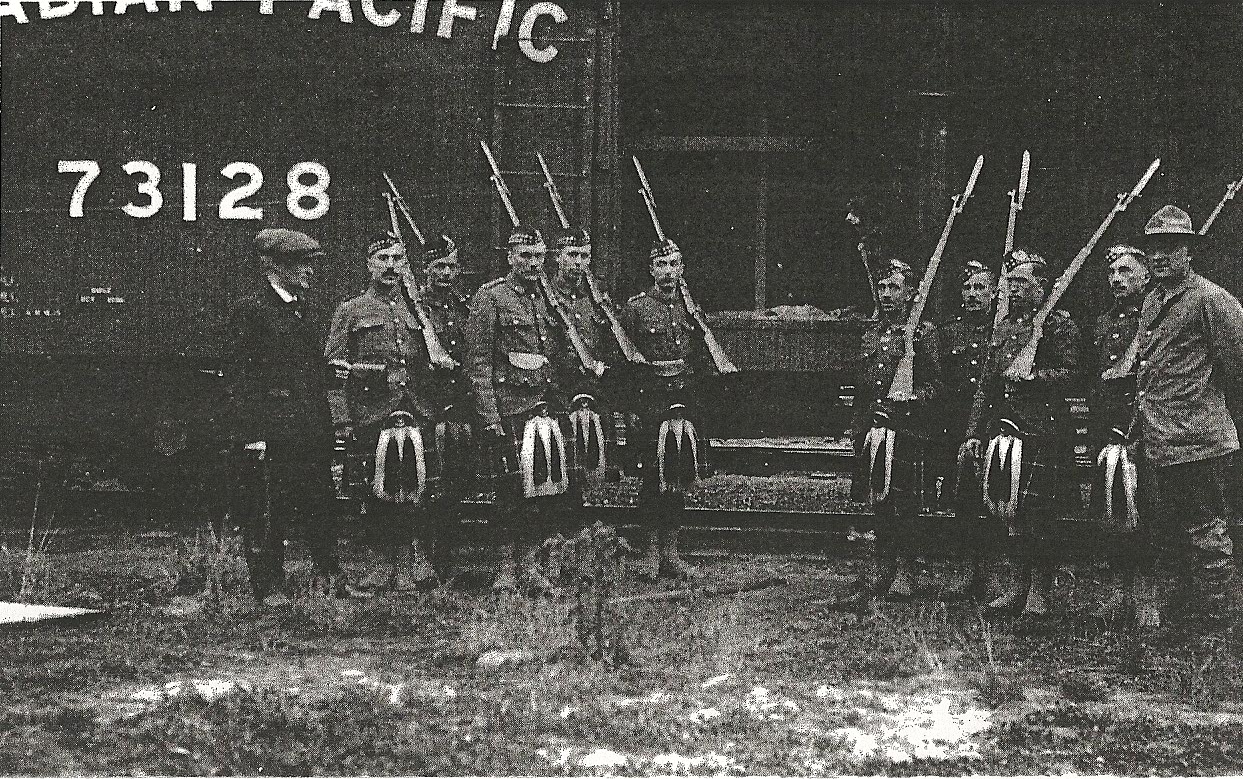 Hi Tom,
On a side note, did you try contacting the webmaster of the Cameron Highlanders of Canada Memorial Site ? Mr. McLean may have some detailed family information courtesy of some of the people who have visited the web site. I field about 2 requests for information every month from families doing research and I almost always point them this way for a general view of the 43rd.
Cheers for now,
Hugh
Date: Tue, 13 Jan 2009 09:59:28 -0500
Subject: Re: information about an historical event
Thanks for the suggestion, I'll try it. I can't believe this event wasn't recorded somewhere, but who knows?
Cheers,
Tom
Hi again Tom,
Just checking to see if you had any luck with the 43rd Bn Memorial site ? Also to let you know that Sgt Tyler is going to check part of the surviving written orders for that time period to see if he can find anything.
Also, depending on what I hear from you I may put in your request to the Warrant Officer's and Sergeant's newsletter that I do these days. It gets around a bit (for example a WW 2 Cameron in BC takes it to his Legion and passes it around as do some of the guys here) and may trigger some buried memories. If you're all set for information then I may leave it out, but it's such an interesting story that I'd like to spread it around if you don't mind ?
Cheers for now,
Hugh
Date: Tue, 10 Feb 2009 09:46:16 -0500
Subject: Re: information about an historical event
Hi Hugh,
No I've had no luck at all. I've searched across the country and there's not a single reference to this mission in any military archives that I have contacted. Very frustrating.
And if you want to publish what we're doing I'm more than happy to have it out there in case someone somewhere has a photo or some other artefact to help us tell the Canadian side of this story.
Thanks again.
Regards,
Tom
There was a story in the WFP re this. It says Scotty's got 400 dogs with him when in fact he has 106. The other 340 were in Quebec City. But that's a minor detail.
Mr. McLean from the Cameron Highlanders of Canada Memorial Site at
http://ca.geocities.com/cameronhighlanderscanada/title.htm
also had some great ideas we're trying to follow up with.
Light Reading for You:
CF 18 bests F -22 Raptor (Thanks to Rob Bonnett):
http://www.flightglobal.com/articles/2009/04/17/325325/f-22-taxiway-collision-causes-1-million-damage.html
MiddleEast news – NOT IMPARTIAL but interesting anyhow (Thanks to Len DeCosse):
CTC Gagetown:
http://www.gagetownmovie.com/GT_VIDEO.htm
Shankland's VC and medals:
As we all now know this one went our way, but here is some of the coverage it got:
http://www.canada.com/Life/Victoria+Cross+sale+launch+controversy/1518373/story.html
Victoria Cross medal won't leave Canada: Minister
By Randy Boswell, Canwest News Service April 21, 2009 7:00 PM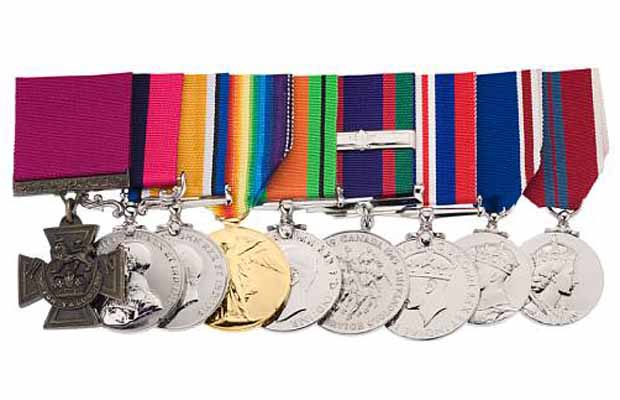 Victoria Cross of Robert Shankland, one of the trio of First World War heroes from Winnipeg's 'Valour Road', is to be auctioned next month in Toronto. The Medals comprise: Victoria Cross, engraved on reverse (Lt. R.Shankland. 43rd.. Bn.Can.Infy 26. Oct. 1917.); Distinguished Conduct Medal, G.V.R. (420933 C.S.Mjr: R.Shankland. 43/Can: Inf: Bn:); British War and Victory Medal (Capt. R.Shankland.); Defence Medal; Canadian Volunteer Service Medal with overseas bar; War Medal; Coronation Medal 1937; Coronation Medal 1953.
Photograph by: Randy Boswell, Canwest News Service
An iconic Canadian war medal — the Victoria Cross of Robert Shankland, one of the trio of First World War heroes from Winnipeg's "Valour Road" — is to be auctioned next month in Toronto at a sale that has Veterans Affairs Minister Greg Thompson vowing to do "whatever it takes" to prevent the "powerful and enduring symbol" of gallantry from leaving the country.
Shankland's VC, awarded to him in 1917 for "most conspicuous bravery" in leading his troops against the Germans near the Belgian town of Passchendaele, is the centrepiece of a nine-medal set being offered at Bonhams' May 25 auction of Canadian art and history.
The "very scarce" combination of Shankland's Victoria Cross and his Distinguished Conduct Medal — won in 1916 for rescuing a team of Canadian stretcher bearers under enemy fire — has pushed the high-end estimate for the full set to $330,000, a price comparable to other recent VC sales in Britain.
Jack Kerr-Wilson, president of Bonhams Canada, told Canwest News Service on Tuesday that the Shankland VC is available for sale to any Canadian or foreign buyer, but added that an international collector would need federal government approval to take the medals out of Canada.
"The Cultural Property Review Board will require an application for an export permit if the Shankland medals are acquired by an overseas resident who might then wish to have them sent out of Canada," he said. "Any interested buyers are informed of this obligation.
He added: "With regards to the history of the medals, I regret that we are not at liberty to divulge that information."
Thompson made clear, however, that there's little chance the medal could be sold and shipped to an out-of-country buyer.
"The Victoria Cross is a powerful and enduring symbol of the courageous men and women who have always been there to defend our great country," he told Canwest News Service. "We have a duty to protect and preserve this proud history of our nation's truest heroes. We will do whatever it takes to keep this Victoria Cross in Canada — and to ensure that it is treated with the respect it deserves.
"Our heritage cannot be for export."
Previous attempts to auction examples of Canada's highest military decoration — awarded only 94 times in the nation's history, and not once since 1945 — have provoked public ire and government objections to the planned sales.
In 2004, with the family of Toronto-born Second World War medic Fred Topham poised to auction his Victoria Cross — earned through several daring dashes into no man's land in 1945 — the federal Liberal government of the day vowed to block the sale and even offered to purchase the medal.
In the end, a public fundraising campaign spearheaded by the veterans of the 1st Canadian Parachute Battalion — Topham's former unit — raised $300,000 to prevent the medal's sale to a British collector.
Topham's VC was later donated to the Canadian War Museum.
"These are powerful symbols of our national pride and they should never be exported when we have a chance to do something about it," then-veterans affairs minister Albina Guarnieri said amid the controversy over the Topham VC. "Every Victoria Cross that was earned by Canadians should stay in Canada."
Also in 2004, the planned sale of the Victoria Cross won by Canadian soldier Filip Konowal during the First World War was halted by the RCMP after the Canadian War Museum claimed ownership of the medal.
Konowal's VC had disappeared from a museum storage area in the 1970s. Following a brief police investigation, the medal was returned to the military history collection in Ottawa, where Konowal had worked as a Parliament Hill janitor before his death in 1959.
Even the first Victoria Cross awarded to a Canadian — Alexander Dunn's VC from the 1854 Crimean War — sparked controversy when it was auctioned in Britain in 1894.
"Canadians in London took strong exception to this mercenary transaction and demanded action by John Patterson, Canadian minister of militia," Arthur Bishop, chronicler of the history of the Victoria Cross in Canada, has written.
"Patterson cabled Charles Tupper, the Canadian high commissioner in London, authorizing him to buy the medals from the purchaser at the market. They arrived in Canada in time to be displayed at the Quebec Exhibition that year."
The Scottish-born Shankland, who immigrated to Canada in 1910 and settled in Winnipeg, earned his Victoria Cross in October 1917 during one of the bloodiest battles of the First World War, Passchendaele, subject of the recent award-winning film by Canadian actor and director Paul Gross.
Shankland, a lieutenant with the Cameron Highlanders, was credited in his VC citation with "most conspicuous bravery and resource in action under critical and adverse conditions."
The official description of his exploits describes how Shankland "rallied the remnant of his own platoon and men of other companies, disposed them to command the ground in front, and inflicted heavy casualties upon the retreating enemy. Later, he dispersed a counter-attack, thus enabling supporting troops to come up unmolested."
The citation also notes that "his courage and splendid example inspired all ranks and coupled with his great gallantry and skill undoubtedly saved a very critical situation."
Remarkably, Shankland lived before the war on west-end Winnipeg's Pine Street along with two other future Victoria Cross recipients — Cpl. Leo Clarke and Sgt.-Major Frederick Hall.
The street was later renamed Valour Road, which remains a focal point of Winnipeg remembrance activities. In 2005, at the end of Valour Road, city and provincial officials unveiled a commemorative plaza featuring a stone representation of the Victoria Cross and a steel sculpture showing the silhouette of three soldiers.
Neither Clarke nor Hall survived the 1914-18 conflict. But Shankland returned to Canada, working in Winnipeg and Vancouver before — at the age of 53 — rejoining the Camerons in the Second World War and serving in Britain as an officer at the Canadian army headquarters.
Shankland died in 1968 at age 80 and is buried in Vancouver.
© Copyright (c) Canwest News Service
Editor's Note: The Oct/Nov issue of The Beaver Magazine (www.BeaverMagazine.ca ) will be featuring a story about this event.
Sgt James Clark
01/20/2009
Cdn War Museum, Takes most of a day to get through. There is a Mannequin inside of a 43rd Bn Highlander, Had to get a picture !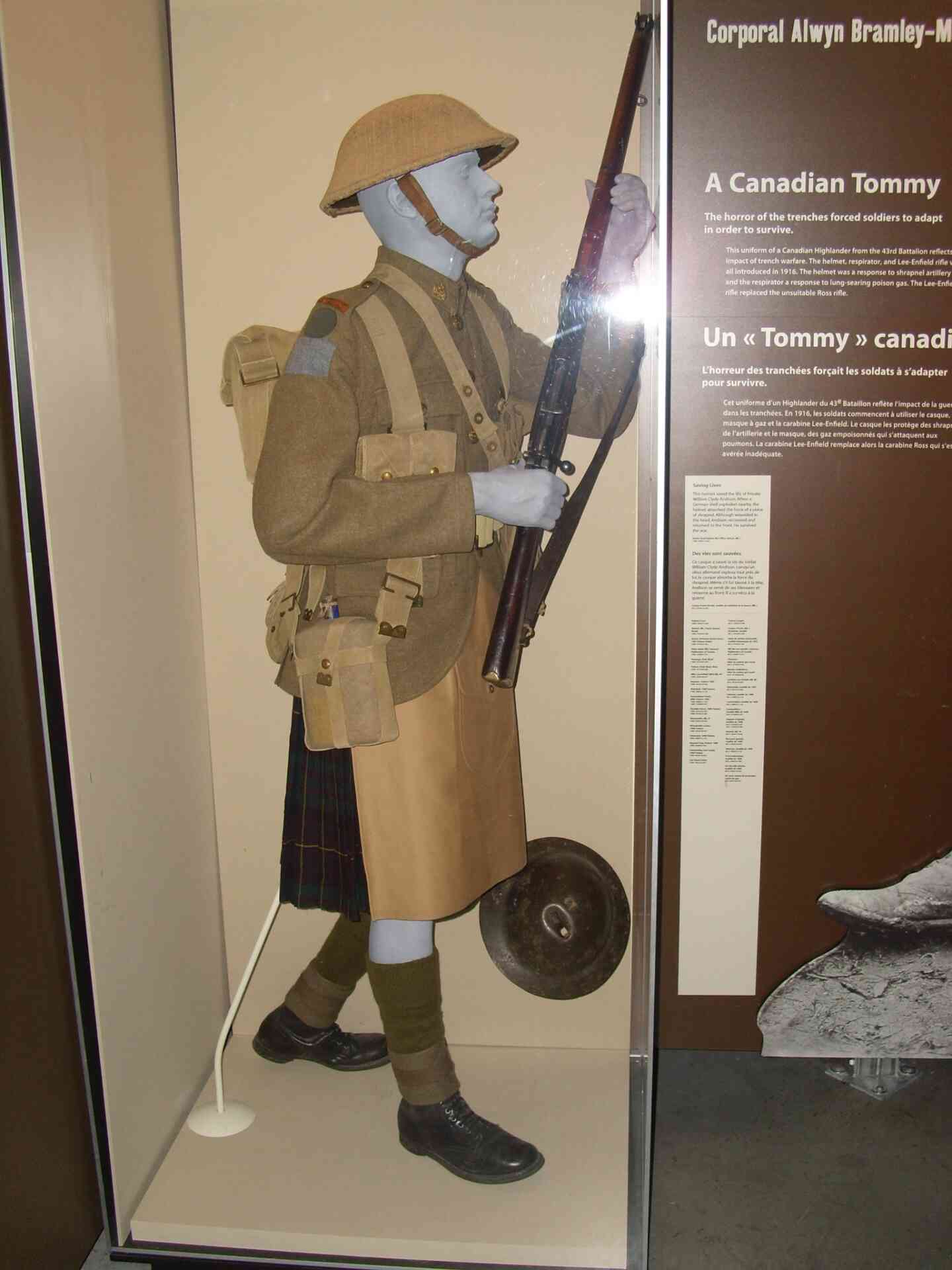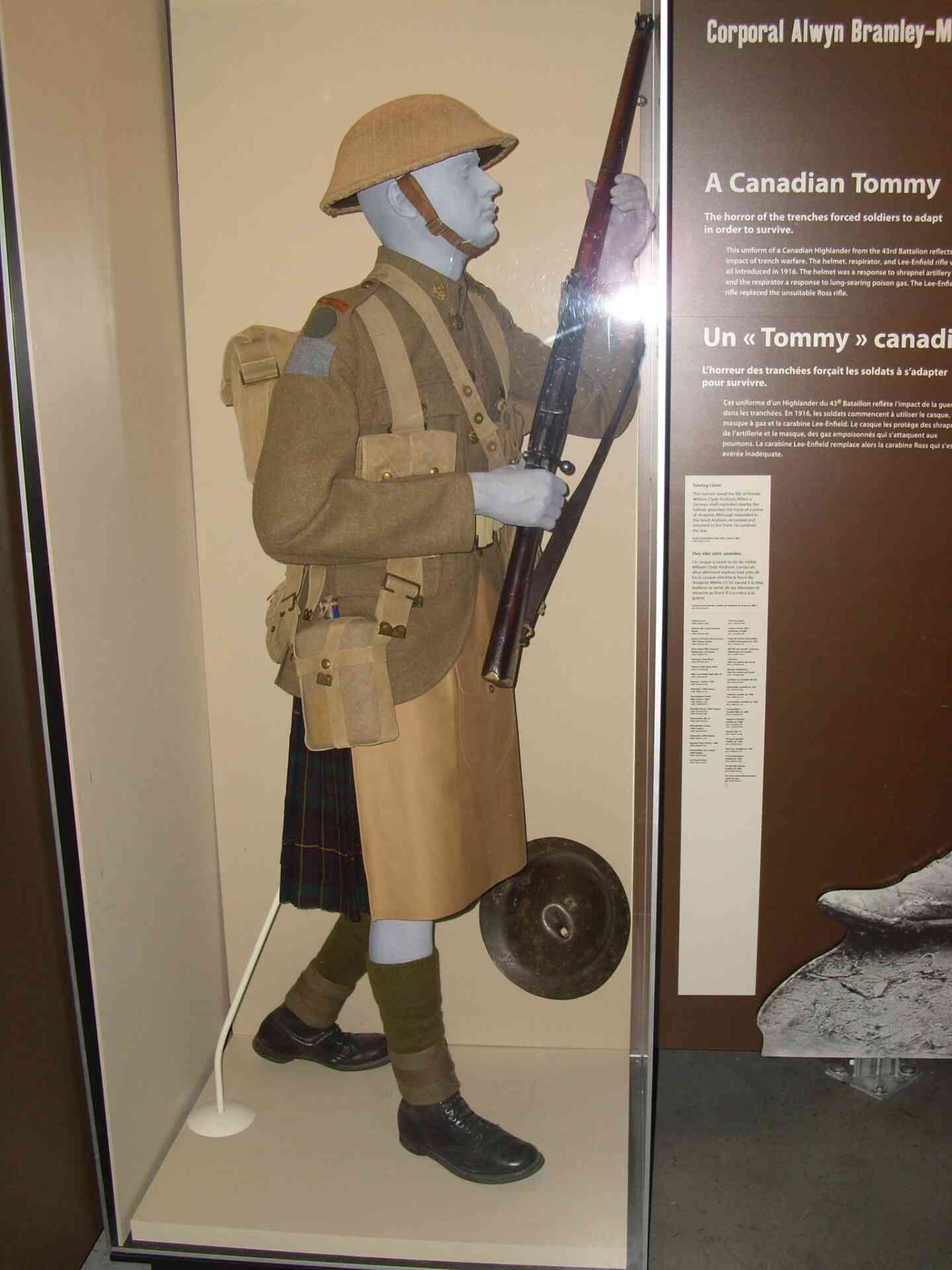 Editor's Closing Notes:
This is the fifth of what I hope will be many more. It can only survive if you are interested. Let me know what is going on with your piece of the Regiment – all entries will be accepted and vetted. I will use what I can.
Cheers to all,
Hugh O'Donnell
CWO
Editor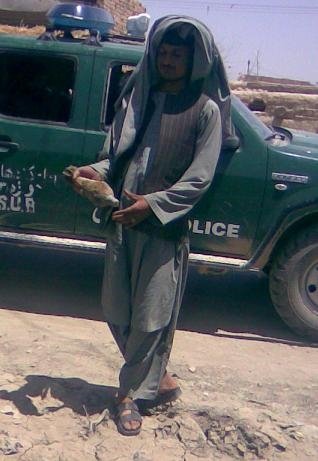 Afghan EOD Team.