The Newsletter of The Queen's Own Cameron Highlanders of Canada
Warrant Officers and Sergeants Club
Edited by CWO HJ O'Donnell #7 Dec 2009
Cameron Club Executive

2007-09

CWO Brian Boyd

Wpg Inf Tac Gp RSM

Sgt James Clark

PMC

Sgt William Worden

VPMC

Sgt Matt Lumsden

Treasurer

Vacant

Secretary

Sgt Dave Gibson

Housing

PMC's Cameron Club Report:

Limo Night is delayed but not quite dead yet.
Sushi night is TBC.
Robbie Burns Dinner: 23 Jan 2010.
Tickets are only $75 for one of THE best Burn's Dinners in town. They are available from Sgt Dave Gibson at (204) 222-9509 or

[email protected]


Tickets are also available now from many of the Cameron WO's & Sgt's Club mbrs.
Men's Christmas Dinner: 1800 hrs 12 Dec 2009, other details like Turkey Shoot TBC.
Dress: Dark business suit or Cameron Association Mufti (aka Cameron Blazer, Regimental Tie, grey slacks, good shoes), with medals optional but encouraged.
Levee: 0800 hrs 01 Jan 2010 Officer's Mess.
Dress: As above.
100th Anniversary Weekend: 22- 24 Oct 2010
Details are starting to be set in a firm Jello, but we have been asked to ramrod the Friday PM. Initial discussions have been held but more to follow as details get worked out.
From the Editor's Desk:

This is issue #7. I have again heard back from several of you as usual and thank you for your support and suggestions.

This time out we will be marking the return of the Oatmeal Rag printed version as well as the arrival of the E-Oatmeal Rag.

It's been a while since it was possible to publish the Oatmeal Rag regularly but we now have some very solid support in the form of LCol (Ret'd) Art Sutton in the big comfy chair at the TOC with the printed version while I get the E-version.

The intent will be to make them mirrors as much as possible with the Cameron Regimental family being able to choose which format suits your needs best.

Because it has been a long time since the previous Oatmeal Rag we have a long list of Last Post entries as well as quite a few requests for information about family members that served with the Regiment. We may even hear the story of how the Oatmeal Rag name came to be I've heard from a reliable source.

Cheers for now,

CWO Hugh O'Donnell

Former RSM Camerons of Canada

Editor

Upcoming Events:

Cameron Association: As above.

Expected dates:


Kirk Parade: 07 Feb 2010 at 1st Presbyterian on Canora St.
The Service starts at 1030 hrs so if you're not on parade be seated NLT 1020 hrs as directed by the Ushers. Dress: As above.
100th Anniversary Weekend: 22- 24 Oct 2010. Details are starting to be set in a firm Jello.
ISAF: There are 5 Camerons serving overseas now in the Afghanistan Theatre. They should all be home for the 100th – if only just in a few cases.

Useful Links

Copy & paste these links into your web browser to use them.

Reserve Force Pension Information:

http://www.cmp-cpm.forces.gc.ca/dgcb-dgras/ps/pen/res/welcome-bienvenu-eng.asp

http://www.cmp-cpm.forces.gc.ca/dgcb-dgras/ps/pen/res/ap-ar/bbs-rs-eng.asp

Military News Links:
Regimental NCO Plot
Sgt James Clark has been appointed Platoon 2 i/c of #1 Platoon of the Wpg Infantry Tactical Group. This is the designated Arctic response Platoon for the Tactical Group.
Sgt Matt Lumsden is keeping the streets safe with the Wpg Police Svc. When not so engaged he works as 2 Platoon's 2 i/c.
Sgt William Worden is still heavily engaged on the Home Front. 9'er Domestic overrules 9'er Tak, and with 2 young ones he's been tasked for Home Front duties. He is still with the RQ shop.
Sgt Brad Clyde is the Acting Pipe-Major these days while Sgt John Dawson is off cavorting in the sandbox. Brad is also heavily engaged on the Home Front with the arrival of Evelyn Faye who was born on September 21 2009 for those who missed it. This will cause quite a bit of impact on the Pipes & Drums but Brad has promised to see the key events don't go awry.
Sgts John Dawson and Tim Seeley are working overseas. It's a really hot and bagpipe deprived area they're in so they're bring a little Cameron culture to the locals to do their bit for hearts and Minds.
Sgt Dave Gibson is now with the 4th Canadian Ranger Patrol Group.
CWO Hugh O'Donnell is now Extra Regimentally Employed at Domestic Operations which is part of Joint Task Force West. The next go is an Urban Search and Rescue EX sometime in early 2010.
WO Bruce Breustedt is reputedly working with Area Standards.
WO Reg Corbin is now the CQMS "A" Coy of the WITG.
Pipes & Drums Pages
Nothing much to report this time out. This should issue should see the final installment of the Boots On The Ground series of dispatches from Sgt Tim Seeley's tour last year. My apologies once again for the order in which it appeared but these things do happen.
Sgt Tim Seeley
KPRT, Kandahar Afghanistan
20 April 2008
Boots on the Ground 4
Hello again to friends and neighbours throughout the Parkland. I have returned to Afghanistan from my Home Leave in Canada, and have been back on the job for a week now. As the limited numbers of PRT Civil Military Cooperation (CIMIC) operators rotate through their Home Leave periods, with the further constraints of ongoing operational demands, we will be moved around the Area of Operations as necessary. As such, for the past week and for the next few I have been tasked to work with the Kandahar City team. This is a great opportunity to see Kandahar City in greater detail then I ever would have, and to deal with high-ranking municipal and civic officials such as the Mayor. Kandahar City is the capital city of Kandahar province, and is not unlike Winnipeg in its relationship with Manitoba as by far the biggest city in a mostly rural area. The population of the city varies between 300,000 and 1 million people, it is hard to gauge due to lack of Afghan census capability and the internal migration of people caused by the insurgency. Current best estimates of the population are around 450,000 to 500,000 people however. Kandahar City was founded by Alexander the Great in the 4th Century BC and is the second largest city in Afghanistan after Kabul. Many empires have fought over Kandahar City over the years because of its strategic location along the trade routes between south and east Asia. The Soviets controlled Kandahar City during their occupation period (1979-1989), subjecting it to severe artillery and air bombardment and inflicting many civilian casualties and destroying much of the infrastructure. After the Soviet withdrawal the city fell under the control of local warlords until the Taliban captured the city in August 1994 and made it their capital. Upon removal of the Taliban in 2001, the city reverted to the control of the warlords again until provincial and municipal leaders were installed by the central government.
During the past week in Kandahar City I have conducted several mounted and dismounted patrols to support the Canadian Provincial Reconstruction Team efforts in the area. I participated in a PRT patrol to Sarapoza prison, including officials from the Canadian International Development Agency and Corrections Services Canada, where much effort has been placed over the last several months. Sarapoza prison has seen major infrastructure improvements and staff training and mentorship with the help of the Canadian PRT and is now light years ahead of its previous medieval state. In conversation with prison guards and prisoners alike, the common theme is gratitude to the Canadian effort for improving quality of life and infrastructure at the prison.
Another essential partner in the Canadian PRT effort is the Civilian Police component, made up of members of the RCMP and city police forces from across Canada. Their role is to mentor the Afghan National Police and to help with strategic planning of training and infrastructure development activities in rebuilding the country's police forces. To this end, I have participated in patrols out to various Police Sub Stations placed strategically throughout the city. The PRT is assisting in developing and maintaining these substations. Also, in conjunction with PRT dismounted (foot) patrols throughout the city, the CivPol officers work with the ANP in teaching community policing. The work of the non-military partners in the Canadian PRT, especially Civilian Police, CIDA, Department of Foreign Affairs and International Trade, and Corrections Services Canada, are very much evident and essential in operations within Kandahar City.
The first thing I noticed upon my return to Kandahar province after a 3 week hiatus is the smell in the air from all the blooming trees and plants. This is a nice switch from the usual smells associated with an area whose sewer and garbage collection capacity is just now rebuilding itself! Hopefully the weather cooperates and the residents of the Parkland can enjoy outdoor activities soon as well. If anyone has questions or comments, feel free to send them to me at [email protected] and I will do my best to respond or incorporate them in future dispatches
Everybody not in the P&D that hasn't heard the story wants to know why there was none of the usual music programme after the 11 Nov 2009 Parade at Minto. Maybe it was the Medics fault ?
The Low Road
We have recently heard from some of our former Camerons. Here are their respective SITREPs:
MWO Don Hulan
Sunday, October 11, 2009 7:26 AM
Hello.
How are things going in Winnipeg? I am still with the Hast & PER. What interesting things are happening with the reserves of the west? The reserves out here have lots of opportunity for employment and keep me pretty busy.
Drop me a few lines to catch up when you can.
Cheers for now.
Don
LCol (Ret'd) Steve & Jane Anema
10/13/2009 07:32 PM
All is well in the eastern outpost of the West.
Steve
Dan Richter
October 14 at 8:19pm Reply
I see John and Tim are back in the sandbox, my thoughts are with them.
Dan
WO Steve Smith
Friday, October 09, 2009 5:33 PM
Not quite free and clear, got all my kit turned in and my end of the paperwork handed in over a month ago, surprisingly I have not heard anything, so I will have to start rattling that cage.  I will say I miss the field and the camaraderie, can't say I miss the 90% of the other stuff.
Cheers,
Steve
Piper Roy Taylor
Courtesy of Capt B. Smorang, FGH and our Masonic Temple friends:
Saturday, November 28, 2009 12:55 PM
Roy Taylor is doing well. He actually looked pretty good and was in great spirits.
He is at Riverview Health Care Center room W-17 and welcomes visitors. (Ed's Note: Roy is well enough to go home on weekend passes – so I missed him there today Sun 28 Nov 09)
The High Road
Pipe Major Emeritus THOMAS SMITH (published on November 24, 2009)
THOMAS SMITH (1916 – 2009) It is with great sadness that we share the news of the passing of our father Thomas Smith at the Deer Lodge Centre in Winnipeg on Friday, November 20, 2009 at the age of 93. He was born and raised in Winnipeg and was predeceased by his loving wife of 57 years, Jean in 2004 and his sisters Iris (Harry) and Ruby (John) of Winnipeg, and Margaret (Bill) of Nanaimo. He is survived by his caring and loving children, John and Gloria (Jordan) of Calgary, Janice of Chicago and Tom (Carole) of Winnipeg. He was adored and loved by his grandchildren Jocelyn (Rae), Andrew (Stephanie), Bonnie (Rod), Sean (Kara), Stephanie, Elizabeth (Andy), and his great-grandchildren Russell, Justine and Kiyomi. Also, he was adored by his many loving nieces and nephews. Tom, like his father, was a piper. Tom started piping as a young cadet in the Queen's Own Cameron Highlanders in Winnipeg. As his piping progressed, his father, a member of the Winnipeg Police Pipe Band, allowed Tom to play in the band whenever a substitute was required. As war broke out in Europe, he enlisted fully with the Camerons and went overseas in 1939 and saw action at the Battle of Dieppe where as a piper played his pipes into battle. After Dieppe, Tom saw further action in France, Holland, Belgium and Germany and returned to Winnipeg once the war was over in 1945. Tom was honoured to be a returning veteran to Dieppe in 1992 for the commemoration of the 50th Anniversary, where upon he piped his fellow veterans to the Memorial Service. After the Second World War, Tom became a member of the Winnipeg Police Department and became a member of their Pipe Band. Upon his retirement, Tom joined the Winnipeg Khartum Shrine Pipe Band and he served two terms as their Pipe Major and honorably received the designation of Pipe Major Emeritus. He was also the Honorary Piper of the West Kildonan Legion. Tom was a respected and noted piper and like all fine pipers he could easily bring a tear to anyone's eye. Tom was also a dedicated volunteer for the cancer society and he received a number of certificates of recognition for his contributions. The family wishes to extend their heartfelt thanks to all of the members of the staff on the 2nd and 4th floors at Deer Lodge Centre involved in Tom's care. A funeral service will be held at Thomson Funeral Home on Saturday, November 28, 2009 at 2:00 p.m. In lieu of flowers, donations can be made in Tom's memory to the Canadian Cancer Society, Manitoba Division, 193 Sherbrook St. Winnipeg, MB., R3C 2B7, or Khartum Shrine Centre, 1155 Wilkes Avenue, Winnipeg, MB. R3P 1B9 THOMSON FUNERAL HOME 669 BROADWAY, WINNIPEG, MB R3C OX4 783-7211 Condolences may be sent to www.thomsonfuneralchapel.com
Drummer LESLIE ALFRED (LES) THORNE (published on November 21, 2009)
LESLIE ALFRED (LES) THORNE Leslie Alfred Thorne passed away peacefully at Carewest Signal Pointe, Calgary, after a happy family life. Survived by his wife of 65 years, Helen Jean Morrow. Lovingly remembered by six children, seven grandchildren and two great-granddaughters. He is also survived by a sister-in-law, Helen (Cherrie) Thorne. Predeceased by parents Georgina and Alfred Hartman Thorne, sister Eileen and brother-in-law Norm McLean and brother Gordon. Les was born and raised in Winnipeg (Elmwood). Les was a teenage cadet and side drummer with the Queens Own Cameron Highlanders of Winnipeg. He was a member of the Cameron Highlanders from September 1939 until discharge September 1945. Les was wounded at 21 years of age at the Dieppe raid, August 19, 1942 and was fortunately evacuated back to England, and subsequently returned to Canada for Officer's training until discharge. The family moved to Calgary in 1954, but we never forgot family and friends in Winnipeg. A private family graveside service and interment took place in Calgary November 7, 2009.
Cameron Association Page
Tues 20 Oct 09 – Outgoing Association President Bill Worden presented 2 of the 5 special mugs for the TFA ROTO going out the door. HB and Bernier were present, Davidson and Cook were away with the Task Force and MP was being a git. I think Bill caught up with him later on before he flew overseas. These mugs seem to be a hit and Sgt Seeley is interested too. We will need to put on the specifics at some point when they return from their respective employments.
We have a number of requests for information from families regarding these former Camerons. Anyone able to help please drop me a line or an email.
Pte Ronald William CHAMBERS H20964
of the Queens Own Cameron Highlanders of Canada
Dear Sir/Madam,
I am writing to enquire if there is any way you can help me identify a soldier from WW2. His name was Pte Ronald William CHAMBERS and I believe his service number to be H20964.
Just after WW1 he married Jessie Crichton Slorach and they returned to Toronto where Ronald was born. It was at this point our families lost contact.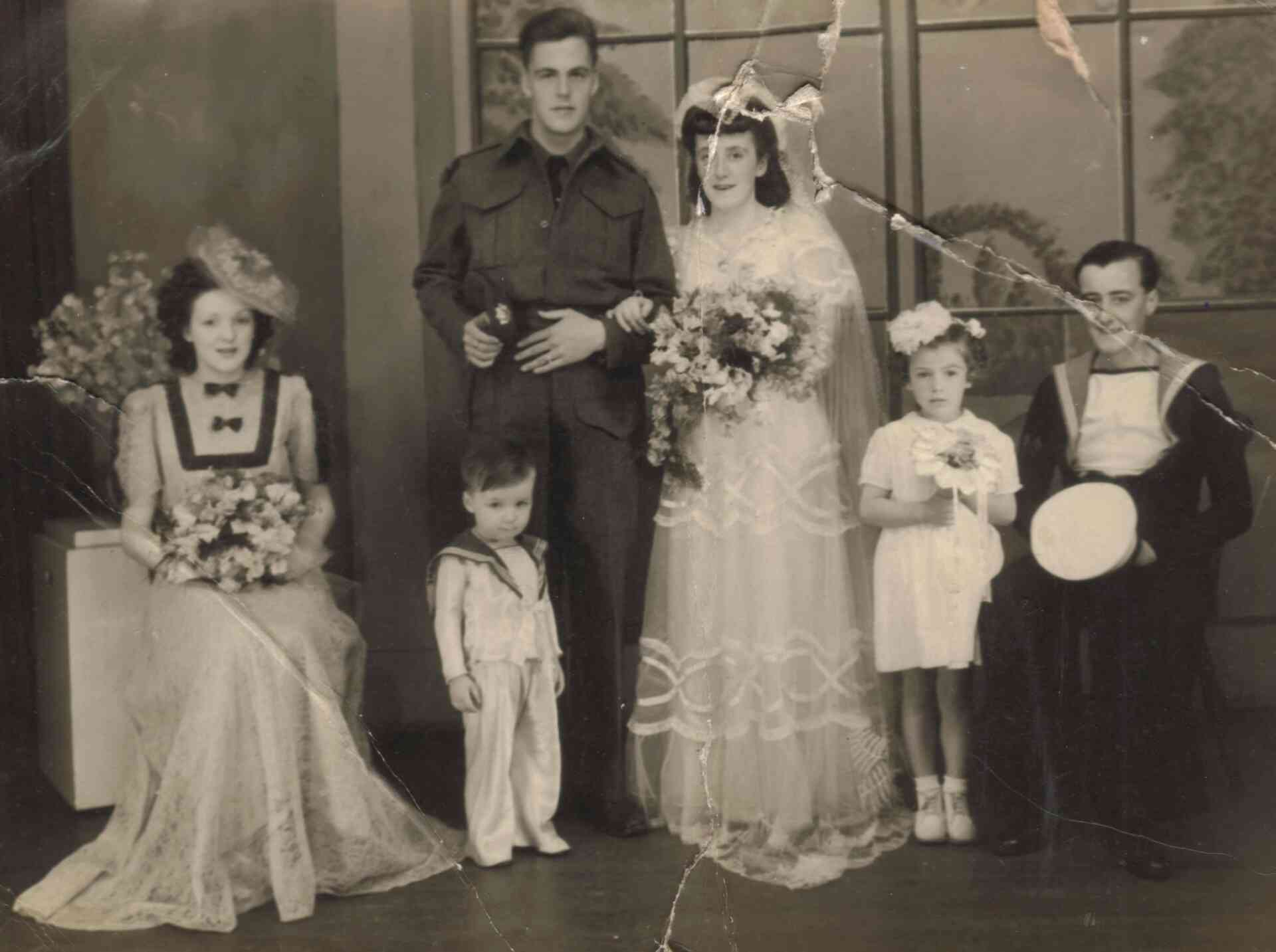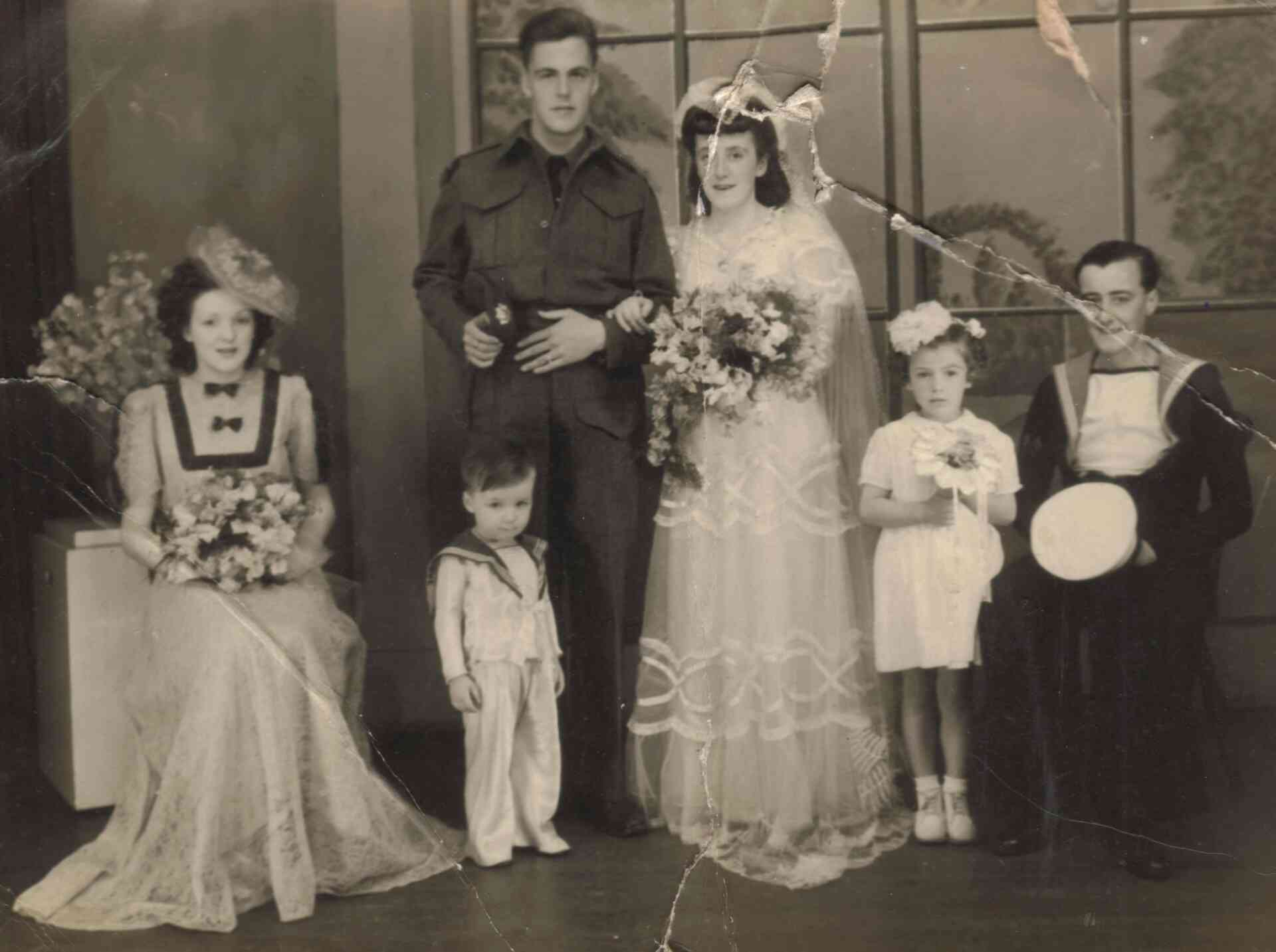 I enclose a copy of their wedding photograph. Was Ronald a member of the Queens Own Cameron Highlanders of Canada? All I have to go off was his service number and uniform, so any help is greatly appreciated. I have enclosed the wedding photograph for your perusal.
Kind Regards,
Ms. Tracey Rammell
L/C Stephen Ernest Shortliffe
43rd Battalion, Cameron Highlanders of Canada
I am currently researching the military history of a great uncle who served in WW1 with the 179th Battalion, later to become part of the 43rd Battalion (Manitoba Regiment), 3rd Division, 9th Infantry Brigade, Cameron Highlanders of Canada. He fought in 1917 at Vimy Ridge and on October 26th, 1917 was killed in the battle of Passchendaele.
I am wondering if your military museum would have any copies of items that would assist me in my research? Perhaps these documents have since been sent to the military archives in Ottawa, and if that is the case than I am probably already in possession of these materials. I thought that perhaps there may be some additional records archived in Winnipeg that would be of interest and assistance in my research…..something which would identify my uncle with his Regiment.
The name of my uncle is: L/C Stephen Ernest Shortliffe
It would be appreciated if you could let me whether there is anything that you could do to assist me in this matter.
Thank you,
E.N.Ross
Sgt Laurens Klaas Pals
I am searching for a needle in a haystack. In other words I am trying to trace the family of a Canadian Second World War hero called Sgt Laurens Klaas Pals of the 2nd Canadian Division, army number H16444. Sgt Pals was captured in the abortive Dieppe landings on 19 August 1942 and spent the rest of the war in a prisoner of war camp called Stalag VIIIB/344 in a Silesian village called Lamsdorf. While he was there, he played a prominent role in the RAF escape committee and, I believe, helped my late father, Rifleman Alec Jay of the Queen Victoria's Rifles, to escape on one occasion alongside an RAF front gunner called Bob Hawthorn. I am researching my father's wartime experiences from his role in the siege of Calais and subsequent capture through to May 1945 and this is why I am trying to contact Sgt Pals's family.. From records in the National Archives in London, I have discovered that Sgt Pals's date of birth was 29 December 1902 and that his peacetime address was 410 Spence Street, Winnipeg, Manitoba. This suggests that he was in the Queen's Own Cameron Highlanders of Canada. May I ask, in such circumstances, if Sgt Pals appears in your records? If he does and you have any information relating to his family, I would be most keen to learn more. I am contactable at this email address as well as on 00 44 20 7045 0639 during London working hours as well as on my mobile phone, 0044 7836 621930.
He was known to all and sundry as "Larry". In addition, in  a letter he wrote in 1946 commending the sabotage activities of a fellow British POW in Stalag VIIIB/Stalag 344, he described himself as from Canadian Field Security as well as the officer commanding the Canadian Section of the Missing Persons Search Bureau in London. My I ask, on this front, whether there is a veterans association for Canadian Field Security in World War Two?
Ed's Note:
A/ Sgt Pals wasn't actually with the Camerons. He was in Dieppe with the 2nd Canadian Field Security Section, his original Unit was the PPCLI. # 16444. His pow # was 25935. He was Taken On Strength 27/11/39 with the PPCLI and Struck Off Strength  29/05/1940. Never the less, we may be able to help out with this one.
Pte. (?) Theodore Tarasiuk
Hello Sir,
I am contacting you on behalf of my wife regarding her father's involvement with the Cameron Highlanders.  He was one of several Ukrainian men who apparently had joined the regiment in the 40″s, but we have little knowledge of his involvement.  There were two brothers who joined the same day. they were in the 2nd Bn. – Harry Tarasiuk H433878 TOS 12/01/1944 SOS 13/03/1946 and Theodore Tarasiuk H433881 TOS 12/01/1944 – SOS 15/07/1947. Is there a resource that we can contact to get any possible information?
His name was Theodore Tarasiuk.
Thanks,
Brian Lukie
CSM Nestor Orlesky
Good day !
My name is MWO Pat Monsigneur. I am a Div. Sgt Maj. at CFLRS in Saint-Jean Quebec. Nestor Orlesky was a CSM in your Rgt. during the raid on Dieppe. He was also the father of my mother. I am searching for any information I can find on his career with your Rgt. and any images or anything of interest concerning him.
Any help you could provide would be greatly value to our family!
Cheers,
Monsigneur P.A.
MWO DSM Spec Div
CFLRS Saint-Jean QC
Light Reading for You:
Editor's Note: Thefeature story in the Oct/Nov 2009 issue of The Beaver Magazine (www.BeaverMagazine.ca ) is about the Shankland medal sale as well as other military history articles. Well worth the read. Then again I would say that – my picture is in it.
4th Generation Warfare:
http://en.wikipedia.org/wiki/Fourth_generation_warfare
New York Times Anti-Taliban Militia report:
http://www.nytimes.com/2009/11/22/world/asia/22militias.html?_r=1
Brazil:
http://www.todayszaman.com/tz-web/news-190303-100-drug-traffickers-down-brazil-police-helicopter-12-killed-in-rio-violence.html
http://www.boston.com/bigpicture/2009/10/2009_un_world_drug_report.html
Afghanistan Photo Essays:
http://www.sacbee.com/static/weblogs/photos/2009/10/scenes-from-afghanistan.html#more
http://blogs.denverpost.com/captured/2009/10/30/photographer-collection-david-guttenfelder-in-afghanistan/ (Ed's Note: There are a few Cdn pics from near Mas'um Ghar Nov 2006 in here)
http://www.boston.com/bigpicture/2009/11/afghanistan_november_2009.html
The Red Terror – India's ongoing internal battles:
http://indiatoday.intoday.in/site/Story/66450/Cover%20Story/Tackling+the+Red+Terror.html
Editor's Closing Notes:
Let me know what is going on with your piece of the Regiment – all entries will be accepted and vetted. I will use what I can.
Cheers to all,
Hugh O'Donnell
CWO
Editor
Cpl Nate Carrigan arrives home from Afghanistan.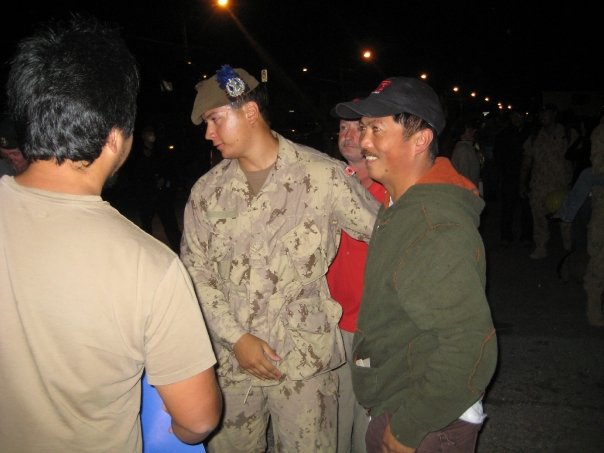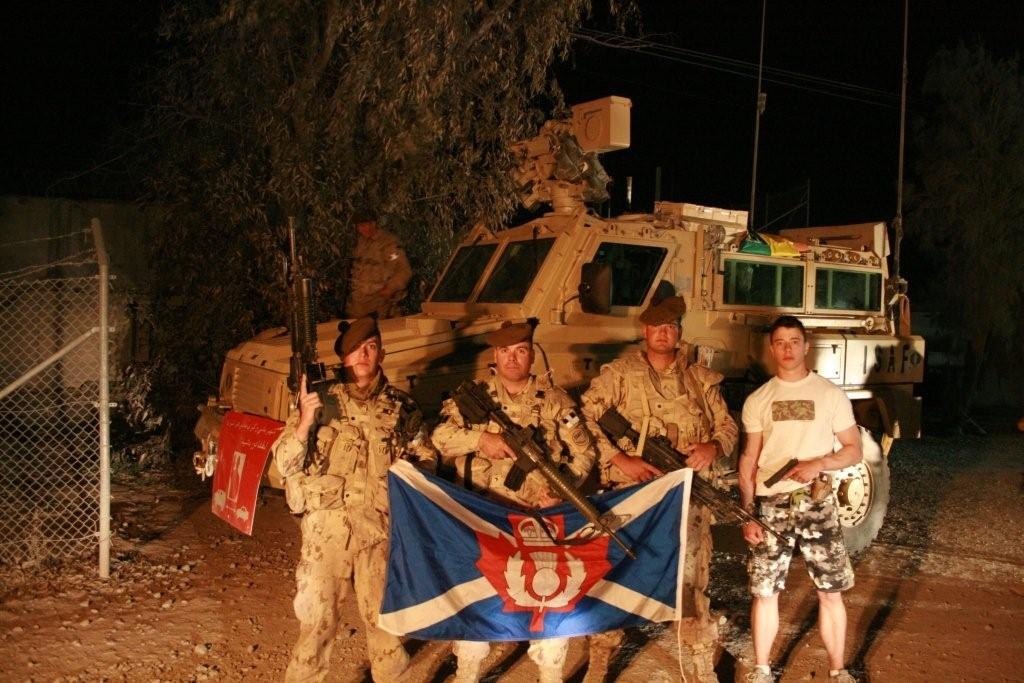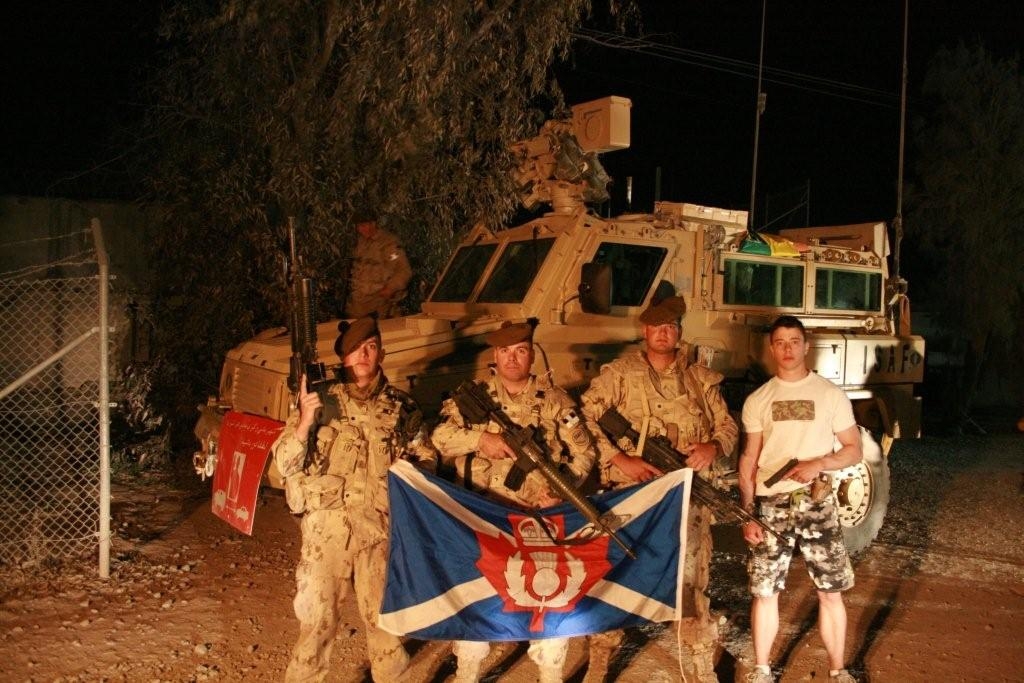 Courtesy of Sgt Matt Lumsden From left to right: CPL Tyler Hiebert (now 2 PPCLI) – Convoy Escort 1 PL – Roto 5, SGT Matt Lumsden (still with the Camerons) – Convoy Escort 1 PL – Roto 5, CPL Rob Rogoski (now 2 PPCLI) – Convoy Escort 1 PL – Roto 5, CPL Dustin Wiebe (now 2 PPCLI) – Recce Platoon