The Newsletter of The Queen's Own Cameron Highlanders of Canada
Warrant Officers and Sergeants Club
Edited by CWO HJ O'Donnell #10 March 2011
Cameron Club Executive

2010-11

CWO Brian Boyd

Wpg Inf Tac Gp RSM

Sgt James Clark

PMC

Sgt Maciej Witkowski

VPMC

Sgt Matt Lumsden

Treasurer

Sgt Matt Lumsden

Secretary

Sgt Dave Gibson

Housing

CWO Hugh O'Donnell

Sick & Visiting

PMC's Cameron Club Report:

Elections this year: See the column on the left for the "winners".
100th Anniversary Weekend: 22- 24 Oct 2010
The Association and ourselves were tasked to ramrod the Friday evening part of the event. It was a GREAT evening and pictures can be seen on the Cameron Picasaweb site.
WO's & Sgt's Robbie Burn's Night: 22 Jan 2011: Was held at the Wpg Convention Center because we got a deal on it. Another great night !
New Member: Sgt Nenad Mladjenovic, from the highlands of Central Europe by way of the A&SH of C.
Welcome to the Club Nenad !
Sgt Tim Seeley: Apparently is very handy with the CDS's coffee, and our former RSS Capt and "birkie bangster" in general Paul McIntyre must have been stick handling the toast. They've both been awarded a CDS Commendation:CANFORGEN 182/10 CMP 080/10 221407Z SEP 10
(47) SGT T.D. SEELEY – FOR LEADERSHIP, DEDICATION AND PROFESSIONALISM AS
THE LEADER OF THE PANJWAYI DISTRICT CIVIL-MILITARY COOPERATION TEAM IN
AFGHANISTAN, FEB TO SEP 08

(26) CAPT P.J. MACINTYRE – FOR LEADERSHIP AND

PROFESSIONALISM AS AN OPERATIONS OFFICER

WITH THE BATTLE GROUP WHICH CONTRIBUTED

TO THE OPERATIONAL SUCCESS, JOINT TASK

FORCE AFGHANISTAN, FEB TO SEP 08

Well done guys !
From the Editor's Desk:

This is issue #10. I have again heard back from several of you as usual and thank you for your support and suggestions.

Boy has it been a long haul to get this issue done ! Sorry for the delay folks but after the 100th there was still a lot of other things on the go. The plaque for Valour Road is but one thing that comes to mind. More on that later.

This issue naturally focuses on the Cameron 100th Anniversary. I hope that all of you are tried your best to come – and to drag someone from your personal "Glory Days" with you.

If you didn't make it there are quite a few pictures posted on the Cameron Picasaweb site (and still more to come) so that you can play spot the old guy:

http://picasaweb.google.com/camsofc

We also have an event that has returned in style from the Supplementary Order of Extracurricular Fun:

The Cameron Highland Games !

Run last year on the 05 June weekend at WO Bruce Breustedt's place it was a great hit even if no pipers made it. This year promises to be even better.

Cheers for now,

CWO Hugh O'Donnell

Former RSM Camerons of Canada

Editor

Upcoming Events:

Cameron Association:

Cameron Highland Games Weekend: 25- 26 June 2011. The plans are coming along from the Trenchard Brothers and most parts are coming along as smoothly as we can make them happen. Keep watching the web site for details.
Annual ReunionWeekend:
19 – 20 August 2011
Friday: Minto Armouries 1900 hrs
Saturday: Assiniboine Golf Club, register Friday pm please !
Robbie Burn's 2012: Start saving now. It should be the usual good time and back in the Fort Garry but there may be a few surprises for this year.

Useful or Interesting Links

Copy & paste these links into your web browser to use them.

Reserve Force Pension Information:

http://www.cmp-cpm.forces.gc.ca/dgcb-dgras/ps/pen/res/welcome-bienvenu-eng.asp

http://www.cmp-cpm.forces.gc.ca/dgcb-dgras/ps/pen/res/ap-ar/bbs-rs-eng.asp

Military News Links:

http://www.armyrecognition.com

The Cameron Picasaweb Page:

http://picasaweb.google.com/camsofc

The Royal Regt of Scotland
Is on Facebook too. Look for the 4th Bn stuff there.

Military Families Fund & Boomer's Legacy:
http://www.theprovince.com/news/we-salute-our-heroes/index.html
Regimental NCO Plot
Sgt James Clark is soldiering on as a Platoon 2 i/c of a PL of the Wpg Infantry Tactical Group. The courses are going well and a WO's crown may be in his future.
Sgt Matt Lumsden is keeping the streets safe with the Wpg Police Svc. Matt was THE Colour Party NCO and Sentinel Party Comd for the 100th because of his 2 tours with the Canada Remembers program.
Sgt Nenad Mladjenovic is working with the Pipes & Drums these days.
Sgt Maciej Witkowski is on Class "B" doing something productive as CQMS with 17Fd Amb no doubt. He may yet be seen regularly in Unit lines in the future.
Sgt William Worden is still heavily engaged on the Home Front. 9'er Domestic overrules 9'er Tak, and with 2 young ones he's been tasked for Home Front duties. He is still with the RQ shop.
Sgt Tim Seeley is still working overseas. It's a really hot and bagpipe deprived area he's in so he's bring a little Cameron culture as best he can to the locals. Haggis for one main menu item !
Sgt John Dawson is home and made it out to the Limo Night. He is still not used to civilized company and prefers texting to talking to Camerons by a far margin.
Sgt Dave Gibson is now with the 4th Canadian Ranger Patrol Group. Funny, when Dave first started with us he was working up north too.
WO Bruce Breustedt is in fact working with Area Standards.
P/M Ian Ferguson is now a Cameron but is no stranger to us, or than us for that matter !
He was the CF P/M for some years and did a great job as our P/M for the 100th.
The Cameron P&D may never be the same….
MWO Lloyd Harris is busy with special tasks for the CO.
CWO Hugh O'Donnell is now Extra Regimentally Employed at Domestic Operations which is part of Joint Task Force West. He has his rubber boots packed for the upcoming "High Water Event".
Pipes & Drums Page
The P&D are sounding very good these days and put on an excellent show for the August Cameron Reunion. The new P/M, Ian Ferguson was held to blame for all those free drinks the P&D had to quaff after such fine music but before they were allowed to go home.
Great work Pipie !
The Pipes and Drums also did an outstanding job at the Cameron 100th judging by the applause at every event they played at. Of special note was the superb duet version of "The Sands of Kuwait" at the Saturday night dinner with the Band of the Royal Winnipeg Rifles.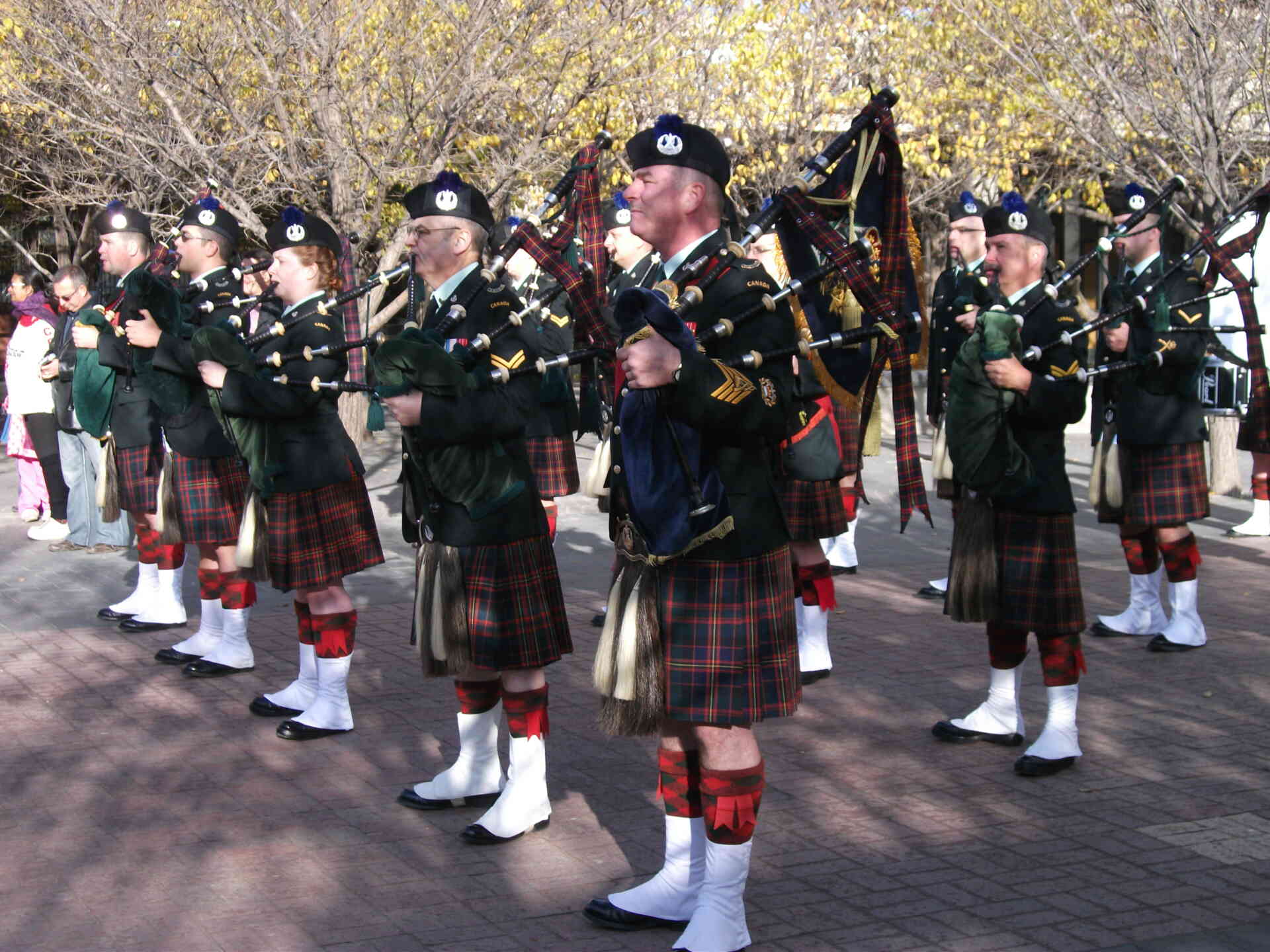 The Low Road
We have recently heard from some of our former Camerons or friends of the Regiment. Here are their respective SITREPs:
Mike Prendergast
January 02, 2011 2:24 AM
Subject: Greetings
Hi Guys,
I was Googling online and came across an obituary for Doug Hlady. I remember Doug not only from my RWR days but also from my infantry course in 1997. He was a section commander in the other platoon. I always liked Doug and found him to be one of the easier Camerons to get along with. I am sure he will be sorely missed.
I am currently the CO of the LER having been appointed in Apr 08. Presently I am in East Beijing, China working in a short term backfill position as an instructor for Capilano University teaching business courses (I completed an MBA in 2009) to Chinese students at the North China Institute of Science and Technology. When I return I will hand over command to Maj Chris Chodan at the end of March and then go to Afghanistan to work in ISAF HQ in Kabul as the F-RIC Local Security. I have no idea what the job is and no one seems to be able to tell me. Quite a gong show getting information to us individual augmentees. We have only been doing deployments since Bosnia in 1991 and can't seem to get the processes down.
I hope your 100th Anniversary party went well. Anyways drop a line if you can. Take care and say HI to Gibson, Worden, Taffy, Hollingshead, and anyone else that may know me. Cheers
Mike Prendergast
The High Road
Also see the last Oatmeal Rag on the Cameron web site.
Mr. Doug Hlady, President 2009-2010 Cameron Association
http://www.passagesmb.com/obituary_details.cfm?ObitID=169533
DOUGLAS M. HLADY Suddenly, at home, on September 26, 2010, after a devastating six month illness, Douglas passed, aged 54. Douglas participated in the 1977 Queen's Jubilee Commonwealth Expedition, a bus trip across Europe and Asia to India and back. Douglas spent time up north, in Churchill, MB, or Resolute Bay, NWT, as a flight service specialist/coast guard radio operator. He moved back home, to work with The Canadian Corps of Commissionaires. The Funeral Service was held Friday, October 1, 2010, with Pastor Nancy Walker, presiding. Douglas had eagerly anticipated The 100th Anniversary Weekend, of the Cameron Highlander Association, where he served as President, on October 22 to 24, 2010. Consider donating to The Cameron's Regimental Foundation, c/o 452 Moray Street, Winnipeg, MB R3J 3A8; West Kildonan Legion; Heart and Stroke Foundation. Funeral arrangements were done through Korban Funeral Chapel, 956-2193.
While on MILCON '77 Doug was the Sect Comd of "Hlady's Ladies" in "Anema's Angels" PL.
* Regimental Reinforcements *
For those who missed this in the last Oatmeal Rag. These are rare events that need mention !
Sgt Nenad Mladjenovic
Cameron Association Pages
Sent: Saturday, December 11, 2010 7:35 AM
Subject: Authors Appeal
Hello,
I hope you don't mind but I have added a link on my new website showing your regimental website.
www.canadianmemoriesww2.wordpress.com.
I am trying to gather information for a book in respect of the Canadian Servicemen/Regiments based in Worthing and West Sussex during WW2.  Any help will be greatly appreciated.
Thank you.
Pam Wilson
From: [email protected]
Sent: Friday, December 10, 2010 3:32 AM
Re: Link to your website:
The Canadians are held with great affection here in Sussex with many roads named after Canadian City's.  In Worthing where I live we even have a number of roads named after Canadian Soldiers who were killed when a bomb dropped on the house they were billeted in.
Apart from the www.canadianrootsuk.org website a friend and myself are writing a book about the Canadians stationed in the area during WW2 and we would love to hear from any vets who have any memories of their time in the UK.
https://canadianmemoriesww2.wordpress.com/  which is under construction, but can be reached at
http://www.canadianrootsuk.org/book.html
If it is possible we would love to have a link on your website as we are here to help.
Kind regards
Chris Vowles for Canadian Roots UK.
Cameron War Stories:
A note from one of our long time contributors, MWO Len DeCosse to Mr. Dirk Derrin. Dirk was the gent with the Bren Carrier and weapons display at the 100th:
DIrk: Thanks to guys like you. Without you this modern world would have no knowledge whatsoever about our fighting equipment in WW2. From the photos you asked about here are my observations:
1. Cameron Bren carriers tactical sign: It was the figure "68" in white on a maroon backing, ie the
Camerons used "68" on maroon. "67" was the FMR and "69" were the South Saskatchewan's in the
2nd Canadian Infantry Division.
The only tac signs on our carriers were regimental and divisional signs No bridge weight or other
markings were used.
2. The carrier platoon, (also known as #4 Platoon) in addition to the 9 regulation Bren LMGs, were armed
with American .30 cal and 50 cal belt fed Browning's, plus one PIAT Gun. About August '44 six WASP
flame thrower kits were added to the platoon's weapons inventory. These were replaced as needed.
3. The only Vickers MMG's around our lines were our 2nd Div Machine Gun Battalion, The Toronto
Scottish. They had water-cooled Vickers .303s firing special .303 Boat tailed rounds, ball and tracer
ammo.
Incidentally, we were forbidden to use their ammo in our 303s rifles – it was too powerful.
4. We were issued our new carriers in May 44 while stationed at Broom Park in Kent where we
proceeded mounting floatation walls on all our carriers. These remained fitted till our actual landing in
Normandy and were quickly removed once there while preparing for action.
We lost all seven of our #3 Platoon (Mortar PL was the 3rd PL of the Bn) carriers in our first attack at St
Andre near Hill 69, about 300 Yards from where our Bn CO (Lt Col Ross) was badly wounded.
5. The BOYES Anti Tank rifle was a standard platoon issue only till after the Dieppe raid. During the
Cameron withdrawal at Pourville it was used to knock out German infantry riding forward of tanks.
6. It is noted that the base plate on the 3″ mortar as displayed in your picture has to be after WW2 as ours
was rectangular with the heavy ROPE handle that came in very handy when pulling the plate out off a
foot of soft Dutch ground using the Carrier horse power.
Left: Carrier PL of Support Company, The Queen's Own Cameron Highlanders of Canada, supported by a Sherman tank of The Fort Garry Horse. a146289-v6.jpg
Right: Cameron 3" Mortar Platoon carrying out drills in England prior to Dieppe.
The Allied Regiments:
Soldiers from 4th Battalion The Royal Regiment of Scotland train with the Polish Army
http://www.blogs.mod.uk/defence_news/2011/02/image-of-the-day-16-february-2011.html
http://www.flickr.com/photos/defenceimages/5471617904/
Light Reading for You:
Bulletproof T-shirts coming soon ?
http://scienceblogs.com/observations/2010/04/bulletproof_t-shirts.php
Afghanistan Photo Essays (not really light reading I'm afraid):
http://www.boston.com/bigpicture/2010/06/afghanistan_june_2010.html
http://www.boston.com/bigpicture/2010/09/afghanistan_september_2010.html
http://www.boston.com/bigpicture/2010/11/afghanistan_october_2010.html
http://www.boston.com/bigpicture/2010/12/afghanistan_november_2010.html
http://www.boston.com/bigpicture/2010/12/afghanistan_december_2010.html
http://www.boston.com/bigpicture/2011/02/afghanistan_january_2011.html
University of Manitoba Archives – Cameron 25th History & a few Wpg Tribune newspaper clippings
http://www.umanitoba.ca/libraries/units/archives/canada_war/tribune/website/clippings/Can._Army-Queen%27s_Own_Cameron_Highlanders/thumbnails.shtml
Toyota – The Taliban transport of choice
http://www.newsweek.com/2010/10/14/why-rebel-groups-love-the-toyota-hilux.html
In Wider War in Afghanistan, Survival Rate of Wounded Rises:
http://www.nytimes.com/2011/01/08/world/asia/08wounded.html?_r=2&scp=1&sq=war%20in%20afghanistan&st=cse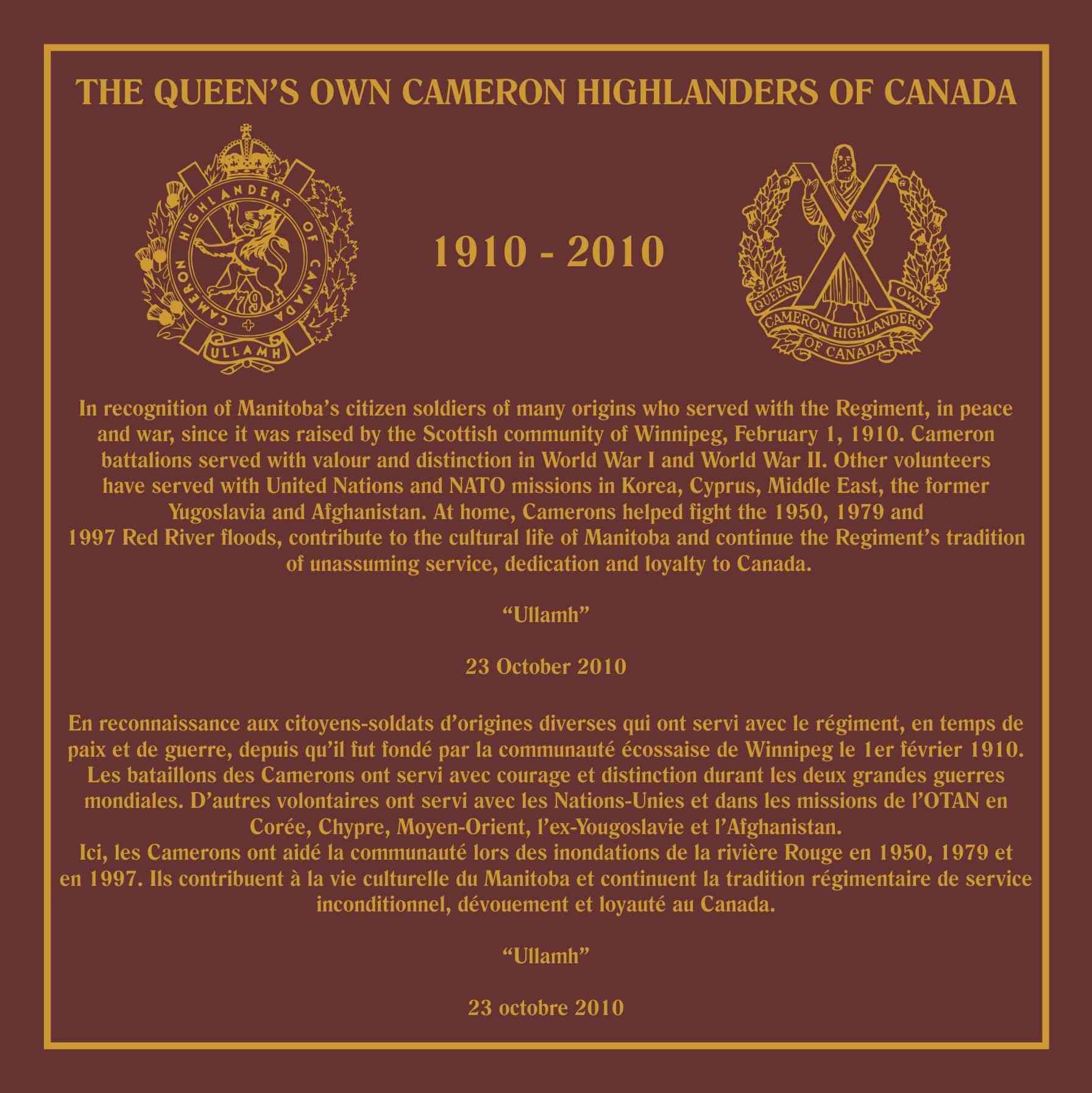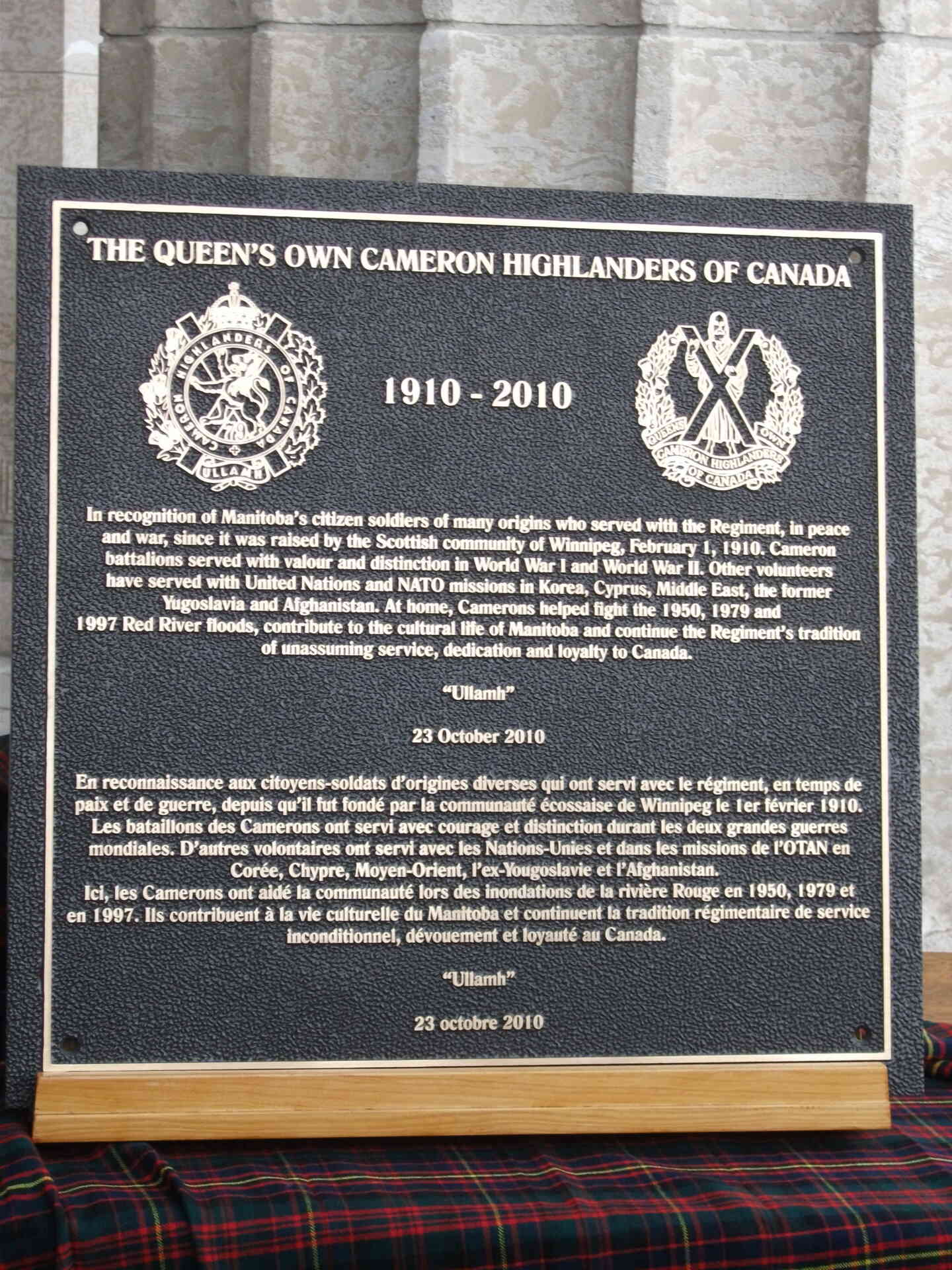 The plaque presented to the Province of Manitoba to mark our 100th. The version presented to the City of Winnipeg was almost identical except that was mainly done in the English language.
Editor's Closing Notes:
Let me know what is going on with your piece of the Regiment – all entries will be accepted and vetted. I will continue to use what I can.
Cheers to all,
Hugh O'Donnell
CWO
Editor