The Newsletter of The Queen's Own Cameron Highlanders of Canada
Warrant Officers and Sergeants Club
Edited by CWO HJ O'Donnell #9 Sept 2010
Cameron Club Executive

2007-09

CWO Brian Boyd

Wpg Inf Tac Gp RSM

Sgt James Clark

PMC

Sgt William Worden

VPMC

Sgt Matt Lumsden

Treasurer

Vacant

Secretary

Sgt Dave Gibson

Housing

PMC's Cameron Club Report:

Limo Night was held 21 May 2010. This year marked the first "Mixed" event and was a great success according to all present. The highlight of the event had to be Sgt John Dawson's presence after an extended visit with his kids. Then again maybe it was Sgt Lumsden's quiet observation that this is an event unique to Cameron WO's & Sgt's !
Sushi Night: is TBC, but after the 100th.
Elections due this year: Sometime soon per the PMC & Club constitution.
August Reunion: Was the usual good deal, the Officer's Mess hosted us on Friday pm and the Saturday golf and BBQ were held at the Assiniboine Golf Club on Ness. Thanks are due in no small part to Don MacDonald and HLCol Bob Vandewater of the Cameron Advisory Board in getting us back into that course. Many thanks are also due to Steve MacMillan's boss for that kick ass drill set and all of the other folks who responded to our call for prizes. Maj Ken Smith reminded us of the days gone by when it was 6 prizes all told for many more golfers. Job well done !!!
100th Anniversary Weekend: 22- 24 Oct 2010
We have been asked to ramrod the Friday evening part of the event. It will be the same general format as the August reunion AND as of today in MINTO !
The Lumsden Highland Games: Became the Breustedt Highland Games. His wife Tracy and the rest of the family pitched in too, helping with the cameras and hosting other Cameron wee ones. Thanks once again to the WO's & Sgt's Mess for organizing this (hopefully) annual event and to the HLCol for the Free Issue !
From the Editor's Desk:

This is issue #9. I have again heard back from several of you as usual and thank you for your support and suggestions.

This issue naturally focuses on the Cameron 100th Anniversary. I hope that all of you are trying your best to come – and to drag someone from your personal "Glory Days" with you. After all, it's more fun to tell the tales when there's lots of your old pals to share them with.

Also, work is nearly finished on the 100th Weekend. I have sat in on several more meetings now and I can assure you that LCol Ken McQuaig & the Gang have a really good show planned for us in Oct.

Now regarding Robbie Burn's observation about "best laid plans" there are some "Plan B's" in place – just in case of course !

Cheers for now,

CWO Hugh O'Donnell

Former RSM Camerons of Canada

Editor

Upcoming Events:

Cameron Association:

Expected dates:


100th Anniversary Weekend: 22- 24 Oct 2010. The plans are well advanced and most parts are coming along as smoothly as we can make them happen. The plaques for City Hall and the Leg are in and done so we'll have them to present to the head maintenance engineers come the day.
Annual General Meeting:
27 October 2010
St. James Legion
2000 hrs
Robbie Burn's 2011: Start saving now. It should be the usual good time but there may be a few surprises for this year.

Useful or Interesting Links

Copy & paste these links into your web browser to use them.

Reserve Force Pension Information:

http://www.cmp-cpm.forces.gc.ca/dgcb-dgras/ps/pen/res/welcome-bienvenu-eng.asp

http://www.cmp-cpm.forces.gc.ca/dgcb-dgras/ps/pen/res/ap-ar/bbs-rs-eng.asp

Military News Links:

http://www.armyrecognition.com

The Royal Regt of Scotland Dress Regs:
http://www.issuu.com/rhqscots

DEBKAfile:
http://www.debka.com/
It's a bit alarmist but well worth reading if taken with a grain of salt.
Regimental NCO Plot
Sgt James Clark has been appointed Platoon 2 i/c of a PL of the Wpg Infantry Tactical Group. He may go for his WO's course this fall.
Sgt Matt Lumsden is keeping the streets safe with the Wpg Police Svc.
Sgt Nenad Mladjenovic is working with the WITG these days.
Sgt Maciej Witkowski is on Class "B" doing something productive as CQMS with 17fd Amb no doubt.
Sgt William Worden is still heavily engaged on the Home Front. 9'er Domestic overrules 9'er Tak, and with 2 young ones he's been tasked for Home Front duties. He is still with the RQ shop.
Sgt Brad Clyde is also heavily engaged on the Home Front with the arrival of Evelyn Faye who was born on September 21 2009 for those who missed it. Maybe we see him at the 100th ?
Sgt Tim Seeley is still working overseas. It's a really hot and bagpipe deprived area he's in so he's bring a little Cameron culture as best he can to the locals.
Sgt John Dawson will be home for the 100th. We're looking forwards to his safe return and excuses to go for more beers than normal with him.
Sgt Dave Gibson is now with the 4th Canadian Ranger Patrol Group.
WO Bruce Breustedt is in fact working with Area Standards.
WO Reg Corbin is now the CQMS "A" Coy of the WITG. Or somewhere like that.
P/M Ian Ferguson is now a Cameron but is no stranger to us, or than us ! He was the CF P/M for some years and has joined us just in time for the 100th. The P&D
MWO Lloyd Harris is busy with special tasks for the CO.
CWO Hugh O'Donnell is now Extra Regimentally Employed at Domestic Operations which is part of Joint Task Force West.
Pipes & Drums Page
The P&D are sounding very good these days and put on an excellent show for the August Cameron Reunion. The new P/M, Ian Ferguson was held to blame for all those free drinks the P&D had to quaff after such fine music but before they were allowed to go home.
Great work Pipie !
The Low Road
We have recently heard from some of our former Camerons. Here are their respective SITREPs:
LCol Sutton passed on the 100th fan out to the Assn for handling our mbrs – done by Pres already. Mostly no's for answers. Cliff Fryers will be out of town and former CO N. Laird sends regards. Mrs. Mulholland won't make it either but has a large collection of Scottish music on vinyl 78 rpm's she wants to give to a good home;
Dan Sabovitch called re having a piper for Ms. Elanor Johnson's (?) funeral. Dan was a Cameron in the '70's, currently in Ft. McMurray, AB and will not make the 100th.
Some other Camerons you may have served with that are coming for the 100th:
Andrew McKechnie [email protected]
Glenn Fedoruk interested in coming to 100th
Greg Graham
Travis Kennedy [email protected]
The 100th is still a bit dodgy for me. I should be through the Peg around the 5th of July. However, then I'm off to the HMCS Algonquin for a 4 month stint in the Pacific. Beyond that. well, life's a mystery.
It's been awhile, but I still consider myself a Cameron! And not one of these eastern types either. Though neither does Steve Smith.
P.S. My usage of FB is minimal at best.
Shaun Delamere May 25 at 6:10pm
How's it going? What's new? My apologies for not giving anyone a call this weekend as it was a short but long weekend. We were there for Michelle's father's funeral. He had died while I was in Cyprus for decompression. Needless to say it wasn't really a fun weekend. As far as the 100th goes I am just waiting to confirm whether or not I am going to be on my 6A during that period. Not exactly sure when I'll know but if I'm not in Gagetown that weekend I will be in Winnipeg for sure.
Cheers,
Shaun
Sgt Ed Chaze 19 Sept 2010
He is presently in a private room at the St. Boniface 6th Floor, E ward, Room 6039 Bed #2.  We had him at Seven Oaks a few nights ago (BIG mistake) and they did not do the CAT scan that they said they would and released him the next morning.  He collapsed again and had bleeding in his brain plus two earlier subdural hematomas.
I took him to St. B. later and the bottom line is that with suspected heart or stroke problems, go to St. B. and with trauma injuries, go to Health Science Centre.
He is doing much better, however, I think he will be in there for quite some time.  He didn't have a stroke, but there are still blood vessels bleeding into the brain which manifest like stroke symptoms.  He is slurring his words a little, but is fully cognitive.
Linda Kohut (Daughter)
The High Road
Also see the last Oatmeal Rag on the Cameron web site.
Maj. Eric N. Mainwaring – 5th Bn QOCH. Also a mbr of the Cameron Association in Canada
http://www.keep-em-moving.co.uk/page9.html
* Regimental Reinforcements *
For those who missed this in the last Oatmeal Rag. These are rare events that need mention !
15 June 2010
Lisa and Sgt Dave Gibson now have a baby girl ! 7 lbs 14 oz and everyone is doing well !
Catherine Isabella Gibson was born June 15, 2010 at 0911 hours, 7 lbs 14 oz & 19 ¼ inches (3571 gm & 49 cm).
Cameron Association Pages
The August Reunion profits were $540 from membership renewals. There are 55 registered mbrs now. There are more out there who still have yet to register for 2010-2011 and we hope to catch at the 100th if not before.
The August Reunion costs for 2010 were $147 chq to B. Worden for the food, $90 for bartender's wages, $100.50 drinks. The Association may change venues next year to the WO's & Sgt's or JR's Mess where there should be no bartending costs.
Bill Worden
Wed, 21 Jul 2010 20:14:42 -0500
Subject: Belgian Club Parade
For those who didn't make it they didn't miss much.  The parade was smaller this year, seemed like a lot of the Legions didn't send colour parties.  No band, usually the Transcona juvenile band but I think they are mostly learners this year.  Most of the members couldn't stay in step.  The beer was free – one anyways and then I got Angel Fransoo's as well. I guess it was alright, the main thing is Angel Fransoo enjoyed it, her husband (the late Jerry) was one of Russ's buddies.   My good deed for the week…
Lloyd McDougall (39/45 – and still ticking !) 19 Sept 2010
Tanya Rideout (formerly a clerk with 38 CBG) did us the very great service of dropping in to Deer Lodge to visit with Lloyd and bring him the latest Oatmeal Rag. She tells me that he's as sharp as can be and is seriously considering trying to come for the 100th. She also tells me that his room is a Cameron shrine – so maybe we can get the P/M to send a piper or twa around Deer Lodge come 11 Nov or something ?
As is often the case we have a number of requests for information from families regarding these former Camerons. Anyone able to help the families out please drop me a line or an email.
Dutch Connections Remembered
In May 2010, Canadian veterans commemorated the 65th anniversary of the liberation of Holland.
Speaking in Bergen-op-Zoom War Cemetery Prime Minister Harper recalled, "And thus it was in 1944, the year the First Canadian Army tore this land from the tyrant's fist.  This army, more than 175,000 Canadians reinforced by Dutch and allied forces, fought its way from Normandy to Rotterdam, field by field, canal by canal, dyke by daunting dyke.  They crossed deep, boot-sucking mud.  They passed over ground heavily mined.  They navigated flooded lowlands, the water sometimes too high to wade through, but too shallow for boats. And around them, and before them always, the dreadful rattle of the machine gun."
Mr. Harper went on to say that more than seven and a half thousand Canadians gave their lives to free the people of the Netherlands.
At the very time of the 65th Anniversary, I opened an email containing a story and a question. Dutch citizen Irmgard Averesch stated that for over 30 years her grandparents tended the grave of Private J. Semenuik, serial number H23174, a 20 year old Cameron soldier who made the supreme sacrifice on 23 April 1945, during the last stages of the liberation of Holland.
Private Semenuik was laid to rest in Holten Canadian War Cemetery where after the end of hostilities 1300 fallen Canadian were brought together to be buried.
Irmgard said that her grandparents had contact with Private Semenuik's relatives in Canada until the connection was lost in the late 1970s. Her family would be pleased to reestablish contact.
Irmgard asks, "Are there living relatives and do they want to have contact with us." Her email address is [email protected]
From: "T. de Wilde-Rinsma" <[email protected]>
Subject: Cameron veteran N. W. Grantham
Hallo,
After visiting the cemetery in Holten, Netherlands, we visited a farm nearby, that my mother knew from then. They showed us an almost new (but 1945!) German rucksack with written on it; Q.O.C.H. of C.  N.W. Grantham  P22266 Winnipeg.  I promised them to see on the internet for more information.
So I did, but I can`t find N.W. Grantham. Can you?  What is the story ? Is he (still alive?) want the rucksack back?
Greetings,
Erik de Wilde.
Cameron War Stories:
XVII Commandant – RMC
1841 Brigadier General Douglas Gordon Cunningham  CBE DSO ED QC was born in Kingston, Ontario (ON). He was the son of Arthur Breden Cunningham and Katherine (Gordon) Cunningham of Kingston. He was educated at Kingston Collegiate, Upper Canada College, Toronto ON. He graduated from the Royal Military College, Kingston in 1929. He studied at Osgoode Law School, Toronto. In 1933, he was called to the Bar of Ontario and he had a law practice in Kingston.
In November 1939, he married Isabelle Simpson, daughter of Mr. and Mrs. Huntington Simpson of Kingston. They had two sons; John Douglas and Ian Simpson.
He served as adjutant of the Princess of Wales Own Regiment. He was brigade major of a Canadian infantry brigade which took part in the Dieppe raid in 1942. He served as General Service Officer 1, 1st Canadian Corps in 1943. At the beginning of WW2, Captain Cunningham commanded the Camerons of Canada and as brigadier, commanded the 9th Canadian Infantry Brigade in 1944. He was awarded the Distinguished Service Order for gallantry and distinguished services in the field of battle. He was awarded the Efficiency Decoration (Canada). He was a member of the Order of the British Empire. He returned to the Royal Military College as Commandant in 1944-5, but this was now a wartime training establishment. After retiring from the military in 1945, he returned to his law practice and he was a director of several companies. In 1946, he was part of a deputation which interviewed the Minister of National Defence about the proposal not to reopen RMC. He was a member of a subcommittee of the RMC Club which urged the reopening of the college in 1946. He served as president of the RMC Club of Canada in 1946. In 1946 he was created King's Counsel which later became Queen's Counsel (QC) when Elizabeth II ascended to the throne. He died July 18 1992.
http://www.rmcclub.ca/everitaswp/?m=200810
Source #1: Preston "Canada's RMC: A history of the Royal Military College"
Len deCosse Tuesday, April 13, 2010 9:31 PM
The lack of common interest between Polish Normandy forces and Italian veterans is not unusual. We had the same thing here between our Normandy and Canadian Italian Theatre vets and even the fact that they joined  us in our final push and mop up in Germany made no difference.
I'm about to write a article about 3 Platoon's  final task before leaving Germany for our lengthy stay in Amersfoort Holland prior to embarking for the UK. 3 Platoon was loaned to the Brits  around Norden to baby sit a German  prison  loaded with senior Russian POW's and also guard  BLA 1 (BRITISH LIBERATION ARMY IN GERMANY RADIO STATION).
The Allied Regiments:
From the Sept 2010 issue of http://www.cabarfeidh.com/ put out by the Queen's Own Highlanders Association, here is an UNCLASS briefing on how things are going in Helmand Province:
http://www.cabarfeidh.com/downloads/This%20week%20in%20Helmand%2016-22%20Aug%2010%20-%20U.pdf
Also of interest on that side of the pond is a newly available Regimental Scottish Whiskey:
http://www.cuidichnrigh.com/
And to top that off, they have a new Facebook page too:
http://www.facebook.com/home.php#!/pages/RHQ-The-Royal-Regiment-of-Scotland/134913383186892?ref=sgm
South Saskatchewan's War Story
(For those of you who are not very familiar with the South Sask. Regt. they were our main running mates in the 6th Brigade, 2nd Cdn Inf Div from the early 1940's until the end of hostilities in 1945. The SSR disappeared about the time the Wpg Grenadiers and Wpg Light Infantry went.)
I was actually born in the Seaforths of Canada, where my father was then a Signals Corporal and badly wounded First War Vet. My Grandfather was once RSM of the BC Regt., I served in the Seaforth Cadets as a boy of 13, and also as a Pte in the Seaforths as of 1938. I was too well known as a mere boy in 1939 to stay as a drummer in the pipe band, but in mid 1940, on the news of the fall of Dunkirk, I left school to join the 2nd Cdn Scottish as a drummer, and later piper, would you believe.
In early 1941 I went overseas to the 1st Scottish, having resigned the band, (with some argument from the Pipe Major!), where my father promptly claimed me back into the Seaforths, where I again got into trouble with the Seaforth Pipe Major for wanting to be a /real /soldier! I quickly became a L/Cpl, then L/Sgt. and was sent back to Canada to be commissioned in the Seaforths (I should mention that I had once been batman to a young Lieut. of the Seaforths named Merritt!)
When I tried to join Can Loan I was refused, but did get back to the UK in early '44. Which got me to France in August and to the SSR, since Cec Merritt had been an SSR! I should add that I was in the Occupation Force as a Regina Coy Comd. which got me to the Div Training School and a posting as Company Commander to…..The Camerons of Ottawa!
There I also masqueraded as a Piper in the Band, acting as a Piper (A/Pipe-Major) to the singular confusion of Maj Gen Chris Vokes, who remarked that I looked just like a Company Commander at the Div School! I told Chris about it years later at Fort Churchill, and he almost had apoplexy! (But laughing apoplexy!)
Now I'll get back to the Camerons wonderful list of tunes and other memorabilia. Strangely, I was just trying to teach the locals the Glenwhorple Highlanders, but missed a couple of verses! In my version it's the Braw King Solomon wha was ruler o' the Glen!
Happy, happy memories! I'm still getting requests for my little book about the liberation of Kamp Westerbork in Holland!
Cec  Law
Professor
[email protected]
Light Reading for You:
A useful piece of work about suicide bombers that bears reading by all ranks.
http://www.theatlantic.com/magazine/archive/2010/05/the-case-for-calling-them-nitwits/8130/
The Queen's Own Cameron Highlanders 2nd & 5th Bns 1939-1946
http://www.keep-em-moving.co.uk/
Afghanistan Photo Essays:
http://translate.googleusercontent.com/translate_c?hl=nl&ie=UTF-8&sl=pl&tl=en&u=http://www.990px.pl/index.php/2009/09/30/talibowie-15-lat-od-powstania/&prev=_t&rurl=translate.google.com&usg=ALkJrhiMLYvTINFHqNcvSBgZOaBfKQNkkw
9/11 Memorials and site pictures:
http://www.boston.com/bigpicture/2010/09/911_in_2010_remembrance_and_re.html
The Russians do some cool Youtube military rock videos too:
http://www.youtube.com/watch?v=uCA0QCT-u3A&feature=related
US Troops In Afghanistan to Get Sensors That See Through Walls
http://www.popsci.com/technology/article/2010-02/us-troops-get-wall-penetrating-sensors-afghanistan
By Stuart Fox Posted 02.02.2010 at 6:45 pm
As if aerial robots and bionic limbs didn't make the Army seem futuristic enough, it looks like another hallmark of sci-fi, X-ray vision, will ship off to Afghanistan later this year. The device in question is the TiaLinx Eagle Scanner, which uses radio waves to see through the ground, walls, and other kinds of cover.
Like the earlier discovery that Wi-Fi signals provide X-ray vision, the Eagle Scanners measure how radio waves bounce around, and move through, different objects. By measuring the various densities of the materials its radio waves pass through, these hand-held scanners can look through concrete as if it were glass.
The models deploying with the troops to Afghanistan can see up to 20 feet behind an eight-inch-thick concrete wall, and identify whether or not there are any people on the other side. The sensor can also detect whether a seemingly uniform wall or road contains any hidden compartments. Plus, the device can communicate wireless, and send images back to HQ immediately.
For the soldiers lucky enough to snag one of these sensors, the two most obvious uses are searching for IEDs and monitoring houses during raids. Plus, with the disaster in Haiti fresh in everyone's mind, there's no doubt these sensors will one day find their way to rescue personnel combing through rubble in search of survivors.
Guerillas Gorillas Refuge
Guardians of the Virunga National Park vs. Poachers
http://translate.googleusercontent.com/translate_c?hl=nl&ie=UTF-8&sl=pl&tl=en&u=http://www.990px.pl/index.php/2009/12/02/guerillas-goryle-i-rezerwat/&prev=_t&rurl=translate.google.com&usg=ALkJrhiCewwVDStDMszxrjKKZInMtH8shw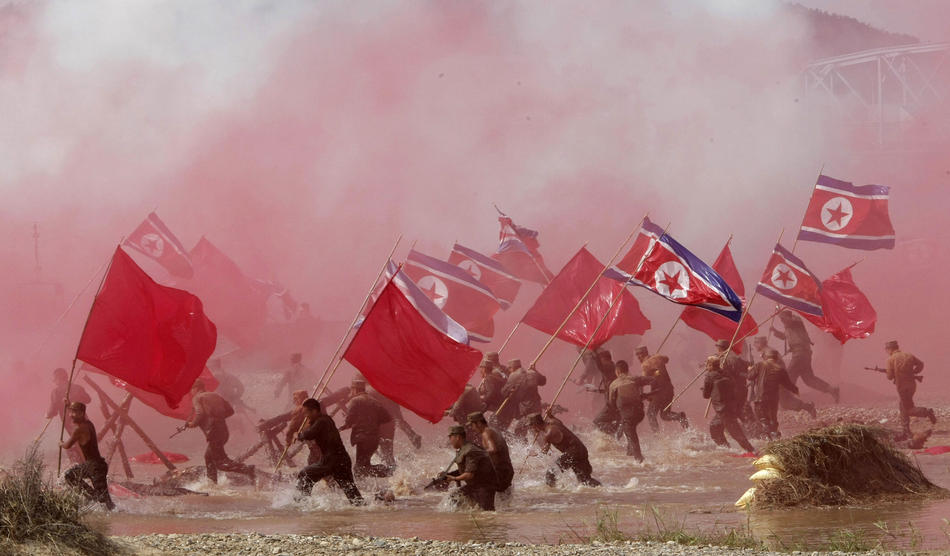 South Korean Army soldiers re-enact North Korean soldiers running with the North flags during Naktong River Battle re-enactment near the Waegwan railway bridge in Waegwan, South Korea, Friday, Sept. 3, 2010. South Korean Defense Ministry re-enacted one of the important battles as part of commemoration events for the 60th anniversary of the Korean War. (AP Photo/Ahn Young-joon)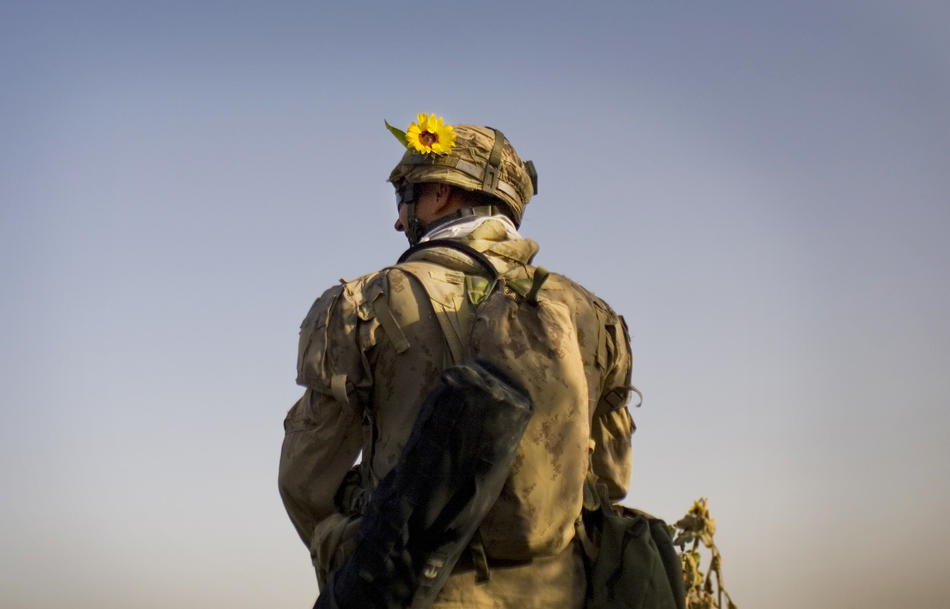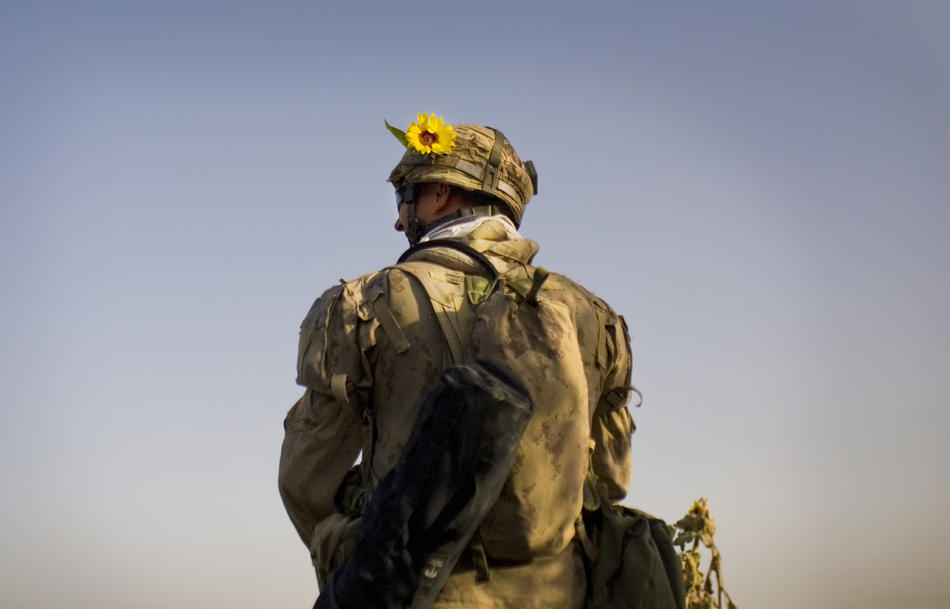 A Canadian soldier with the 1st RCR Battle Group, the Royal Canadian Regiment, patrols with a sunflower stuck to his helmet in the Panjwaii district, near Salavat, southwest of Kandahar, Afghanistan, Thursday, Sept. 9, 2010. (AP Photo/Anja Niedringhaus)
Lt Shankland wins the VC re-enactment (somewhat comical, but interesting to watch)
http://www.britishpathe.com/record.php?id=83108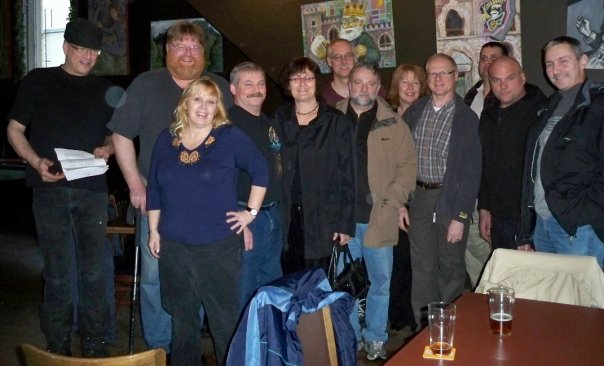 Camerons & Garrys & our favourite Sig Brenda enjoyed some beers Christmas 2009.
Why don't you join us for the 100th !
Editor's Closing Notes:
Let me know what is going on with your piece of the Regiment – all entries will be accepted and vetted. I will continue to use what I can.
Cheers to all,
Hugh O'Donnell
CWO
Editor